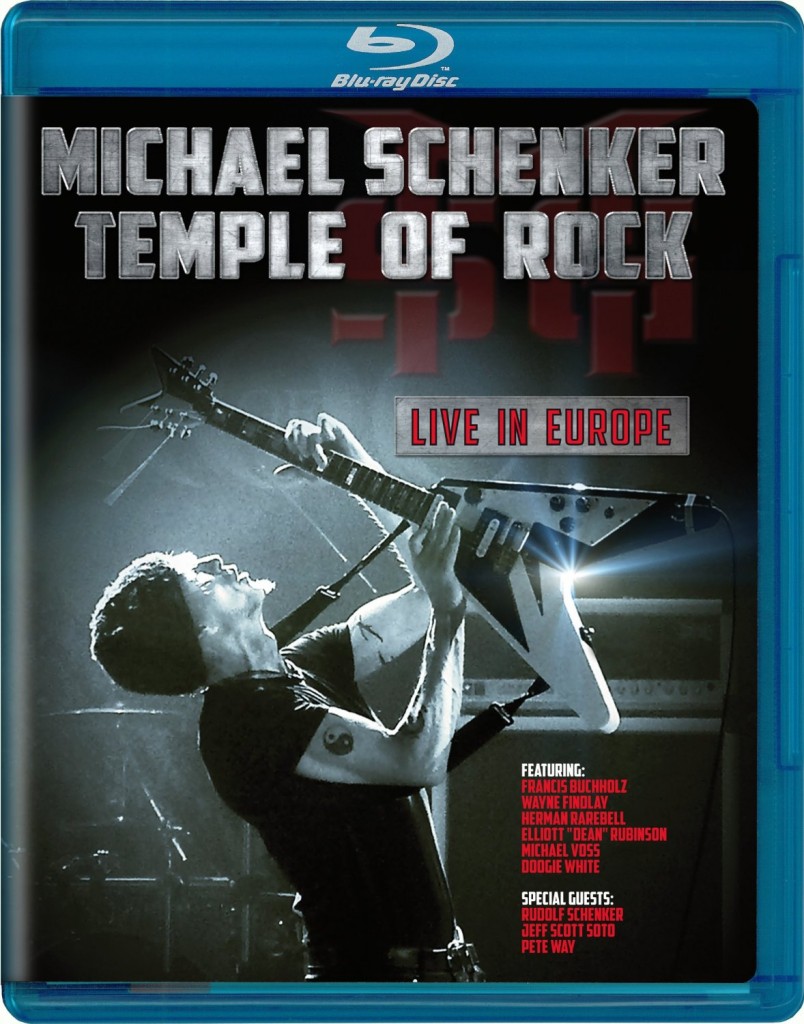 Michael Schenker has been doing a fantastic job catapulting himself back in the musical spotlight in recent years. Through stints with the Scorpions, UFO, Michael Schenker Group, and the McAuley Schenker Group, he has reigned as one of the greatest rock/metal guitarists of all time for well over 40 years now.
Schenker has begun to recapture the hard rock and heavy metal public all over again with his new band, the Temple of Rock. The debut album from the new group came out in late 2011, with this 2012 performance occurring a few short months later. Schenker's latest band is one of the finest he has ever assembled, and it is likely we will be getting solid albums from them for years to come.
Michael Schenker's Temple of rock is comprised of Michael Schenker himself on guitar, classic Scorpions bassist Francis Buchholz, classic Scorpions drummer Herman Rarebell, former Rainbow vocalist Doogie White, and long-time Schenker collaborator Wayne Findlay on guitar and keyboards. Special guests on the disc include Michael Voss, Elliott "Dean" Rubinson, Rudolf Schenker, Jeff Scott Solo, and Pete Way (most of whom appear in the additional 2011 High Voltage footage).
No matter how old Michael Schenker gets, it is a safe bet that this guy is NEVER going to slow down. Ever. He is every bit as much the man on stage that he was in his 20s. Although this called Temple of Rock – Live in Europe, surprisingly little is played from the (then new) Temple of Rock album; the setlist is mostly comprised of old Scorpions, Michael Schenker Group, and UFO songs; that is not necessarily a bad thing though! The band Schenker has assembled here just might be one of the best he has ever had; everyone gives a solid show from start to finish.
There have been some complaints directed at Doogie White's vocals on this show, but I beg to differ. He has a solid voice and does justice to this material. While I prefer the respective original vocalists on the songs, you are not going to get all of them together to do a show with Schenker, so I am pleased to find that this ex-Rainbow singer more than gets the job done. Having the classic Scorpions members on here only adds to the experience.
If there is one minor complaint with this otherwise superb setlist, it is that it completely ignores the McAuley Schenker Group era; Anytime and Gimme Your Love would have been superb additions to an already impressive concert. The lack of songs from the Temple of Rock is a surprise but definitely not a disappointment given everything else we get to hear on here.
Picture quality is solid on this disc; it is a sharp looking concert with only some minor issues, largely stemming from the stage lights or lack thereof in some areas of the concert (but this is a common issue of concert videos and is certainly not unique to this release). Audio is equally impressive and more than does justice to the material at hand.
As an added bonus on this disc, you get five additional songs from the High Voltage Festival (recorded in London in 2011), featuring a slightly different lineup; the picture quality is largely better here than on the main feature as it was filmed in natural daylight on an outdoor stage. Some rehearsal/sound check footage is included as an additional bonus.
With two solid Michael Schenker Blu-ray Discs our from Inakustic, which one should you buy? If you have the money, get both; they both are fantastic and show off the Mad Axeman doing what he does best. If you only buy one it is a matter of what you are a bigger fan of. If you are into the classic MSG period from 1980-1984 and want to here those songs with original vocalist Gary Barden, get the Live in Tokyo 30th Anniversary Concert. If you want a broader overview of most of the phases of his career, including Scorpions and UFO, get the Temple of Rock disc. You  honestly cannot go wrong with either release. This disc comes strongly recommended to any fan.