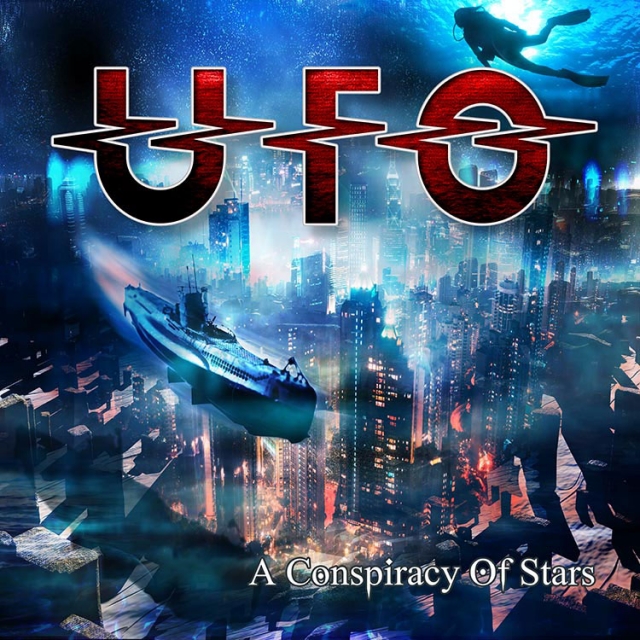 Hailing from England, UFO has been one of the world's top hard rock bands for well over four decades now. The group remains active and is still going strong, with a fanbase all over the world. Starting as a "space rock" act, it was the coming of guitarist of Michael Schenker and the shift to a more straightforward hard rock sound that helped to turn them into the classic band that fans have known and loved for so long. The band's lineup has changed many times over the years, but has always included vocalist Phil Mogg.
Schenker has come and gone from the band on more than one occasion and has since supposedly left the band "for good." In recent years the band has developed a steady, consistent lineup that has classic members Phil Mogg, Paul Raymond, and Andy Parker. The group has been joined for the past decade by guitarist Vinnie Moore, but has used fill-in bass players on their tours and in the studio alike due to the absence of classic bassist Pete Way. This marks the 21st studio release from the band.
The biggest change to occur within the band's ranks with the arrival of Vinnie Moore on guitar was a shift towards a more blues driven sound, but one that still rocked hard. I will be the first to admit I was not a fan of the direction that Moore's arrival in the band began steering them in, but over time it has grown on this fan. A larger part of my appreciation of this stems from the fact that Moore is not simply emulating or trying to be Michael Schenker; someone who forges their own path and does not follow the all too common copycat method scores points in my book, even if the results do tend to be mixed at times.
At long last, we have arrived at the point where this legendary group of British rockers has released their new record. A Conspiracy of Stars is here, but how does the album actually measure up?
While I am not the biggest fan of every single record from the ongoing Vinnie Moore period (though I absolutely love the guy as a guitarist), it is interesting to see how they have learned to sync together over the past several releases. Seven Deadly, their most recent album prior to this one, could very well have been the best of the lot with Moore to date. And while I would not immediately say that a Conspiracy of Stars tops their most recent record, I am at least pleased to say that the band has put out another solid album, which beautifully demonstrates how far the band has come in recent years in this incarnation.
Even the most loyal of UFO fans typically do not like every single thing the band has ever recorded, though it has been interesting to chart their evolution and progression over the past four plus decades. On this record, the band has put together another very solid selection of songs. The biggest surprise is how musically capable all of these artists are, even after over all these years. While Phil Mogg does not sound exactly the same as he did back in the 1970s, his voice remains distinctive and recognizable, giving the band a voice that is truly all their own. Fellow classic members Andy Parker and Paul Raymond keep things interesting, but as with many of their recent records, it is guitarist Vinnie Moore who has become the standout member of the band. His heavy, bluesy style of guitar playing is one that has won him many admirers in the music world, and he was getting this attention long before becoming a member of UFO. From more straightforward hard rock tracks to the more bluesy ones, and those that are slower , everything on here keeps the attention of the listener. This is not the best UFO record, or even their best one with Vinnie Moore. But it is a good, solid effort from some of England's most underrated rockers.
It is impressive that, nearly a half century later, UFO is still alive and kicking, and with three fifths of their classic lineup intact, no less! In this day and age in which the music industry is going through some dark times, it is great to see a truly classic band setting foot out there and continuing to rock the world, in the studio and on the live stage as well. To fans of classic-style hard rock, the latest release from UFO garners a solid recommendation.