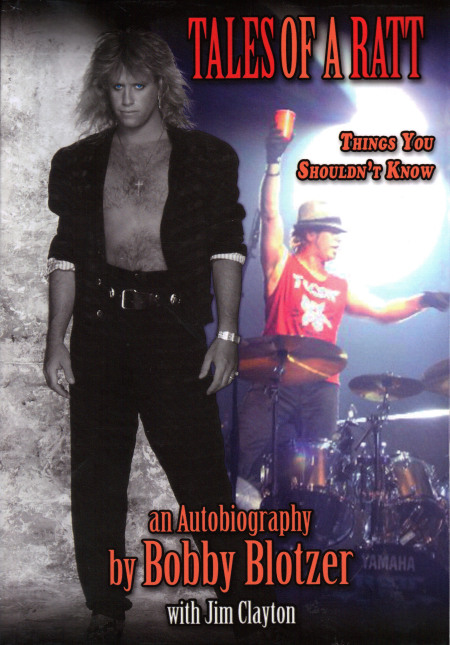 Bobby Blotzer has had a long and interesting ride through the music industry. Starting his career in a number of local California-based bands and playing with Vic Vergat, his journey through the world of rock and roll skyrocketed when he became a member of Ratt in the early 1980s. Through subsequent highs and lows, side projects, and a number of Ratt reunions, Blotzer's career has been many things, but dull was never one of them.
At long last, Blotzer has teamed with co-writer Jim Clayton to put his story to pen and paper. With many rock and roll artists of his era putting out autobiographies, this definitely seemed the ideal time for the Blotz to do the same. How does Tales of a Ratt hold up?
Tales of a Ratt is the story of Bobby Blotzer's life, from childhood right up to the present (actually about 2010, when the book first came out). Through the book you will read about the Blotz's childhood, early bands and musical experiences, the heyday of Ratt, his other side ventures and business endeavors following the transformation of the music industry, other assorted side projects over the years, and his often ill-fated love life.
This was one of the rock autobiographies that I was most eager to read in recent months. Bobby Blotzer was largely responsible for making the classic version of Ratt what it was, and has had some of the most interesting side projects in the industry outside of the band. Unfortunately, while the stories themselves are interesting and epic in their own ways, the end product falls flat due to terrible writing, typographic errors in nearly every chapter, as well as too much focus on certain aspects, and not enough on others.
The writing style of this book is the first and biggest overall flaw. The narrative goes back and forth between assorted time periods with very little rhyme or reason. It seems like whenever something vaguely related to something else is eluded to, we suddenly find ourselves in that time period. Jumping back and forth on a whim between time periods years apart makes for a messy, sloppy product that is, at times, virtually unbearable to read. Most rock and roll biographies do this to some extent, but they keep it in check and only use it when absolutely necessary to stress certain points of the story. The uneven chapter lengths do not help things any, either. This feels like notes that were haphazardly slapped together rather than a coherent, proper biography.
One big flaw that truly stood out to me as I read this book was the sheer amount of typos that were scattered throughout the book. PROPER NAMES of musicians are misspelled frequently and often; even Ozzy Osbourne's name is misspelled on the back of the book! Basic grammatical errors are extremely common; a prime example of this is that "it's" (the contraction for "it is") and "its" (the pronoun) are often used interchangeably. At times I found it hard to believe how much of all of this got through on a product that was commercially released! What is even more appalling is that the writers are not even consistent in their errors. With the Blotz having a co-author, none of this should have happened.
The overemphasis and underemphasis of certain events throughout his career is also worth mentioning here. Of course the Ratt years (and subsequent attempts at reunions) get a decent amount of space devoted to them, but some phases are criminally neglected. Contraband (the supergroup Blotz was in with Michael Schenker and Tracii Guns) gets nothing more than a passing mention and a photo, yet other assorted side projects that are largely unknown by comparison get mentioned far more and described in greater detail. Overall, the book spends more time focusing on Blotz's personal relationships and stories than actually looking at the music business side of things. One of my favorite things about Ratt bandmate Stephen Pearcy's book is that, while it had no shortage of personal stories and escapades that did not exactly paint him in the most positive of lights, it at least gave the music business side of things some detail and description.
The book is not a total loss, though. Despite what the title says, these are things that every fan of the Blotz should know, and there are everything from comedic to dramatic moments in here. Photos are scattered throughout the book, usually at the end of chapters, and capture our hero at all stages of his life. It is just a shame the book was not put together better with more editing and a consistent, coherent narrative.
In the end there is a lot to like about Tales of a Ratt, but the poor writing style and abundance of typos weigh this one down. If you are looking for more details of the life on the road with Ratt in their heyday, buy Stephen Pearcy's book instead; it is a far more consistent and better written book that covers that same time period. Blotz's story definitely needs to be told and should be heard, but as it stands, it is hard to recommend this book to anyone but the most die-hard of Bobby Blotzer fans. Know what you are getting before you lay down the cash for this one.