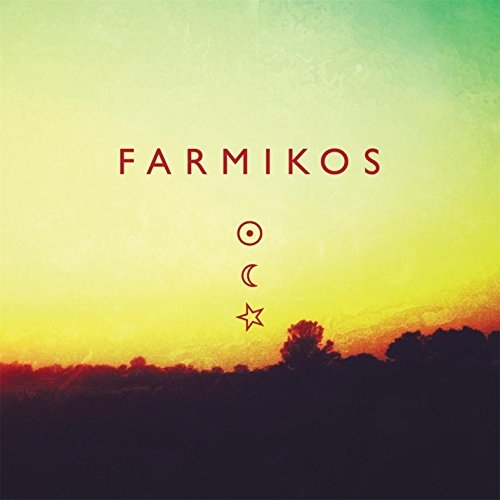 One of the truly underrated guitarists in the music industry is Joe Holmes. Holmes has been known in the past for stints with Lizzy Borden, David Lee Roth, and Ozzy Osbourne, but largely disappeared from the scene and the public eye despite his collaborations with these other acclaimed artists. After a lengthy absence during which Holmes had been busy raising his family, he is returning to the rock and roll forefront with Farmikos, his latest project, teaming him up with Brent Hoffort and Robbie Locke. Additional contributors to the recordings include Brooks Wackerman (Bad Religion) and Robert Trujillo (Metallica).
Holmes has played with some diverse bands, and because of that, it can be difficult to know what to expect from a project that is largely his own. Even as big of a rock and roll fan as I am, I was not aware of the group until I heard Eddie Trunk talking about them on his satellite radio show, and playing the first few cuts to be released (there had been digital single releases throughout 2014). The ten-track album is essentially a collection of all nine of the tracks recorded and released so far, with the addition of one new cut.
It is great to finally have new music from Holmes, and after having listened to the album a few times, letting it sink in, I have finally had ample opportunity to evaluate the release (I had previously only heard a few of the digital singles, so many of these tracks were new to me when it came down to this release). How does the debut from Farmikos measure up? It is one in a long line of classic artists  mimicking modern artists in a pathetic attempt to stay relevant, or is it something unique and worth your time?
It is tough to review the Farmikos album because it is so different from what I normally listen to. YES, this release has far more in common with modern rock sounds than the bands Holmes is best known for being a part of. But at the same time, unlike many of those "new bands with old artists" we have come to know, this one does not s blatantly copy anything, and actually feels like it draws its influences from multiple sources. There are elements of everything from guitar driven 80s rock to the 90s grunge movement and beyond intertwined within these songs. The end result is, admittedly, not the most original thing I have ever heard, but it is still better than many of the new releases out there, from old and new artists alike. The release shows us that Holmes and his compatriots are at least capable of making solid enough music together. While most of the cuts on here are fairly hard and heavy, the previously unreleased Facing East is a slower and more melodic affair by comparison, and may be my favorite track of the bunch.
I will be the first to admit that this album is not for everyone; those repulsed by modern rock at large will want to avoid it. But if you are a fan of hard rock and are seeking something new and interesting, this debut from Farmikos might be just what you are looking for. This is not a perfect release, and I do expect better things from Holmes and his newfound bandmates down the road, but for what it is this is a solid album that rock fans with an open mind should give a chance . Recommended.