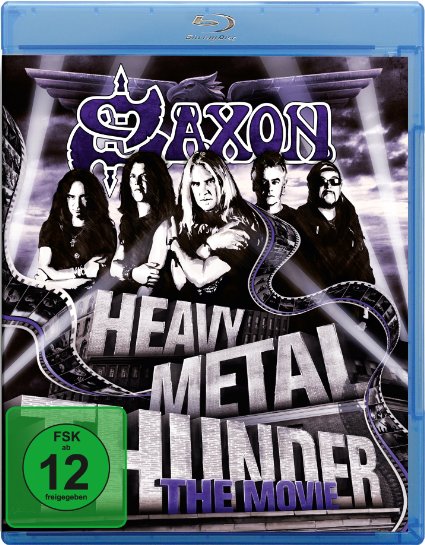 The New Wave of British Heavy Metal spawned countless classic hard rock bands, though only a handful of them have stood the test of time. One such band is Saxon. Ever since their early days under the name Son of a Bitch, they has been one of the world's most iconic classic hard rock/heavy metal bands, even though they have remained far more popular in their native UK than on American shores. That has not stopped them from gaining fans in all corners of the globe, though.
Naturally, fans of the band who want to know more about Saxon have long been yearning for a feature presentation that covers the band's lengthy and expansive history. Heavy Metal Thunder attempts to fill that gap, with interviews from band members and long time acquaintances and fans alike. Through newly recorded footage and vintage archival clips, Heavy Metal Thunder tells the story of the band from their early days in England driving across the country in a rundown van to their rise to fame in their native land a few short years later, and well beyond, including their ill-fated attempts to crack the American market, and their return to their former glories in more recent years.
Heavy Metal Thunder is a welcome addition to any fan's Saxon collection. For its entire two-hour duration, this is a tell-all doc that leaves no stone unturned when it comes to the band's diverse and often turbulent history, high and low points alike. The filmmakers have gotten input from countless people within the band's organization, past and present alike, and major players in the heavy metal world who have worked with or are fans of the group. Because of this, you get multiple perspectives covering the band's entire career, with every era getting the proper emphasis. It is definitely interesting to explore the triumphs and turbulent times alike; never has there been a more comprehensive look at the band's entire career. The band has recorded additional albums in the time since the documentary release, further reestablishing their dominance in the rock world.
Like with most documentaries comprised of footage that is culled from various sources, the picture quality varies from scene to scene, depending on the grade and age of the material in question. Even the newly filmed footage does not look overly great or HD quality on the Blu-ray; this is not the sort of title that is going to impress visually. It also appears that some material that was originally shot in 4:3 has been cropped to 16:9 to better fill a widescreen TV, fortunately it does not cause any real problems. The Blu-ray does have the added benefit of containing the complete presentation on one disc, bonus features and all (the DVD package is two disc). Audio quality is audible throughout and does not have any major flaws, just do not expect anything booming that will rock your speakers.
Surprisingly, this package actually does contain a number of bonus features. There are two concerts (about 50 minutes each), a 1981 Beat Club performance and a 2008 St. George's Day show, as well as vintage 1984 behind the scenes footage from when the Crusader album was being made. There are a handful of other features as well, rounding out this package nicely for any fan of the band.
If you are at all a Saxon fan, this is a must own release. You will learn a great deal about the band and their often turbulent history, and the bonus features only sweeten the deal. No fan should be without this terrific documentary in their collection.
DISCLAIMER: All images in this review are the property of their respective copyright holders. For promotional use only. All rights reserved.