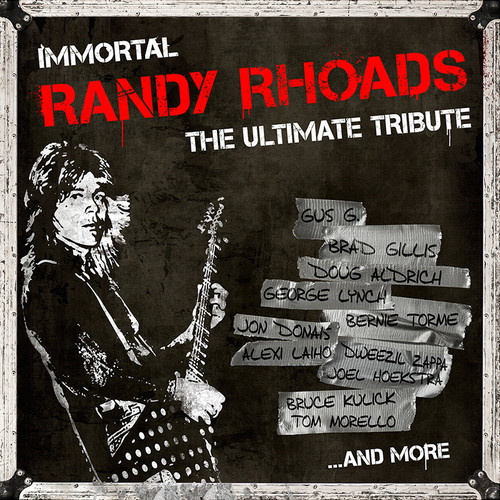 In March of 1982, the rock and roll world lost a phenomenal guitarist – Randy Rhoads. Having played guitar for the earliest incarnation of Quiet Riot alongside his childhood friend Kelly Garni, and in Ozzy Osbourne's band for his first two solo records, Rhoads spent a short amount of time at the musical forefront before perishing in that plane crash; he was a mere 25 years old at the time of his passing.
Despite the fairly limited time Rhoads spent in the spotlight, he is arguably more popular today, more than 30 years after his death, than he ever was in his all too brief lifetime. Rhoads remains one of the most influential rock guitarists of all time and frequently finds himself on "all time greatest guitarist" lists. Randy's sound on those Ozzy Osbourne and Quiet Riot records is the stuff of legend, as any rock or metal fan will tell you.
It is no surprise that tribute albums regularly pop up, with many of the best guitarists of yesterday and today alike paying tribute to this young guitar icon who left us too soon. Upon hearing about the release of the Immortal Randy Rhoads tribute, I was immediately curious and knew this would be one release that this Rhoads fan absolutely needed to give a listen to.
Here is the tracklist, so you can see who performs on which track.
"Crazy Train"
Vocals: Serj Tankian
Guitars: Tom Morello
Bass: Rudy Sarzo
Drums: Vinny Appice

"Over the Mountain"
Vocals: Tim "Ripper" Owens
Guitars: Jon Donais
Bass: Rudy Sarzo
Drums: Frankie Banali

"Mr. Crowley"
Vocals: Chuck Billy
Guitars: Alexi Laiho
Keyboards: Kelle Rhoads
Bass Rudy: Rudy Sarzo
Drums: Vinny Appice

"Believer"
Vocals: Tim "Ripper" Owens
Guitars: Doug Aldrich
Bass: Rudy Sarzo
Drums: Vinny Appice

"Back to the Coast" (Quiet Riot)
Vocals: Kelle Rhoads
Guitars: Bruce Kulick
Bass: Rudy Sarzo
Drums: Frankie Banali

"I Don't Know"
Vocals: Tim "Ripper" Owens
Guitars: George Lynch
Bass: Rudy Sarzo
Drums: Brett Chassen

"S.A.T.O."
Vocals: Tim "Ripper" Owens
Rhythm guitars: Bob Kulick
Lead guitar: Dweezil Zappa
Bass: Rudy Sarzo
Drums: Vinny Appice

"Killer Girls" (Quiet Riot)
Vocals: Tim "Ripper" Owens
Guitars: Joel Hoekstra
Bass: Rudy Sarzo
Drums: Brett Chassen

"Goodbye to Romance"
Vocals: Tim "Ripper" Owens
Guitars: Gus G.
Bass: Rudy Sarzo
Drums: Brett Chassen

"Suicide Solution"
Vocals: Tim "Ripper" Owens
Guitars: Brad Gillis
Bass: Rudy Sarzo
Drums: Brett Chassen

"Flying High Again"
Vocals: Tim "Ripper" Owens
Guitars: Bernie Torme
Bass: Rudy Sarzo
Drums: Brett Chassen
Just looking at the names on these tracks, you can see that there were plenty of big name musicians able to come in for the tribute. This should give you an idea of how influential Randy Rhoads remains to this day. The only man to play with Rhoads in both Quiet Riot and the Ozzy Osbourne Band, Rudy Sarzo (Whitesnake, Dio, Blue Oyster Cult), plays bass on all tracks. Drummers include Frankie Banali (Quiet Riot, WASP) and Vinny Appice (Black Sabbath, Dio). Guest guitarists include Bernie Torme, Brad Gillis (Night Ranger), George Lynch (Dokken, Lynch Mob), Bruce Kulick (KISS, Union), and Doug Aldrich (Dio, Whitesnake). Tim "Ripper" Owens (Judas Priest, Iced Earth) performs lead vocals on most of the tracks, with vocal guests including Chuck Billy (Testament), Kelle Rhoads, and Serj Tankian (System of a Down).
There have been Randy Rhoads tribute albums before but is definitely one of the most ambitious, featuring some major players that rank amongst the best in the hard rock and metal world. When you see the list of performers alone, expectations are set pretty high. How does this tribute album actually measure up, though?
This is an album with big ambitions, but sadly the whole thing just kind of falls flat and does not rise to the heights that you would expect. The guest guitarists and drummers all fill their positions perfectly, staying true to the songs' original form but still managing to put their own little twists on them, here and there. While the album is not perfect, the contributions of these musicians cannot be denied and they definitely leave a lasting impression here.
One of the biggest issues with this album is that Tim "Ripper" Owens is used as the vocalist on nearly every track, with only three songs featuring other vocalists. Do not get me wrong. Ripper is an amazing vocalist and actually does justice to the material. The problem is that, because of this, the album lacks variety. One of the best things about a tribute album is seeing multiple artists pay tribute to their musical heroes, and using the same vocalist on nearly every track diminishes this considerably. There are so many great singers out there, past and present, that could have made great tributes to Rhoads' songs from both the Quiet Riot and Ozzy Osbourne eras on this record.
Furthermore, the tracks that use other singers, in many cases, fare much worse! Chuck Billy of Testament is a great singer in that thrash band, but he completely butchers Mr. Crowley, with his singing style being totally wrong for the material at hand. Kelle Rhoads (brother of Randy) tries his hand at singing one of the old Quiet Riot standards, but unfortunately, he cannot sing; his vocals are outright atrocious and end up making the song practically unlistenable. The truly sad thing is that Serj Tankian from the abysmal System of a Down, who sings Crazy Train, is actually the BEST of the three when it comes to their respective vocal performances amongst the non-Ripper singers (granted, that is not really saying much, though).
This could have been a great tribute if more vocalists had been brought together for the project, but as is there is very little variety. We got a myriad of kick-ass drummers and guitarists, so why do we only have one vocalist on almost every song? Variety is what makes a tribute record great, and lack of it is what hurts this release most of all. The Ripper-sung songs are all solid and worth streaming to listen to at least once. As a whole, this is a middle of the road affair. Stream it if you are curious, but do not blow your hard earned cash. Randy Rhoads deserves a better, more diverse tribute than this one.