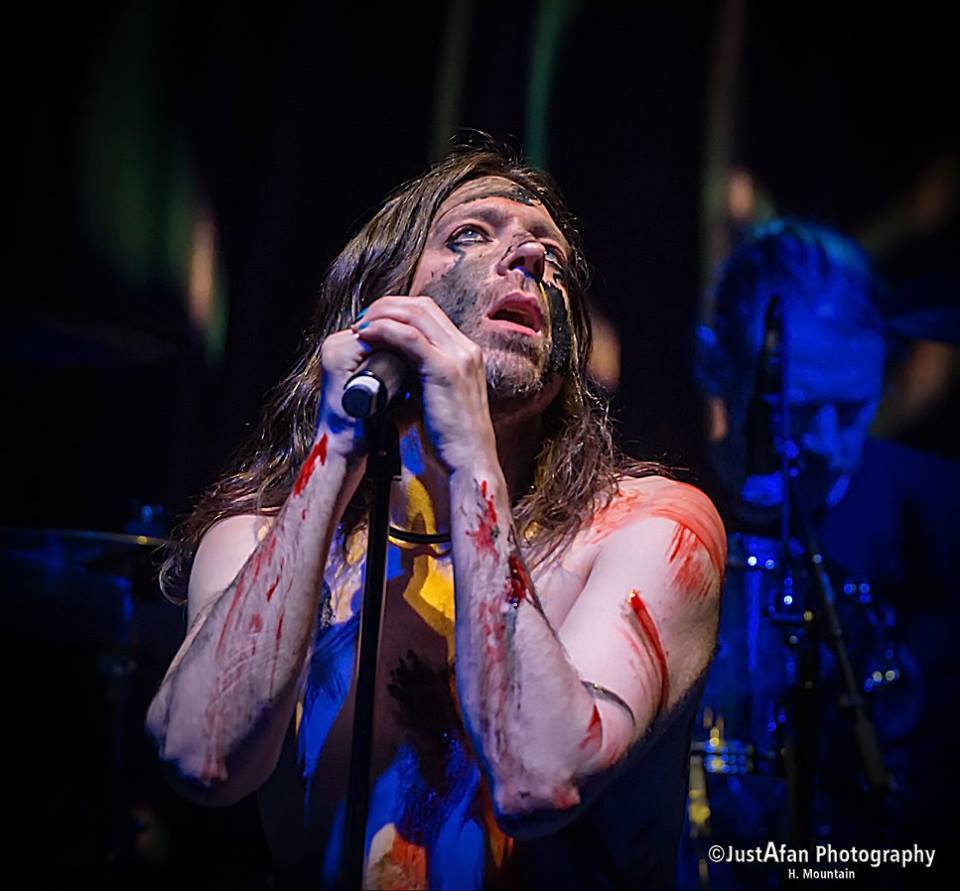 Just another night in Las Vegas…Never when there is a Tinnitus show! Team it up with Uberschall and it's a night of theatrical dimensions and a musical experience like none other.
The Brooklyn Bowl has become quite a venue for music since its opening last year.  Offering its stage to many genres of bands, it has also become a welcome stage by many local artists.  The acoustics are amazing and the louder the better!  Catching a show on a Wednesday night in Vegas is only a pre-cursor to what will be available to locals and tourists alike around the city.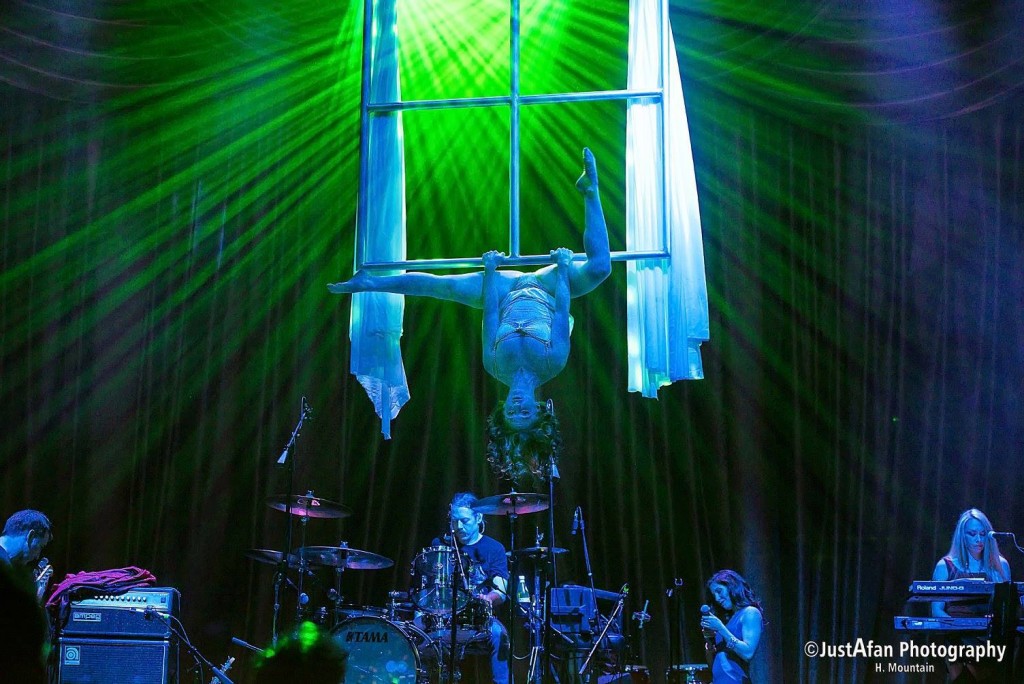 As the lights dim, the recorded promo coming through the speakers is gut vibrating.  A single trumpeter appears for a dance trumpet solo intro.  Jeff Tortora possesses the stage with wild abandonment; Tinnitus is on fire!  Tortora, lead singer, is also the master of an innovative and sometimes macabre performance.   Tinnitus is well known for its hosts of beautiful and graceful acrobatics, fire breathers, jugglers, tongue piercers and other radical oddities.   Guest appearances are always an added plus with their show.  Jay R Beatbox joined with his extreme addition to Sabotage by the Beastie Boys.  For a slow down moment of the night, Cian Coey takes center stage as she bewitchingly performs Hurt by Christina Aguilera as a lithe and nimble acrobat swings overhead.  Tortora returns as he is adorned with paint; almost in tribal mode as he proclaims Hurt by Nine Inch Nails.  Strings, saxophone and trumpet for Space Oddity by Bowie and straight into more of the fast paced insanity.  No Tinnitus show is complete without a bat yielding Brenda Fitz ready to smash a keg during Duality (Slipknot) or completing the night with Killing In The Name Of (Rage Against The Machine).   Never been to a Tinnitus show? What's YOUR excuse?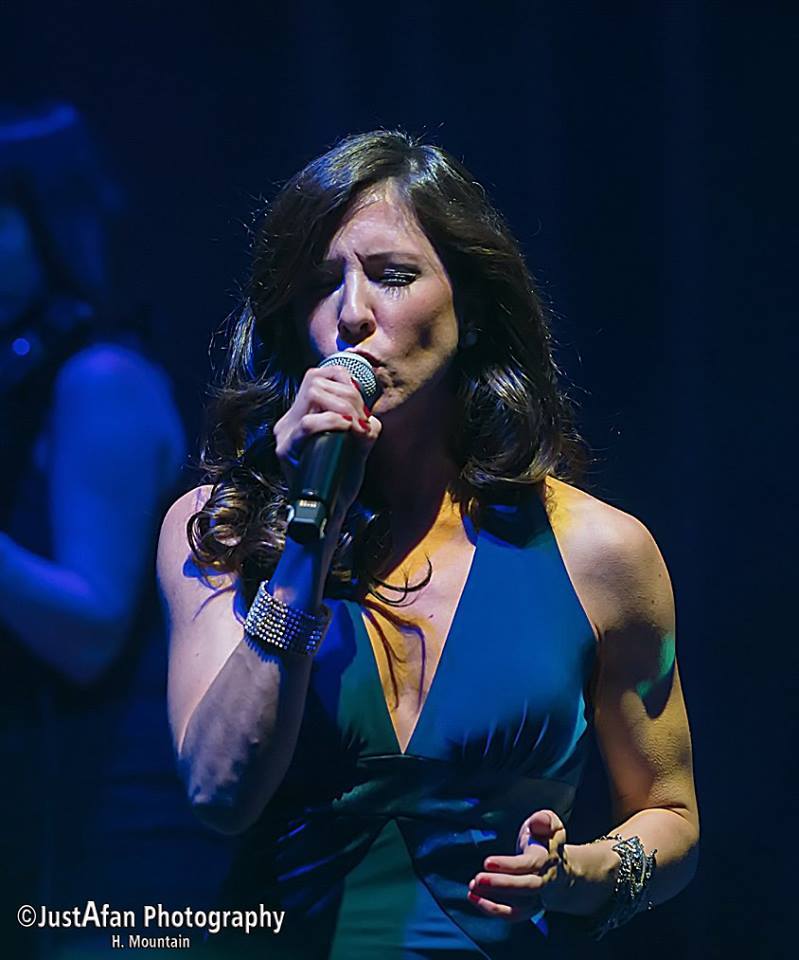 Tinnitus Set List 3/18/15
Intro-1020's Dance/Trumpet, Meantime/Helmet, Bulls On Parade/Rage Against The Machine, A Shogun Named Marcus/Clutch, Art Of Making Enemies/Faith No More, Scentless/Nirvana, Sabotage/Beastie Boys, Hurt/Christina Aguilera, Hurt/Nine Inch Nails, Space Oddity/David Bowie, Beautiful People/Marilyn Manson, My Own Summer (Shove It)/Deftones, Twist & Blind/Korn, Duality/Slipknot, Sugar/System Of A Down, and Killing In The Name Of/Rage Against The Machine.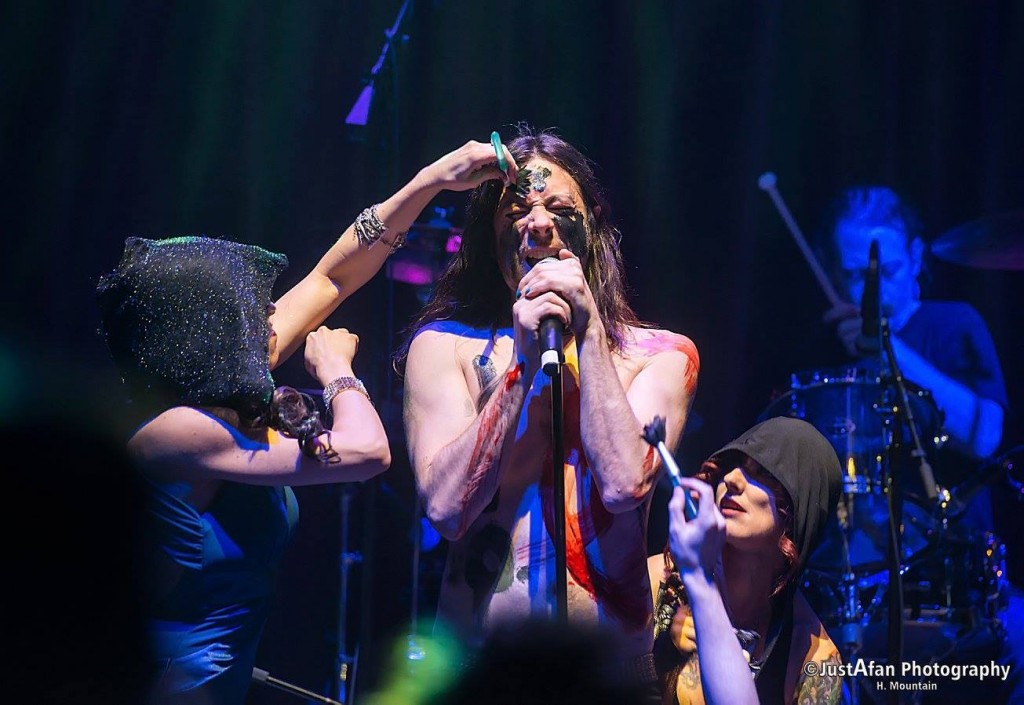 EDITOR'S NOTE:  Erika Thomas is a guest writer for ZRock'R  and we can't wait to see more from her and have her on permanently!  In the meantime, you can check her out at Continuum Vegas for more info!
PHOTO CREDIT: JustAfan Photography ©2015  Used with Permission/ All Rights Reserved  You can check out the rest of the photos from JustAFan Photography of the show by going here: Tinnitus Photos