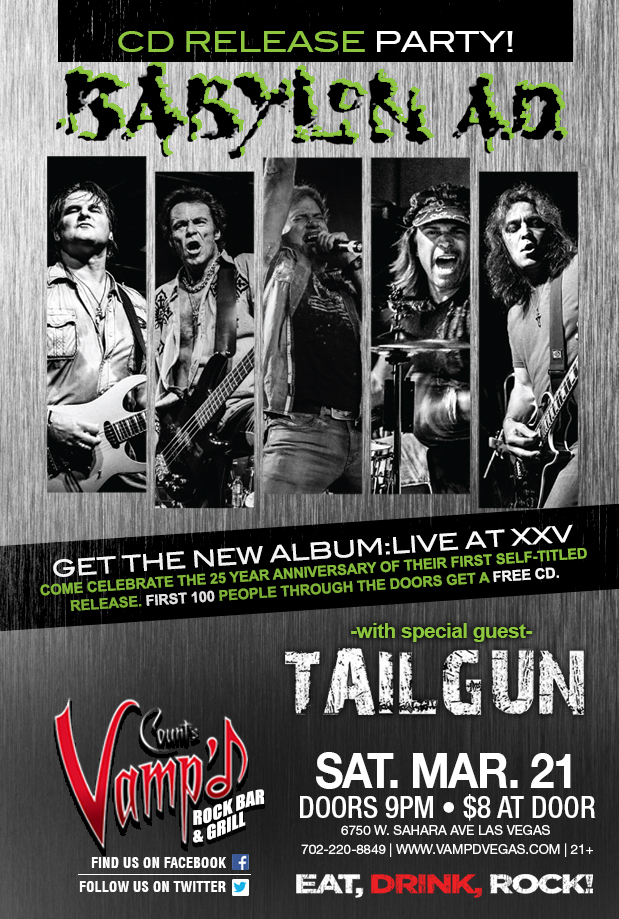 It is a shame how many groups out there, over the years, have never gotten the proper recognition despite having endless amounts of talent. Hailing from the San Francisco area, Babylon AD was one such band. Fronted by Derek Davis, the band is one that had a classic hard rock sound all their own, and the fact that they did not fall back on a shocking, glam-flavored image to gain attention was a major plus as well. Any fan will be quick to tell you that their 1989 self-titled debut ranks amongst the best albums of the genre. Classic cuts like "The Kid Goes Wild", "Hammer Swings Down", "Bang Go the Bells", and "Desperate," all from this debut record, remain some of the best classic hard rock tracks out there, even if they did not get the recognition that many of their peers achieved; "The Kid Goes Wild" was even featured in the second RoboCop film! There were some modest hits off of their second album a few years later, though sadly this was largely a group time forgot despite their obvious talents amidst an ever changing music industry that is often unkind and cruel.
Despite the changes in the music industry, Babylon AD continues to push forward in varied band lineups. I had seen Derek Davis perform as a Sin City Sinners guest back in January, and in talking to him after the show, was intrigued to learn that the band had a new live album on deck to celebrate their 25 th anniversary, and an accompanying release party at the venue! Sadly, due to an illness, I missed the event in question. But I finally have the new live album in my hands. How does it hold up in the eyes of this Babylon AD fan?
Live at XXV is actually the second live album from Babylon AD, the first having been Live in Your Face back in 1999. This is a band that I am pleased has persevered and never given up despite the hardships and the changes in the music world; a group like this deserves to be heard! After 25 years in the industry, what better way is there to celebrate than to get together and release a new live album spanning their career? That is just what Babylon AD has given fans here, and it is unlikely that any fan of the group will be disappointed by the concert on this disc.
The great thing about Babylon AD is that they still sound as good today as they did when they released their debut album a quarter of a century ago, and they are able to do their thing on the live stage better than most. This album demonstrates that beautifully, as you will be able to see as soon as you pick this release up. Of course, you have all of the obligatory hits from the debut album, but the band is also not afraid to dig into the vault and give fans many of their quality deep cuts as well. What truly impresses this fan is how much energy the band has throughout the release; they sound better than most bands with members half their age. In addition to choice Babylon AD cuts, deep and hits alike, we are presented with two surprise closers – a cover of one of Ronnie Montrose's classic hits "Rock the Nation," and one of UFO's legendary gems, "Lights Out."
As far as the production end of things go, the band and crew deserve credit for putting out an album that maintains the gritty, raw rock sound that made them famous, with no overproduction or ridiculous studio overdubs; it sounds like a rock band on stage, and that is what an album like this should always sound like. Unfortunately though, an all too common flaw of many recent live albums presents itself on Live at XXV – the album fades out after each track, which painfully detracts from the live concert feel. Why the hell do bands and producers insist on doing this? (Live in Your Face had the same flaw, for the record.) Apart from that gaping flaw, though, the record itself sounds solid, live, and heavy throughout.
Overall this is a great addition to the Babylon AD catalogue, and a great way for them to celebrate 25 years in the business of doing what they do best. This band has some of the finest, most underrated rock and roll out there, and it is great to get a quality concert on disc celebrating that fact. The "songs fade out after ever track" flaw is annoying, but apart from that one hiccup, this is a damn good live release from a persevering rock and roll band that deserves far more credit. It is strongly recommended that you add this one to your collection if you are a classic hard rock and heavy metal fan.