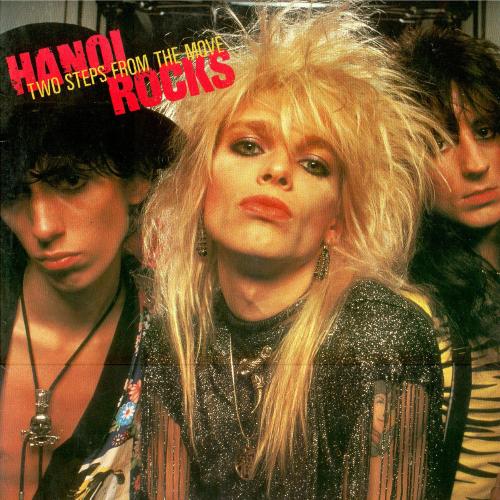 Hanoi Rocks is one of the most criminally underrated bands of all time. Founded in Helsinki, Finland in 1979, the Michael Monroe-fronted group achieved minor success, but never got the chance to be full-on rock superstars (though Monroe has had a modestly successful solo career since then). After years of roughing it and struggling to stay afloat, it seemed like the band was finally about to "make it" in the music world, with growing concert crowds and curious fans all around the globe looking on.
1984 saw the release of Two Steps from the Move, the band's fourth studio album of original material. The record was produced by Bob Ezrin (Alice Cooper, KISS) and was by far their most popular record worldwide, featuring a plethora of hit songs and worldwide single releases that were continuing to catapult the band towards successes that now seemed like a certainty. Unfortunately, it was not long after the release of this now classic album that tragedies would  strike. Michael Monroe fractured his ankle, resulting the cancellation of many tour dates on the West Coast of the United States, where a growing fanbase was all the more eager to see and experience the band in concert. A greater tragedy occurred a few days later, when drummer Razzle was killed in a car accident, the car being driven by Motley Crue's Vince Neil, in an inebriated state. Attempts to hire a new drummer and keep the band afloat failed, and before long at all, they were no more.
While Hanoi Rocks seldom gets the publicity of many of the bands that were popular on the 80s glam rock scene, they were a massive influence on said bands, in terms of fashion and sound alike. Hanoi Rocks was a unique group with an unusual sound that drew its influences from multiple sources – punk rock, new wave, 70s glam, and just about everything in between. Even with numerous records behind them up to this point, the general consensus is that Two Steps from the Move remains the definitive studio record from the group. Rock Candy Records, who has reissued some of the greatest rock and roll albums of all time over the years, from legendary hit records to obscure, forgotten classics, has now taken it upon themselves to give this oft-forgotten classic the deluxe treatment.
There are countless classic tracks on this album, and it is not hard at all to see why it has the classic reputation it does with so many fans and musicians alike. Every song on here is strong, and the album keeps your attention throughout; Hanoi Rocks was always good at maintaining a sound all their own, including many musical elements that were not always typical of the era. After all, these musicians were much more seasoned and experienced than a number of the so-called "peers" they have been lumped in with over the years. The record marks the culmination of everything musically they had been doing up to the time. Highlights include the now classic cover of Creedence Clearwater Revival's "Up Around the Bend" that kicks off the album, the punk-flavored rocker "High School", the eerily melodic "Underwater World", a remake of the band's earlier ballad "Don't You Ever Leave Me," another terrific 80s-flavored ballad in the form of "Million Miles Away", and other gems including the title cut and "Boulevard of Broken Dreams." The cuts on the album are surprisingly diverse musically; you could envision these being played on anything from a punk radio station to one that specialized in 80s new wave/pop songs, yet they would not be out of place on a hard rock station either. Every Hanoi Rocks album is strong but this is the band's absolute peak.
One of the ongoing complaints I have had with Rock Candy's otherwise fantastic reissues has been, in many cases, a lack of audio bonus material. Well, apparently this is a company that listens to their fans. Not only does this release contain bonus material; you get an entire disc's worth of it! Hopefully this will be a sign of things to come from the company in the future. Disc One contains the complete classic album, while Disc Two is packed full of rarities. The majority of these are rare bonus tracks from singles that were released back in the day, while the latter four songs are actually pulled from a BBC Friday Rock Show Session, allowing you to hear the band playing in their absolute prime, a mere few months before Razzle's tragic death. As with Rock Candy's other reissues, you get a booklet packed with information about the band, rare photos, and other interesting pieces of information. I do not have an earlier CD to compare the audio quality with, but this release of the album sounds fantastic throughout.
If you are a classic hard rock fan, there is a chance that you already own Two Steps from the Move on some other format, possibly an earlier CD release. And this may be the point where you are asking yourself, should I double dip? The answer is YES. This is, by far, the definitive release of this classic album, and an entire disc's worth of rare material coupled with thorough liner notes and photos only add to the overall package. For any fan of classic hard rock or heavy metal, Rock Candy Records' reissue of Two Steps from the Move is a must own.
https://www.youtube.com/watch?v=iEYtUcIKHTM