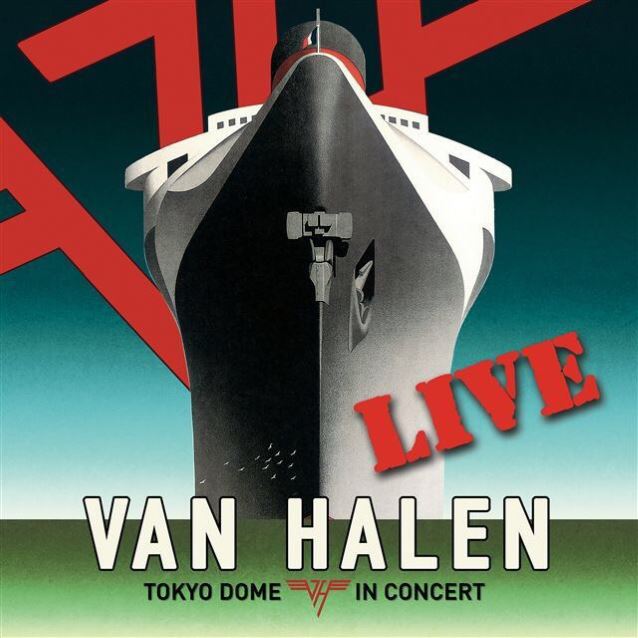 Prior to this 2015 release, Van Halen had never released a live album with David Lee Roth on vocals. Take a second to let that sink in.
Van Halen ranks amongst the most iconic classic hard rock bands of all time. Their high energy stage shows from the classic 1978-1984 period are the stuff of legend, and helped them to build up a worldwide fanbase that remains to this day. The "Dave vs. Sammy" debates are never going to end, and while both of them certainly have their merits, the "classic period" of the band is completely and totally unrivaled in terms of musical prowess and stage chemistry. We all know how many little boys wanted to grow up to be Eddie Van Halen, and how many of today's top guitar heroes cite him as an influence.
Van Halen reunited with David Lee Roth a few years back, releasing the new studio album, A Different Kind of Truth, in 2012. Despite skepticism with the pre-release single, this fan found the effort to be a one all around. Recently, the band announced they would be releasing a live album of a Japanese concert that was recently recorded. The current lineup of the band features David Lee Roth, Eddie and Alex Van Halen, and Eddie's son, Wolfgang Van Halen, on bass; three quarters of the classic lineup from 1978-1984. From the classic era, only bassist Michael Anthony is absent, though Wolfgang has proven himself to be no slouch, and certainly worthy of keeping the Van Halen name alive!
So, how does this fan feel about Van Halen finally deciding, at long last, to release a live album with Roth on vocals? Personally (and other fans will agree), I would have preferred to see a vintage live album from the band's classic 1978-1984 period. Some of the reactions towards preliminary released clips from this live release had mixed reactions from fans and critics alike, but that was not going to stop this fan from giving the album a shot, and seeing how well the Van Halen boys hold up on a live stage in this day and age. Likewise, given that the only Van Halen album available for the past two decades has been a 90s record with Sammy Hagar on vocals, we need to have SOME kind of a live release with Roth at the helm.
After giving it a few listens, I am pleased to report that, for the most part, Van Halen does not disappoint on this new live release. Despite his health problems in the past, Eddie Van Halen is still shredding like no one else; he gets plenty of chances to stand out here and do this thing. David Lee Roth is his always charismatic self, fraternizing with the Japanese audience and loving every minute of it. It is not a perfect live album by any means, but the good here definitely outweighs the band.
I will get the bad news out of the way first – the first two tracks on this release are terrible. These takes of "Unchained" and "Runnin' with the Devil" sound like Roth is either drunk or disinterested in the music, or possibly any mixture of the two. A few other moments like this surface on the release, but fortunately they are rare after the first two cuts. Roth also has a little TOO much fun interacting with the audience at some points on the release, which does occasionally detract from the music. Aside from these few hiccups, though, the release is actually pretty solid overall.
The setlist on this live release combines songs from the band's classic six 1978-1984 studio releases with tracks from the A Different Kind of Truth album that came out in 2012 (so NO, you do not get to hear Roth trying his hand at singing songs from the Hagar or Cherone eras or anything like that). The setlist is surprisingly well balanced, with just the right amount of "new" songs, and nearly all of the "classics" getting played.
Many of the songs become extended jams in the live setting, including "Eruption," Eddie's classic guitar instrumental that has influenced generation after generation, and remains one of the classic rock world's definitive instrumental tracks. Long time Van Halen fans should enjoy what they hear here; even with two discs worth of material, this concert never manages to feel excessive. I cannot say that this is going to end up on the list of all-time great live albums, but for what it is, it is a very solid release.
It is great to see Van Halen back in action on a live stage, and despite a few minor flaws here and there, this stands as a terrific live release from the modern incarnation of one of classic hard rock's greatest bands. Van Halen's Tokyo Dome concert comes recommended for fans of the group.