The first thing I'm going to mention is the fact that I hate that in 13 years this band is only releasing their 4th album and it usually takes 4-5 years between albums. I'm sure there's a big number of factors behind that, I'm just complaining because I like this band a lot and want to hear music more often 🙂
Oh, and come play Las Vegas
damn it!
Taking Orgy, Rob Zombie, and Skinny Puppy... I think you'll find their sound somewhere in there. I know a lot of people don't know who this band is, so I have to make sure you leave this review having an idea, as well as wanting to give them a listen. There's a lot of melody within their heavy grooving electronic sound. Sorta poppy but in all the right ways.
Unfortunately, Deadstar Assembly probably missed the popularity boat by being a few years too late, which sucks because I definitely think they're one of the best modern industrial metal bands, along with 9Electric (tour, hint hint hint).
So onto the album.
They do what they do very well and eventhough you can always hear their influences pretty blatantly, they do have "their sound". This newest release, Blame it on the Devil, is no exception. I think they continue
to hone their craft in the long breaks between releases, which usually results in them not having any bad songs.
But I have to pick some favorites; So first, I'm going to start
with Amulet. I love the extra goth-y synth and the build into the double bass riff which shows up as a sorta bridge in the verses and the choruses. This song would describe their overall sound VERY well. As I mentioned earlier, the melodic heavy groove. I see this as a live staple.
Will Not Die is another song I think would be a good one live. Full of sing a long lyrics and fist raising plus the straight forward beat to bang your head to.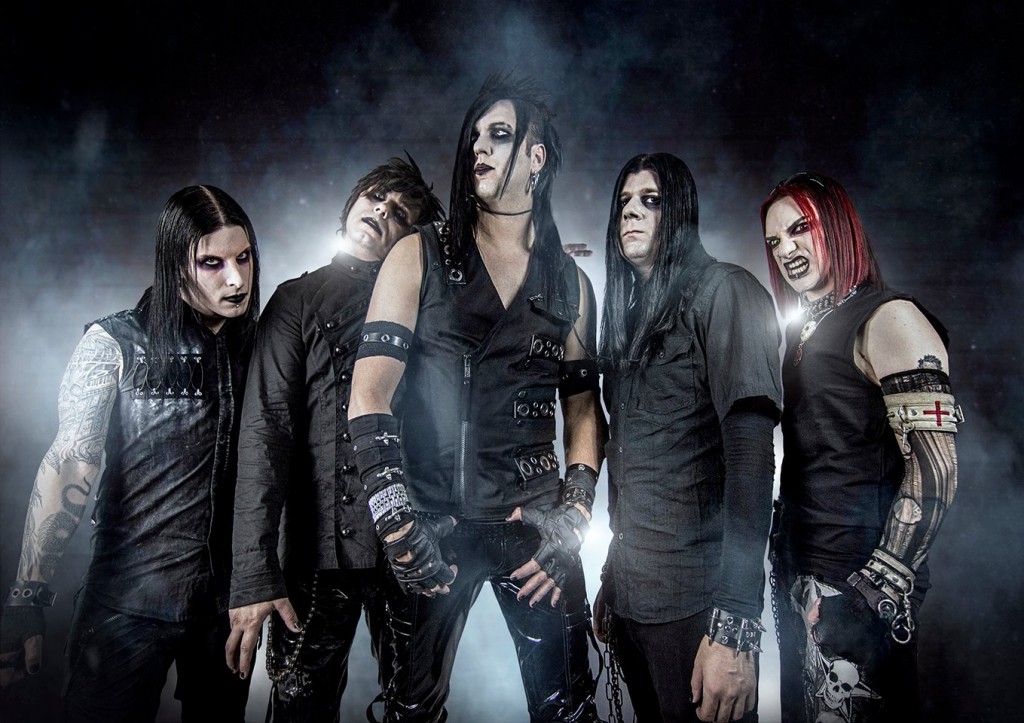 Baptized in Fire threw me off because I thought it was going to be a very fast thrash song (Ministry style) but then the beat came in real slow and hard hitting. It still turned out to be fairly aggressive in the verses, just not the way I envisioned. The chorus gets really melodic almost in a Killswitch Engage kinda way. Ironically, there's a breakdown in this song as well, complete with solos behind it, before leading back into the final chorus, and then again another breakdown to end the song off in a blaze of glory.
Dirtier Than Sin... how can you ALMOST compare Deadstar Assembly to Iron Maiden? Well. It became possible with the keyboard and guitar harmony in the chorus. I can even hear the crowd "ohhh whoooaaa whoooaaaa" in my head. During the verses however, it's straight headbanging. There's also a breakdown in this song in the middle which would be fun for pit activity
.
Adorned in Thorns just sounds like In Flames. It's straight up Gothenburg Industrial. It's true! I seriously mean it. Imagine Anders Frieden's vocals on this song. It could easily fit
on the Soundtrack to Your Escape album. Especially the thrash section with the solo. It's SO Gothenburg.
Again, there's certainly no bad songs on this album. It's all catchy and worth listening to. If this is your start to listening to this band, that's perfectly acceptable. I hope it opens your ears to a new band to love. Just make sure to listen to the
first 3 albums too. You'll notice the growth. I think 2010's Coat of Arms is still my favorite, but it's ALL good 🙂
Not that there's a ton of competition for the reigns of industrial metal anymore; Deadstar Assembly has deservedly worked their way to the top of
the elite.
Oh, and just a reminder... come to Las Vegas
.