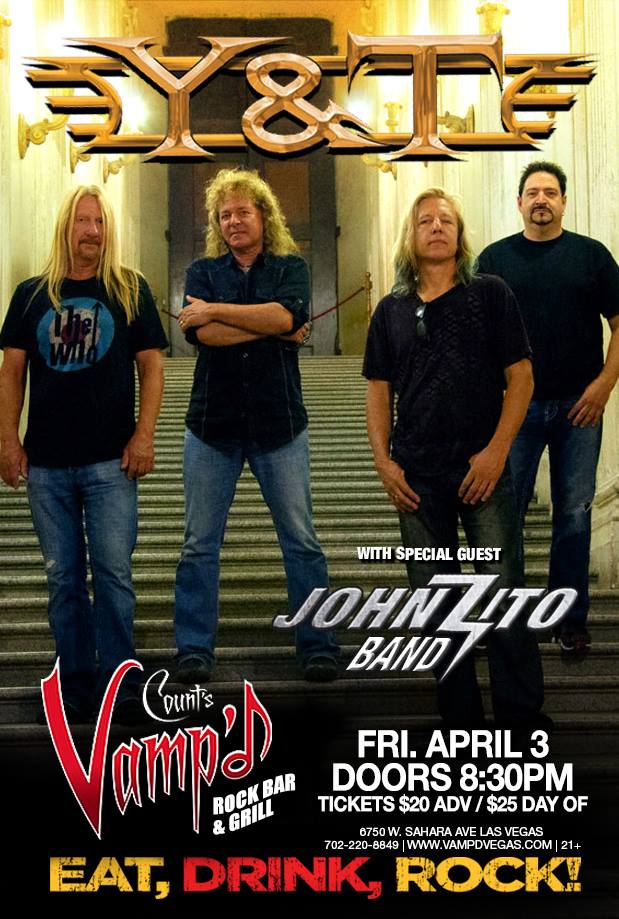 Y&T remains one of the most criminally underrated bands of all time, not to mention one that got credit for all the wrong reasons. The group is known for their pop-flavored hit "Summertime Girls," but their actual sound was something much heavier and far more hard rocking. Those who put in the time to explore the band's catalogue discover some of the most incredible classic hard rock of all time. Even with the death of classic bassist Phil Kennemore, guitarist/vocalist Dave Meniketti and the current incarnation of the group are still going strong.
Y&T remains busy with regular tours, having released their latest studio album in 2010 and a new live CD with the current lineup in 2012. In the current version of the group, Meniketti is joined by guitarist John Nymann, bassist Brad Lang, and drummer Mike Vanderhule. This version of the band is one of the strongest to date, and anyone in attendance at this Vamp'd show would agree.
Kicking off the evening of rock and roll was the John Zito Band! Zito is one of the greatest blues rock guitarists to call Vegas home, and is also known to locals as a part of Count's 77, the band fronted by Vamp'd owner and Pawn Stars/Counting Cars auto restoration expert Danny "The Count" Koker. Zito always knows how to rock and command a crowd, and his opening set here tonight was one of the best in recent memory. It was the ideal way to jumpstart this evening of music!
Of course, it was Y&T that attracted this large crowd, which was one of the biggest this fan had seen at Vamp'd in quite some time! As soon as the band took the stage and began shelling out the classic gem "Hurricane", it was clear that the audience was impressed by this display of hard rock on the live Vegas stage. For over two hours the fans were hooked.
One thing that has always impressed me about the Y&T shows is just how diverse of a setlist they are able to give their listeners. This must be the fourth time I have seen the band play Vamp'd, and they pull out deep cuts at every show, in addition to some of the better known tracks. The band even manages to impress in the fact that they care so much about playing lesser known obscure cuts, that they are even willing to sacrifice playing hits to do so; a bold move that no other band out there would dare do. We got Y&T classics like "Rescue Me," "Dirty Girl," "Black Tiger," and "Mean Streak," but the group pulled out plenty of quality deep cuts, including "Midnight in Tokyo," "Cold Day in Hell," "All American Boy" (actually a minor follow-up hit to "Summertime Girls" back in the day) and even some cuts off the band's latest studio effort, 2010's Facemelter. It was a great, diverse setlist that ranks amongst the finest I have heard the band perform in concert. A number of fairly popular songs were MIA (even "Summertime Girls" was omitted, as were "Don't Stop Runnin'" and "Lipstick and Leather," but this was a small price to pay to get deep Y&T cuts done up live).
You also have to give the band credit for stage chemistry and humor. These guys clearly enjoy making music on the live stage, and enjoy their current situation as well as looking back on the classic years of the group. One of the more humorous moments of the evening was Meniketti claiming Steel Panther had ripped off the "chanting" chorus from "Contagious" and incorporated it into one of their own songs. Little moments like this added to an already great rock show that ran for two continuous hours.
This was an awesome night of rock and roll with no shortcomings whatsoever, and definitely one of the best of the year so far. Y&T seems to hit up Vegas once a year on average, and their performances are always a cut above the rest. Dave Meniketti still sounds just as good as a vocalist and lead guitarist as he ever has, and it shows with every single gig. Fans of the band can take pride in the fact that the group is still at the top of their game. For any fan of classic hard rock/metal, attending a Y&T show is a must.