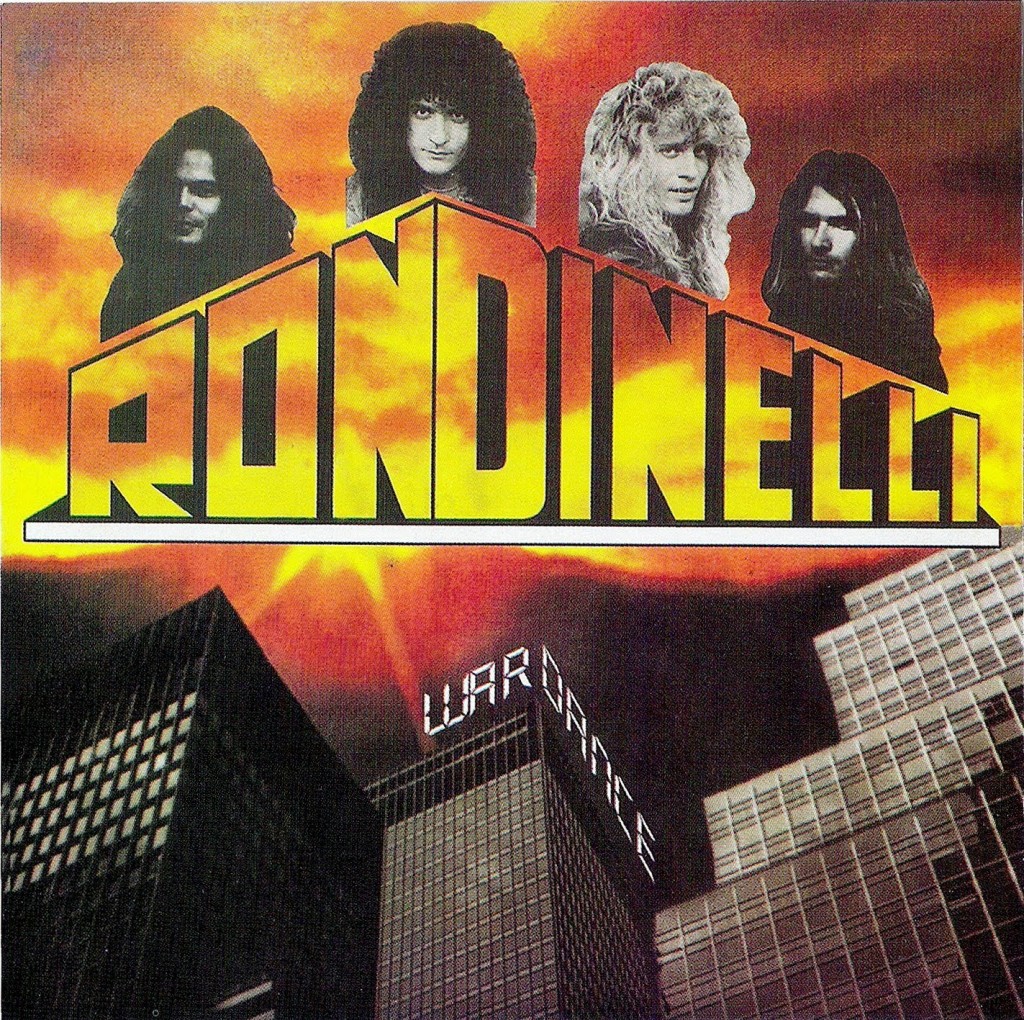 One of the most underrated rock drummers is Bobby Rondinelli. Known in fan circles for his role in bands like Rainbow, Quiet Riot, Black Sabbath, and Blue Oyster Cult, this drummer is still going strong. Like anyone in the world of rock and roll, he has many portions of his career that have gone forgotten over the years. He recorded some material with his eponymous band, Rondinelli, in 1985, though this material ended up not seeing the light of day on a CD until 1996, over a decade later.
The band Rondinelli comprises Bobby Rondinelli on drums, Teddy Rondinelli on guitar, Corey Davidson on keyboards, Ray Gillen (later of Black Sabbath and Badlands) on vocals, and James LoMenzo (later of White Lion) on bass. Of course, most of these musicians would go on to other projects that were far more fruitful and popular.
The Rondinelli album, Wardance, is essentially divided into two halves. The first four songs are studio recordings, while the latter four are live cuts, and include some extended jams. It is not clear, had the album been released immediately following its recording in 1985, if it would have been an EP of just the studio songs, or a full-length album incorporating the live material. It has also been stated on some websites and in some reviews that the studio material on here was a collection of demos never intended for commercial release, but rather to get the name of the band out there to potential record labels and the like.
The studio half kicks off this release, and the production on these tracks, while a little flat compared to some of the more "big name" albums of the day, is actually surprisingly good, especially if this material was not intended for commercial release. The title track and "Black Sheep" are great songs that are the perfect mix of heavy and melodic rock; the guitar riffs are great on both tracks. One thing that really makes these tracks stand out is the keyboards, surprisingly enough. Prior to discovering this release I had no idea who Corey Davidson was, but you better believe that, based on the strength of these tracks alone, I will be doing some additional research! "Rock and Roll" is a ballad despite the title, but it is a melodic, anthematic one that does not feel overly cheesy or campy the way some of the era do. "The One That Got Away" returns to the melodic yet heavy rock of the first two tracks, keeping the listener's attention for its duration. All four of these tracks are awesome, and feature the always underrated Ray Gillen at his finest; it is a shame we lost him at so young an age.
The live half features some epic, lengthy jams, but the poor, bootleg quality production is definitely a thorn in the side of this release. "Kiss and Say Goodbye" is straight-up hard rock that ranks as a great song from this oft-forgotten band. We get extended jams in the form of "Fly Paper" and "We Can't Lose," both of which exceed the ten minute mark, and beautifully demonstrate what the band was capable of, and why they should have been bigger. In their duration these songs go from the hard, heavy, and loud, to slower and more melodic sounds, truly making them the best of both worlds. A live version of the title cut closes out the four live tracks. This half of the album is a great addition to the studio half, it is just a shame the production is not better, because everything on here is strong.
Bobby Rondinelli kicks ass, as any fan will be able to tell you, and the Rondinelli band definitely ranks as some of his most underrated work. If you can get your hands on this CD, it is well worth listening to; any opportunity to hear unreleased and rare Ray Gillen tracks is definitely welcome to this rock and roll fan. Highly recommend release if you can find it!