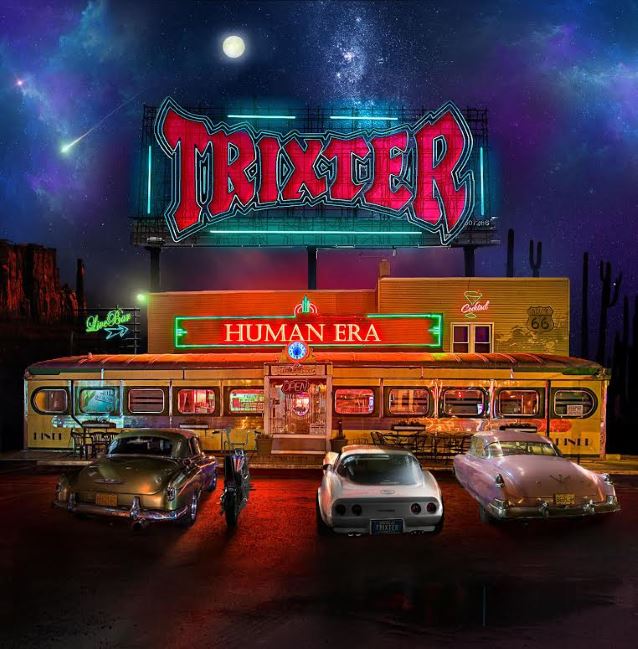 Paramus, New Jersey's Trixter released their debut album in 1990, which showed the world a solid mixture of pop and rock, and scored the fledgling band some minor hits. The group looked like one that would go places, but like so many, the coming of grunge and alternative rock resulted in much of their output being ignored by the music industry and the public at large. This has not stopped the band; they continue to persevere and put out new releases, maintaining a loyal fanbase all around the world.
For being a band that many rejected as a "flash in the pan" 25 years ago, the boys from Trixter remain surprisingly active, both in the studio and on the stage! I will be the first to admit that while the band's initial studio output back in the day was nothing to scoff at, it was not exactly anything revolutionary either. The group completely turned things around for me (and many listeners!) a few years ago with New Audio Machine, a studio album that took on a heavier, more stripped down sound. Hands down, New Audio Machine was my favorite thing Trixter ever recorded, and resulted in me giving the band another look and a second chance. Here we are a few years later, and Trixter has released Human Era, another new studio album. Does this one keep their hot streak alive?
With Trixter having set the expectations high with the release of their previous album, Human Era is definitely an album that this fan was all the more eager to hear. Having given the new record a listen several times now, I can safely say that it does not top New Audio Machine, but despite a few pratfalls here and there, it is a respectable new effort from the band that should satisfy the fans.
One thing about many Trixter albums, and something that is certainly true of Human Era, is that the band does not really have their own unique sound, but rather takes the best elements from the sounds of other bands, combining them to create something interesting. Many of the rockers here have a Bon Jovi-esque sound to them, combining light and heavy sounds alike, and doing so surprisingly well. The group even manages to slow things down and show some musical maturity in a few places as well. Most of the tracks on the record are impressive, though a few of the slower and lighter numbers do come dangerously close to modern pop territory at times. Fortunately, this is rare and will likely not impact your positive opinion of the record if you are a fan.
Overall, Trixter has released a solid new record in the form of Human Era; seeing this band make a comeback a few years ago and continue to go strong has been a great experience, and this fan is hoping that they will be back on the stage and in the studio for years to come. Human Era garners a solid recommendation; no fan of the band should be disappointed.