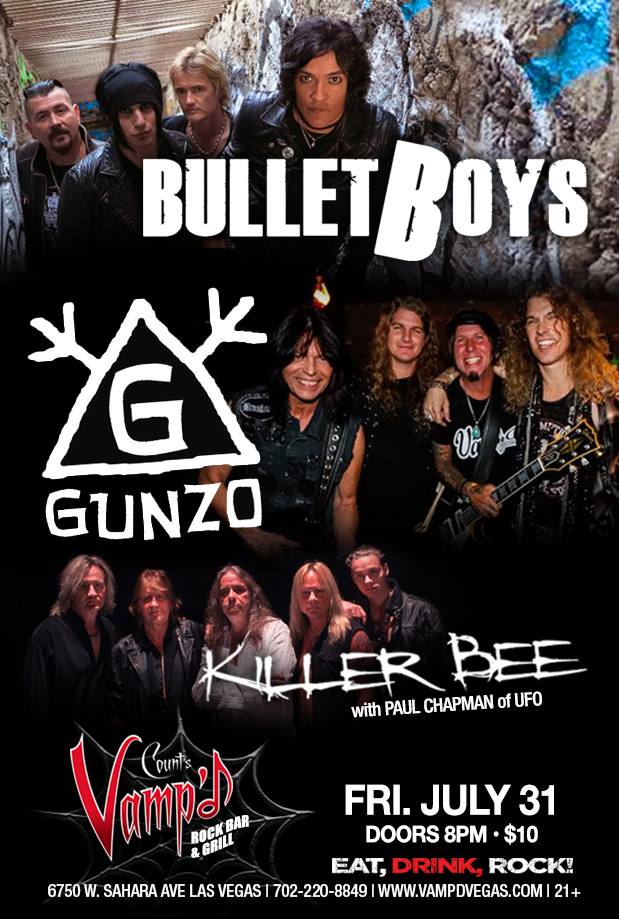 Rock and roll fans around Las Vegas were geared up to spend July 31, 2015 at Count's Vamp'd for a triple bill of rock and roll excellence, with Killer Bee (featuring former UFO guitarist Paul Chapman), Gunzo (featuring Tracii Guns and Rudy Sarzo), and the Bulletboys. Unfortunately, unforeseen circumstances, namely a tour bus breaking down, meant that Gunzo was unable to make the show, much to the dismay of fans. The night ended up becoming a free show that was a double bill, with Killer Bee and Bulletboys.
Prior to the show, I had been well aware of who Paul Chapman was in the music business for his role in UFO, replacing the legendary Michael Schenker, and having listened to some of the material from his pre-UFO band, Lone Star. That said, I still had no idea what to expect from Killer Bee. The band, apparently, has been around since the 1990s, though Chapman was just recently for this tour brought in as a guitarist. It is not clear if he will be working with the group in the future or doing recordings with them.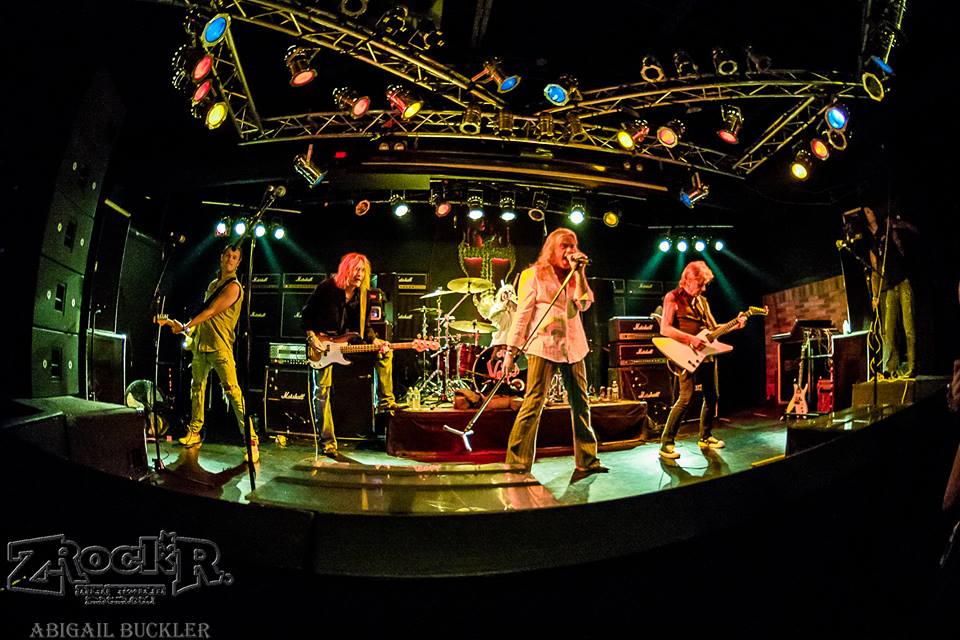 The Killer Bee set ended up being a pleasant surprise, with the group's sound largely being one influenced by 70s classic hard rock. Chapman's guitar playing absolutely stole the show, but the group's frontman put up a solid performance of his own, complete with juggling and twirling the microphone stand! This gave the group both the sound and the image that they needed to impress the crowd and get them warmed up for this night of rock. The original songs were all superb, but the highlight was hearing them play the UFO classic "Doctor Doctor," complete with an extended guitar solo intro from Chapman. The group's frontman clearly had a sense of humor, imploring fans to come up to the stage, and even brought women up on the stage to dance for Killer Bee T-shirts! The group's classic 70s style hard rock sound clearly was loved by all in the audience, and the group's outro, a cover of the Led Zeppelin classic "Rock and Roll," definitely had them rocking out. Seeing Paul Chapman on a live stage has been on my "to do" list for quite some time, so to see him rocking out with a band like this in a small intimate venue like Vamp'd was an awesome experience.
The Bulletboys had a brief but brilliant time in the spotlight in the 1980s. Originally formed by ex-King Kobra members including vocalist/guitarist Marq Torien, the band's Ted Templeman-produced debut hit stores in 1988 to rave reviews, featuring plenty of hit songs. The group's follow-up albums did not have the same commercial success, but this did not keep them from recording their own breed of kick-ass rock and roll. Only Torien remains from the original lineup, but he has put together a solid new lineup that includes former Odin drummer Shawn Duncan. The group's latest studio album, Elefante, came out earlier this year.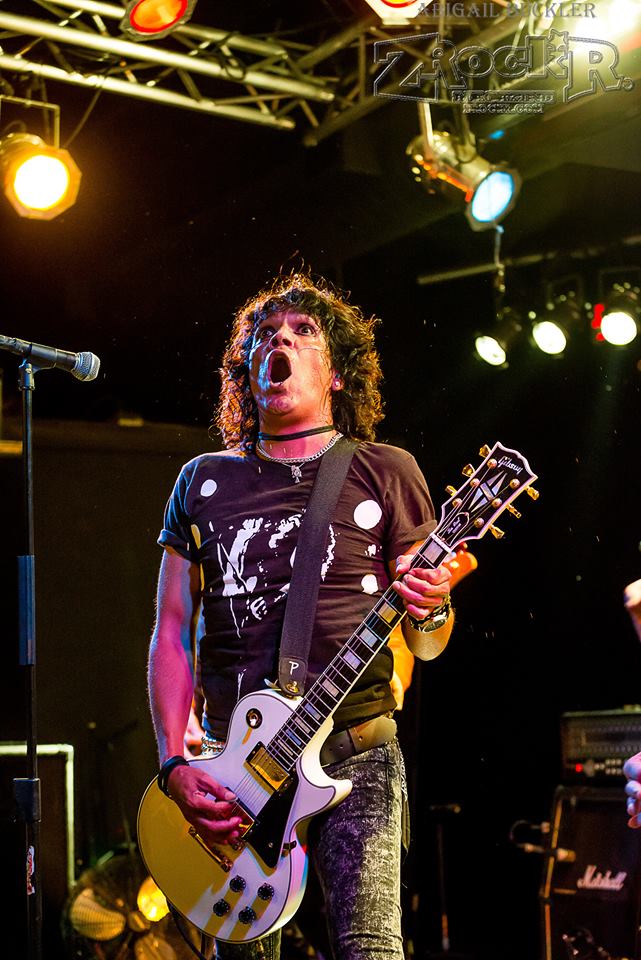 Let me start the review for this portion of the show by saying this – Marq Torien is one of the most criminally underrated frontmen of all time. On stage, this man rocks out with a level of energy greater than that of men half his age. Playing lead guitar and delivering his own unique vocal style, he is the glue that has held the Bulletboys name together for years now. To this day, even in his 50s, he still packs a stage presence that few others even come close to. His peformance on a live stage must be seen to be believed.
The Bulletboys did not waste any time getting down to business. With a set that intermixed hits from earlier records (including their iconic debut) and tracks from Elefante, they kept this audience on their toes from start to finish. Every time I see Torien on the live stage, he always manages to impress me with the sheer amount of energy and effort he puts forth. The group even managed to deliver several surprises; I in particular loved getting to hear my all-time favorite Bulletboys song, "Hell On My Heels," not only done on a live stage, but also with an added bass solo and turned into a medley that included Journey's "Lovin' Touchin' Squeezin'" of all things! We heard plenty of the classic Bulletboys tunes, including "Hard as a Rock," "THC Groove," their cover of the O'Jays "For the Love of Money," and their biggest hit, "Smooth Up In Ya," which finished the show in fine form. Combining all of this with new songs, including a cover of Elton John's "The Bitch is Back," showed that the group is not merely content with being a "nostalgia" act, though they clearly shell out enough of the classic cuts to satisfy concertgoers.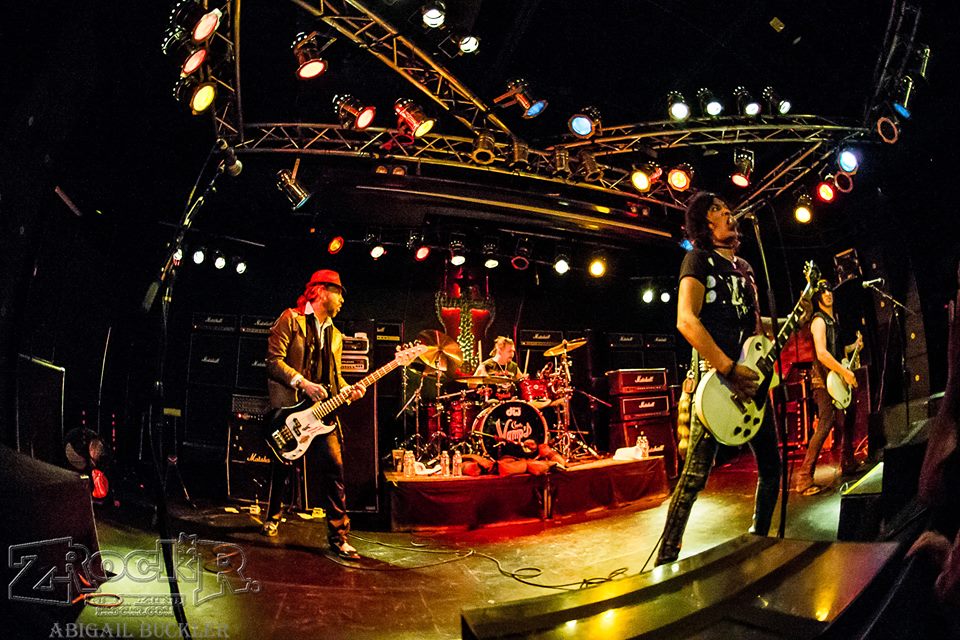 If I have one minor complaint with the otherwise great Bulletboys set, it is that a few of the classics had to be omitted to make room for the new Elefante songs. The two main tracks that were omitted from the setlist that this fan missed were "Kissin' Kitty" and "Hang On St. Christopher." Still, there were no dull moments in this performance whatsoever; any fan in attendance would agree.
The Bulletboys have been rocking the world for nearly three decades now, but Marq Torien's on-stage antics and energy show the masses that age is just a number. With a new album out and a solid lineup that features some of the best musicians Torien has played with following the classic years of the group, fans will definitely get their money's worth if they go to check out the Bulletboys in concert in the near future. All in all, a damn good night of rock and roll featuring two radically different but equally excellent bands.
All Photos © Abigail Buckler / ZRock'R Magazine