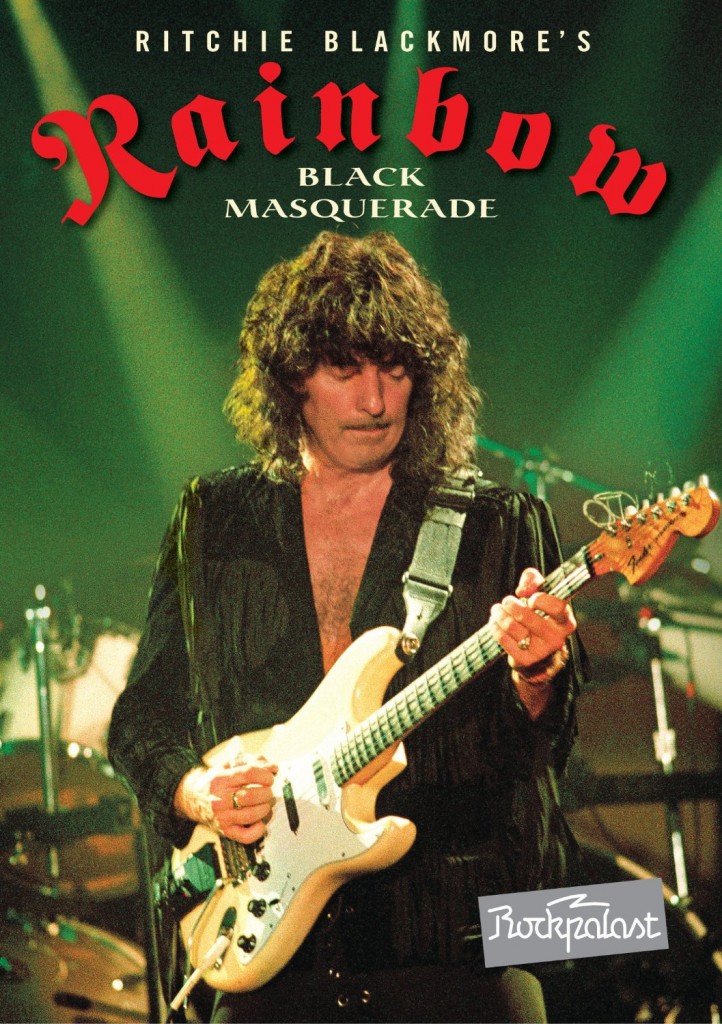 When Ritchie Blackmore left Deep Purple in 1975, he proved to the world that he was not ready to stop rocking. His post-Deep Purple band, Rainbow, had no shortage of highlights; there were hard rocking songs and various hits, plus some of the most talented men in the music industry. Exploring a myriad of sounds, the band eventually folded in 1983 when Blackmore left to do a Deep Purple reunion. Upon leaving Purple again circa 1993, Blackmore formed a new version of Rainbow with Scottish vocalist Doogie White, and even recorded an album. The efforts, while solid, were promptly forgotten, with Blackmore eventually abandoning rock altogether to pursue medieval folk music (seriously, I'm not making this up!)
The reunited 1990s Rainbow recorded and released just one studio album, Stranger in Us All. Only Blackmore remained from the old version of the band, though for the television appearance the band recorded in 1995 for Germany's famed Rockpalast, former drummer Chuck Burgi returned to the fold. This release from Eagle Rock is noteworthy because it is the only official release of video content from the short-lived "reunion" version of Rainbow.
Essentially, this is a television performance the band did for a massive audience in Germany for the Rockpalast television series, intermixing songs from all of Blackmore's eras – Rainbow of the past, Deep Purple, and the then-newer songs from Doogie White's lone album with the band, Stranger in Us All. Of course, the band also finds ways to throw in some unexpected surprises and White's on-stage sense of humor, keeping the experience fresh for the fans.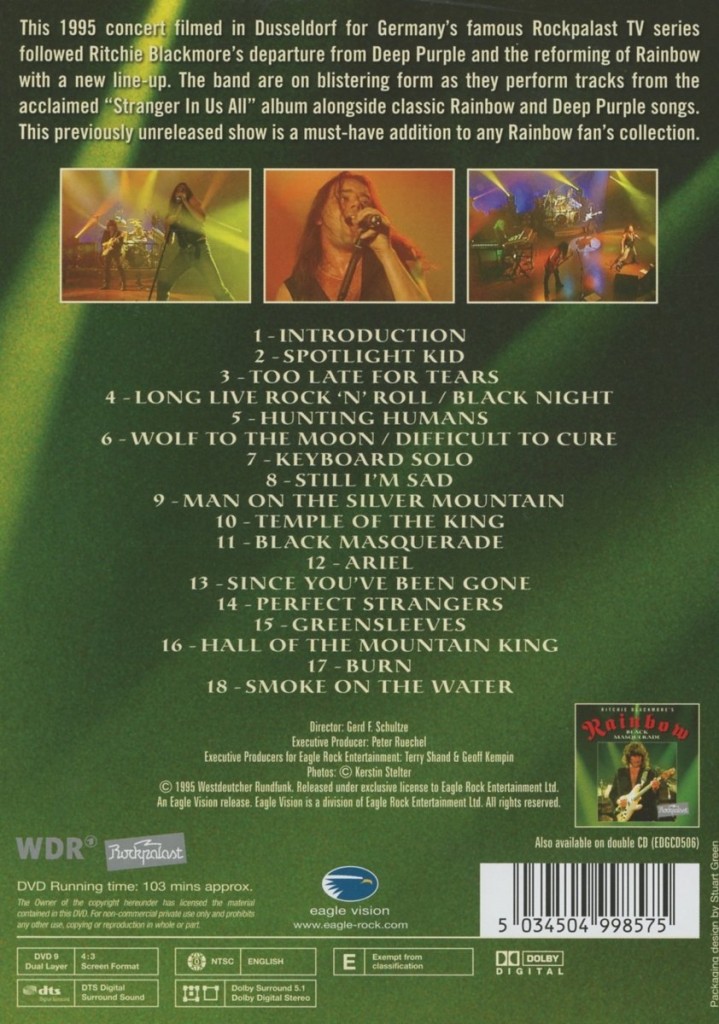 I found Stranger in Us All to be a criminally underrated album; in many ways it was a return to the band's earlier Ronnie James Dio-era sound, with the fantasy/mythical musical themes and a sound that suited such, as opposed to the AOR-style rock of the Joe Lynn Turner albums. Many fans out there that have discovered the album find it to be a surprisingly strong effort, and it is a shame this phase of the band never really "took off" or recorded a live album in the traditional sense. This DVD, however, features this oft-forgotten era of the band at their finest, clearly impressing the audience.
Fans will love what they see here; this is Ritchie Blackmore in the period immediately before he abandoned rock and roll outright. Doogie White is a solid vocalist who does justice to all of the material here, spanning a decade of former Rainbow hits plus songs from this incarnation's lone studio effort. The diverse setlist is one of the greatest strengths here; every song sounds great and Ritchie Blackmore continues to show off why he is a rock guitar legend. The Deep Purple songs thrown in are a nice touch as well.
The disc is devoid of extras but does include an informative booklet with photos. Audio and visual quality on the disc are both solid; there are no substantial flaws that will derail the experience for any fan.
No Rainbow fan should be without Black Masquerade. You will get to experience this version of the band on a live stage, performing old and new songs alike. It is the end of an era, and a phase in the Rainbow story that never got the attention that it deserved. For any fan of Blackmore/Rainbow/Deep Purple/classic hard rock in general, this DVD is highly recommended!
https://www.youtube.com/watch?v=eWfw-XAEy-s