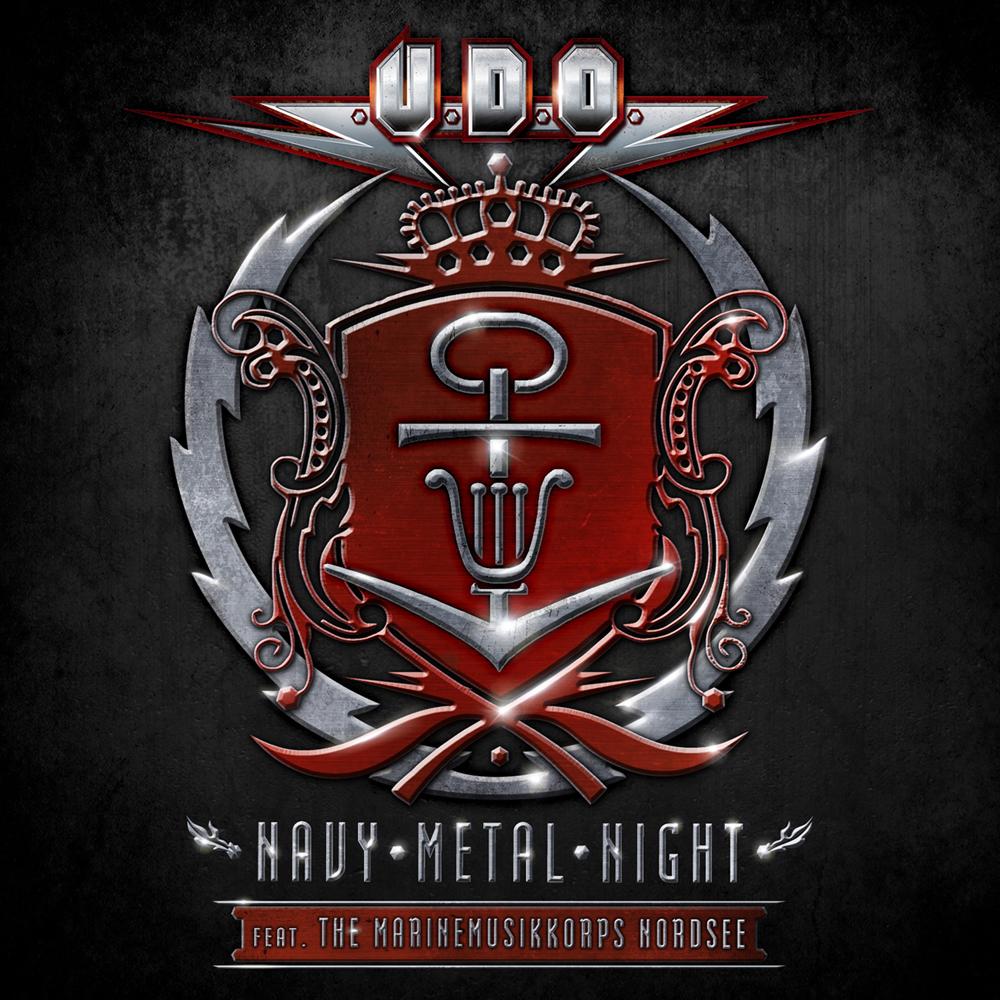 If you are at all a fan of classic hard rock and heavy metal, Udo Dirkschneider is a man who requires no introduction. As the classic frontman for legendary German rockers Accept, he sang on that band's biggest hits, including "Restless and Wild," "Fast as a Shark," "Love Child, "Balls to the Wall," and countless others. Embarking on a solo career with his UDO band following his split from Accept, he has proven that he is no one band wonder; to date the UDO band has put out over a dozen releases.
February 2014 saw Dirkschneider playing one of his most unusual and ambitious shows to date, accompanied by the Marinemusikkorps Nordsee, a German naval orchestra. The show is being released on this 2CD set, but will also be available on DVD and Blu-ray Disc as well.
Admittedly, I am a die-hard fan of Dirkschneider's Accept years, and have only listened to a few of his post-Accept efforts with the UDO band. That said, this sounded like too interesting an opportunity to pass up. Dirkschneider and company performing with an actual naval orchestra? In the past year or so, UDO has put out a new studio album as well as a traditional live album, so these are artists that are keeping busy, to say the least! So, how is Navy Metal Night?
As one of the leading men in classic hard rock, Udo Dirkschneider was definitely taking a formidable risk putting out a musical experiment like this, but also had no reservations about the way it turned out, calling it an unforgettable experience. I am pleased to report that long time fans of the former Accept frontman should be more than satisfied with what they hear in this CD set.
The best thing about this album? Right from the get go, Dirkschneider's voice is instantly recognizable. Ever since starting with Accept in the late 70s, he has always had one of the most distinctive snarly voices in the heavy metal game, and that reigns as true today as it did back in Accept's prime. He has forged an equally impressive (and actually larger!) discography with the UDO name as he ever did with Accept, and has made it known to fans over the years.
Another great thing about this release is that the orchestral presence is just right. The core UDO band remains the primary musical emphasis and is supplemented perfectly by the orchestral accompaniment. At no point does it feel like the orchestra overwhelms things; they supplement the band just right. There are a few "orchestra only" tracks here and there, but these just help to build an ominous (and at times surprisingly lighthearted!) mood that makes the experience all the more memorable. When a band can pull off the whole "rock and orchestra" thing just right, the results are spectacular. You do not want the orchestra to overwhelm the band and become the stars, nor do you want your orchestral players to simply be "along for the ride." UDO succeeds beautifully in this way; the orchestral presence is perfect!
If I have one complaint with a mostly solid album, it is the one that many longtime fans of Dirkschneider are going to have – no Accept songs. I am proud that the UDO band stands on their own these days (and has for quite some time!), but we should have at least gotten two Accept cuts, maybe as encores. This heavy metal fan can think of a handful of cuts from the Accept days that would have played out great with the orchestra.
It is a wild musical experiment, but one that works. Udo Dirkschneider perseveres as one of heavy metal's definitive voices, and no place is that truer than on this Navy Metal Night release. The lack of Accept songs is a minor disappointment but certainly does not derail the overall experience. If you are a fan of UDO, this is a solid release well worth picking up!
https://www.youtube.com/watch?v=6ijVKa1byYw