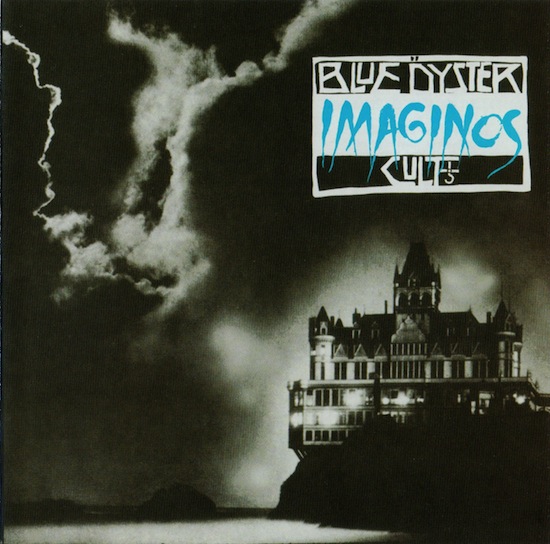 By 1988, Blue Oyster Cult was a mere shadow of what it had once been. The mighty classic hard rock titans, who had released gems like "(Don't Fear) the Reaper," "Burnin' for You," "Godzilla," "Hot Rails to Hell," and "Black Blade" were down to a mere two classic members, and their more recent albums to the time had gotten mixed reviews. Only guitarist/vocalist Eric Bloom and Donald "Buck Dharma" Roeser remained from the group's classic lineup.
Apart from the band, classic drummer Albert Bouchard was working on a new album project called Imaginos. Largely based on the poems and stories of long-time band manager/songwriter/producer Sandy Pearlman, it was to be a concept album, telling a complex story to its audience. The album was initially rejected by the record company, who had no desire to release it as an Albert Bouchard solo album. Over its many years of recording, countless guests participated in the recording sessions, including Robby Krieger, Aldo Nova, Joe Satriani, and Kanny Aaronson. Ultimately, it became a classic Blue Oyster Cult lineup reunion of sorts, when the Bouchard Brothers and Allen Lanier returned to the fold, adding their touches to the release (though it is not clear if all of the musicians were actually in the studio together at the same time at any point during the sessions).
Released at long last in 1988 as a Blue Oyster Cult album, the record received positive reviews but was commercially unsuccessful; it ended up being the final album the band released for Columbia Records. While the band has recorded subsequent studio efforts in their post-Columbia years, they would never again ascend to the levels of popularity that they had during their commercial peak in the years prior to this album's release. Imaginos is truly the end of an era for the band, and marks the final time all five classic Blue Oyster Cult members would appear on a studio album; classic keyboardist Allen Lanier passed away in 2013.
"Wild King" Mix of the rerecorded "Astronomy." Features spoken word intro from Stephen King. This is not the same rerecorded version that appears on the album itself, but rather a remix of sorts.
Yes, Imaginos is a concept album. No, I do not know what the hell the story is about, and I have given up trying to find out at this point, only having read mere fragments online. An alternative mix of the rerecorded "Astronomy" (link above) features a spoken word intro from Stephen King; you will learn more about the album's story by listening to that intro than you will actually trying to make sense of the songs; it was meant to be multiple albums and many songs were meant to be a part of the story that did not make the final cut. The fact that they were arranged on the LP out of order certainly did not help things (is it just me, or does this remind anyone of another little concept album out there called Music from the Elder?)
But, if you are like me, you do not care about the story. You are here to ROCK.
And in that regard, Imaginos kicks ass. Whether it is a true Blue Oyster Cult album or some sort of Albert Bouchard solo record with guest stars galore, fans cannot deny that this album was the strongest to bare the BOC name since 1981's Fire of Unknown Origin. Many of the songs are more straightforward hard and heavy rockers, but there is also clearly some 80s pop influence and more progressive sounds in places as well. Inventive songwriting is indeed on display here; just do not waste time trying to put it all together as a coherent story. You will just end up with a headache.
Musical highlights are plentiful on this underrated gem of an album. The opening cut, "I Am the One You Warned Me of," is one of the band's hardest and heaviest rockers ever made, and one of my favorite songs they ever recorded. "Les Invisibles" is an equally impressive rocker, and one that brings keyboards into the mix, giving it a distinctly 80s sound but never feeling dated. A number of the tracks on the album are longer, more progressive numbers, which definitely show the band's musical capabilities and diversity alike. I admit I probably could have done without the rerecorded "Astronomy," but that is only because the original on Secret Treaties was perfect to begin with. The closing pair of tracks, "Blue Oyster Cult" (that is the title of a song) and the title cut, finish this record off in fine form, leaving a lasting impression on any BOC fan that gives the record a chance.
The album was out of print for years, but was remastered and reissued a few years back when the band did their Complete Columbia Years box set. As such, any fan of the group who is interested in giving the album a listen, or repurchasing it for their collection, will be able to do so. If you are looking to complete your "Classic BOC Years" collection on CD, the aforementioned box set is the way to go.
Imaginos is one of the more unusual releases in the Blue Oyster Cult catalogue, but it is also an excellent record that deserves a second look. The album should have been more successful and gotten more publicity, but ultimately fell victim to record company politics and never got the credit it should have. If you are a Blue Oyster Cult fan, this one comes strongly recommended. Newbies may want to start with one of the earlier releases such as Agents of Fortune or Fire of Unknown Origin, but if you are an established fan looking to dig deeper, Imaginos might be right up your alley. Very highly recommended!