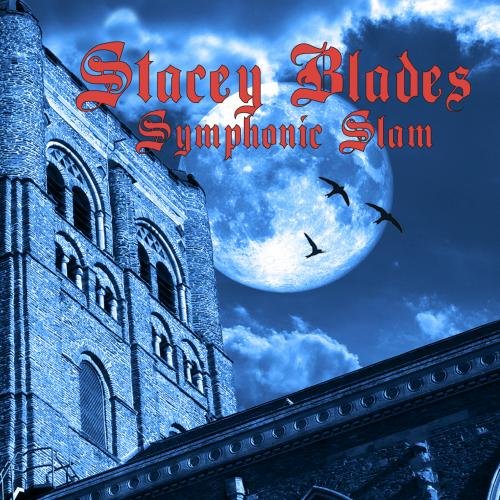 In the 2000s, former Roxx Gang guitarist Stacey Blades became better known to the world when he took on the seemingly impossible task of replacing Tracii Guns in LA Guns. These were some big shoes to fill, but Blades rose to the occasion and continued to record alongside Phil Lewis, Steve Riley, and the rest of the LA Guns camp for years. He parted ways with the band following the release of their Hollywood Forever album in 2012, and has since begun pursuing new projects.
Blades is a diverse and talented guitarist, though most fans only seem to know him for his role in LA Guns or, more recently, for his part in the Let it Rawk 80s Sunset Strip tribute band, which remains popular amongst fans of the genre. A few years back, Blades recorded his instrumental solo debut, Symphonic Slam, which was largely overlooked at the time of release.
Whenever one of my favorite bands/artists/etc. puts out a solo album or forms a side project or new group, I am always intrigued. Having been a fan of Blades for years but having somehow missed this album when it first came out, the concept alone sounded interesting enough. One of the best guitarists of the era putting his own spin on some classical masterpieces? At long last, I have had a chance to give this one a listen.
Symphonic Slam was released in 2010, in between LA Guns albums. As much as I love the music of LA Guns and Stacey Blades alike, I am a bit baffled as to how I actually missed this one the first time around. Oh well; it does not matter. All you need to know is that Mr. Blades kicks ass on this CD, beautifully demonstrating his musical prowess and diversity from start to finish. The selection of classic pieces of classical music explored on here alone is diverse enough – "1812 Overture," "The Blue Danube," "Hallelujah Chorus," "Ode to Joy," "Toccata and Fugue," the titles might not be immediately recognizable to people who do not actively pursue classical interests, but trust me; you have heard these pieces of music (in traditional form) SOMEWHERE.
So how does Blades' take on these classical gems fare? The album is a surprise, beautifully bringing together the classic and heavy metal worlds; the two styles of music are not as different as people think! These familiar works have been known to the world for centuries, and Blades finds a way to work his magic here. His guitar work on this album flows perfectly with the arrangements, yet he still manages to find a way to stand out with his soloing; at no point is he merely copying the classical originals on the electric guitar. I always love it when a rock/metal artist can take something familiar and put their own unique spin on it. Symphonic Slam succeeds brilliantly in that regard; this is definitely not an album to be overlooked. The only weakness with this album is its brevity; there are countless other classical works that could have benefited from this treatment as well! Hopefully Blades will give us a sequel in the future.
Stacey Blades has proven himself a phenomenal guitarist with LA Guns and Let it Rawk, and sadly this effort that truly gave him a chance to stand on his own and do his own thing musically, fusing his style with legendary classical tunes, tends to be criminally overlooked. Even if you are not a fan of classical music, Blades makes these pieces of music his own, and you will be drawn in by his distinctive style. For any fan, regardless of who you are, Symphonic Slam is essential listening!