Christine was originally released in theaters in 1983 and was directed by John Carpenter. It is based on the Stephen King novel of the same name. The film stars Keith Gordon, John Stockwell, and Harry Dean Stanton.
In Christine, Arnie Cunningham is a nerdy high schooler who has a less than favorable home life and is regularly bullied in his classes. Things take an unexpected turn when Arnie spots the titular classic car at an old home, purchasing it from its eccentric owner, despite the protests of his best friend and parents alike. Before long he has Christine repaired and restored to her former glory, becoming a more confident person, but one that grows increasingly distant from family and friends. It becomes clear that Christine is no ordinary car, with numerous people acquainted with Arnie, good and bad alike, winding up dead through unusual circumstances, all involving the car. It is up to Arnie's friends to save him from an unholy bond between him and his demonic automobile.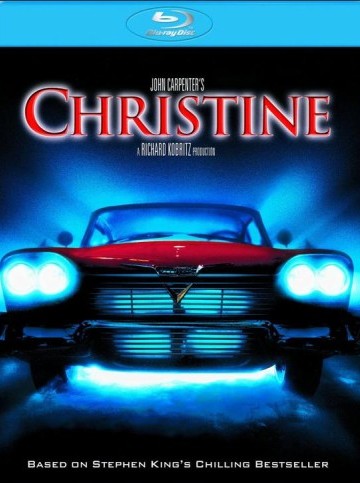 Christine is not a Stephen King adaptation that is as well known as Carrie, The Shining, or Misery, but John Carpenter's film version of this tale is no less satisfying. Movies about teen angst resulting in killings and deaths are absolutely nothing new (King's Carrie and its subsequent film adaptations did this with a vengeance), but this film (and by extension, King's source novel) puts a new and interesting twist on things. In its 110 minute duration, Carpenter wins over the audience with a mixture of gruesome horror and teen drama intermixed with humor where necessary.
One thing interesting about Stephen King film adaptations is the fact that so many of these stories are adapted by A-list filmmakers who have their own radically different styles of movie making. John Carpenter was the absolute best choice for a director on this adaption, fresh off the success of Halloween a few years prior. The filming style, particularly in the night scenes when Christine is on the prowl, coupled with a unique musical score, give the film a surreal mood and feel in its most haunting and violent moments. Classic 50s rock and roll songs from Christine's radio further succeed in creating a bizarre atmosphere amidst the gruesome events. The source material from King was strong enough unto itself, but Carpenter definitely leaves his stamp on things. The film is not perfect, mainly in its pacing and in a lack of development for many of the side characters, but the good far outweighs the bad.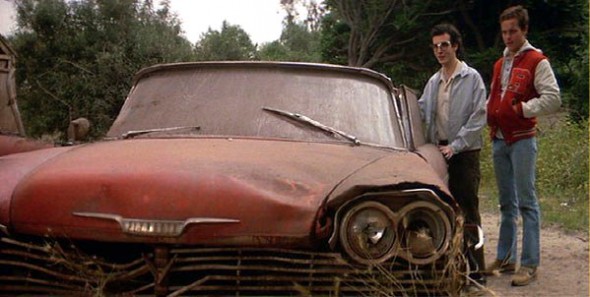 The film is well cast, something that seems universal across Stephen King film adaptations, Keith Gordon, probably best known for his role in Rodney Dangerfield's comedy Back to School a few years later, shines as the central character of Arnie Cunningham. He brilliantly is able to portray Cunningham on his transformation from nerdy loser to obsessive psychopath, not afraid to do what is necessary to forever solidify the bond between him and Christine. John Stockwell, who had a brief but memorable role a few years later as Cougar in Top Gun, is solid as Arnie's best friend who grows increasingly distant from him amidst the obsession with Christine. Rounding out the cast is the always entertaining Harry Dean Stanton as a state police officer who is investigating the deaths in the wake of Christine's rampage. He steals every seen he is in, but is criminally underused.
Overall, the film is something of a minor classic. It is not the greatest or best known of the Stephen King movie adaptations out there, but is well worth the time of anyone seeking classic horror. John Carpenter leaves a lasting mark on King's classic story, and it shows throughout.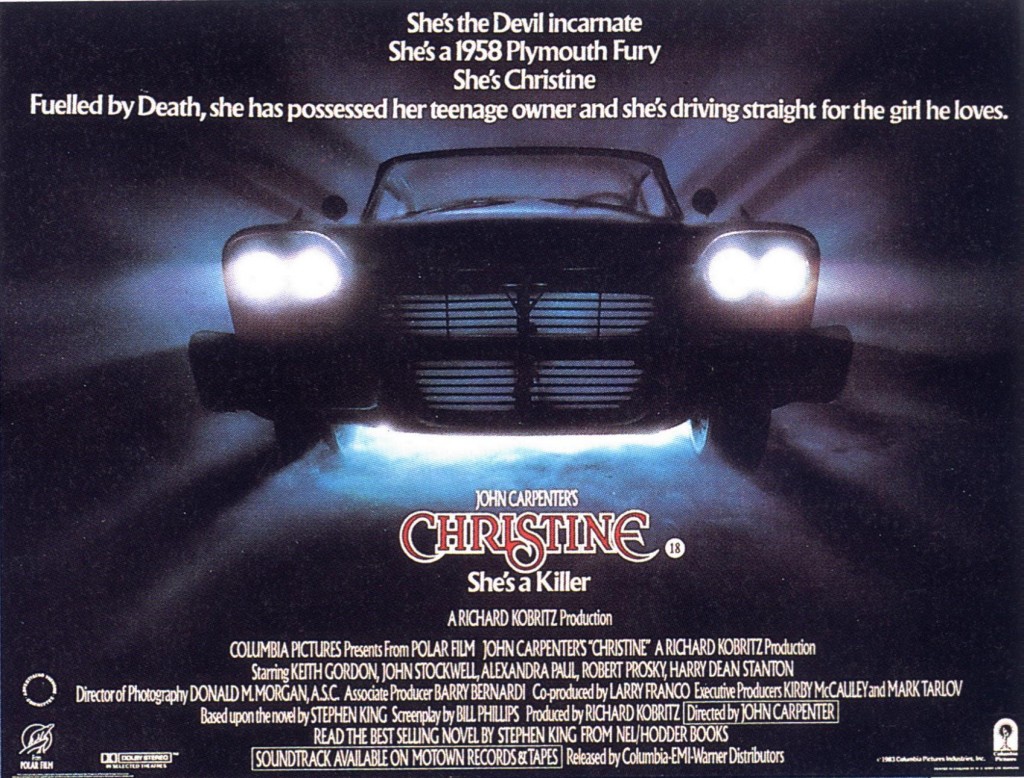 The film was initially released on Blu-ray Disc by Twilight Time, a company that does limited edition reissues of classic films. Unfortunately, the limited printing caused the prices of Twilight Time's discs to skyrocket on the Internet. This has since been rectified. Sony/Columbia has now given the film a wide release on Blu-ray, so fans can enjoy the movie in HD for a fair price. There are a number of bonus features including nearly 25 minutes worth of deleted scenes, and the audio and video are top notch for a film of this age. No fan of the movie should be disappointed by the transfer and the supplements.
Christine is a fine film from John Carpenter based on a haunting story from horror master Stephen King. This Blu-ray Disc definitely does justice to the movie, and it is great to finally see it get a release that is not a limited edition one that fetches ridiculously high prices. Anyone who is a fan of the film will definitely want to upgrade from their old VHS and DVD copies. A highly recommended release!
DISCLAIMER: All images in this review are the property of their respective copyright holders. For promotional use only. All rights reserved.