King Diamond is a band that needs no introduction. Seriously. As a matter of fact, writing this review is somewhat pointless in a sense, because anyone who is reading this knows how incredible the show was, or for those who didn't see the show on Monday night, you also, already know who incredible the show was going to be.
Before I dive headfirst into how great seeing the King was, let me tell you a little bit about the opening band, Exodus.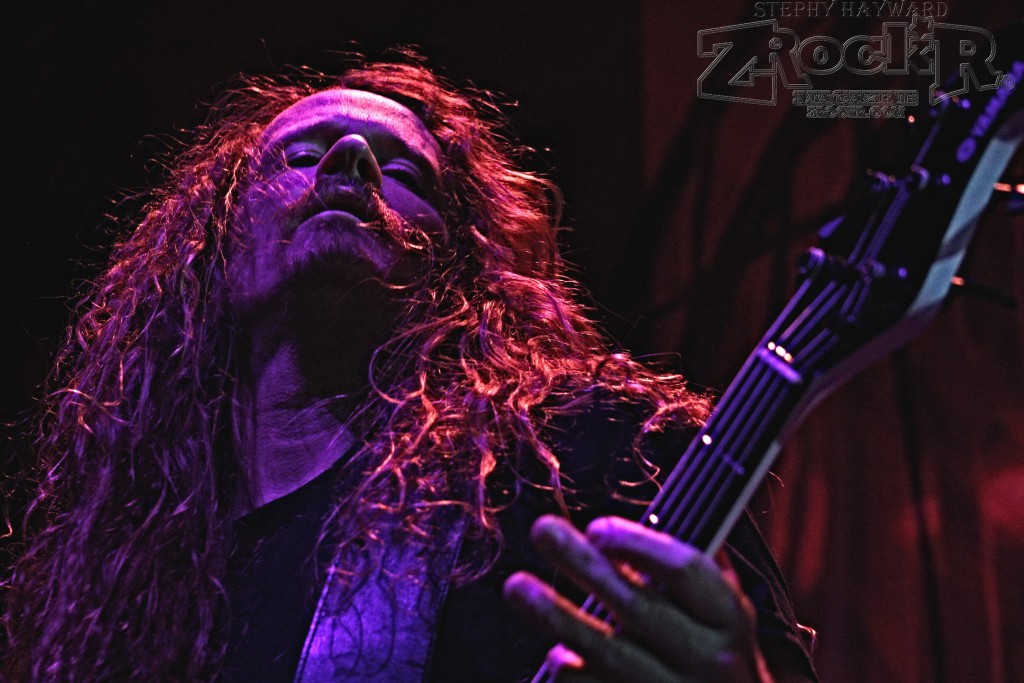 Exodus is an American thrash metal band from California, formed in 1979. These motherfuckers have been causing whiplash in their listeners necks for ages. After leaving and coming back numerous times, their best vocalist, in my humble opinion, Steve Souza, is now back again, hopefully for the remaining duration of the bands existence. Exodus has spawned some pretty famous musicians within the metal community. Kirk Hammet, who is obviously with Metallica, and Gary Holt, who less obviously, is now with Slayer.
Exodus' setlist was pretty damn insane. Opening with their self titled track from Bonded by Blood, it was a no brainer the type of atmosphere they were trying to get everyone in right at the start. This band is one of the faster, heavier thrash bands to spawn out of the genre. Along with Slayer, they are the bands that I dig the most within the thrash metal panorama.
For pushing fifty years old, these guys are still insanely energetic, and you could totally tell they wanted to put on a great show, which is something I can definitely confirm they succeeded. Everything was extremely on point. For my last review of Sepultura, I had stated that in a lot of shows that I go to out here in Vegas, there is not too much movement in the crowd. I can proudly say, there was plenty of movement, and it was the most fun I have had in a pit in quite a long time. Much appreciated. So with the word that I use, that my own band members like to make fun of me for using, their set "slayed".
So, now I move on to King Diamond. For those who are not familiar with their music, I should probably tell you that you need to get off of your ass, and go out and buy Abigail, Them, or The Eye. Hell, go out and get a Mercyful Fate album while you're at it too. If you like metal, there is really no reason for you not to like it. However, I do understand that falsetto vocals are not particularly liked by everyone, but the band's musicianship is great enough by itself.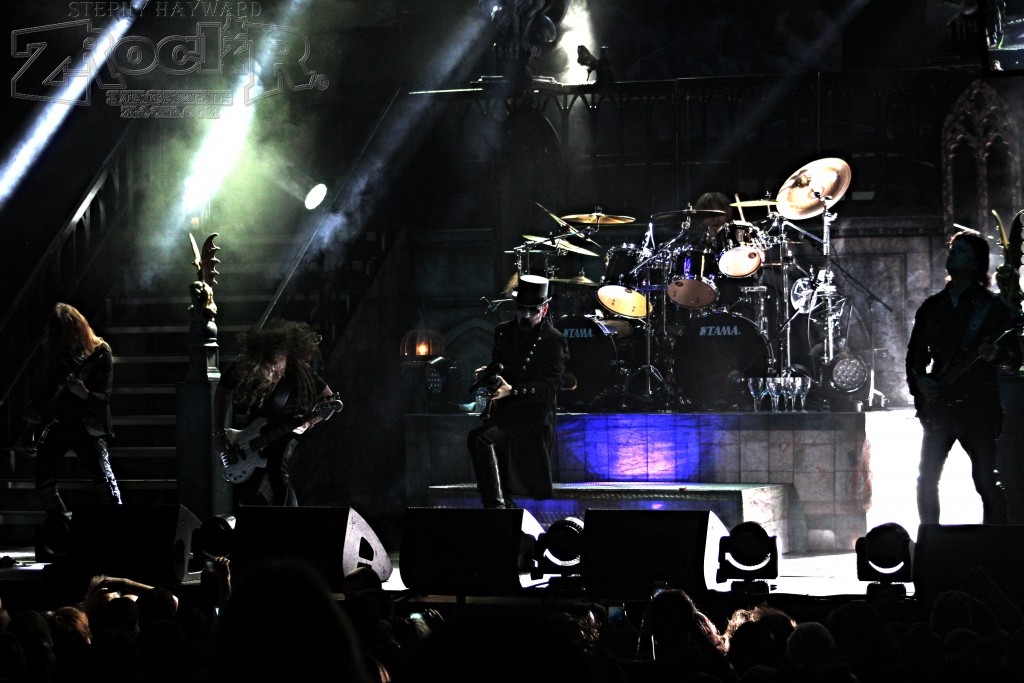 Guitarist Andy LaRocque is one of my personal favorites of all time. The dude played on one of my favorite metal records, Individual Thought Patterns by Death. Shit, pick up that album while you're out picking up King Diamond and Mercyful Fate albums too. The dark atmosphere, along with the stories that are being told throughout the music, are nothing short of wondrous. Everything fuses in so perfectly with the morbidity, and the uses of satanic imagery. They are one of the only metal bands that put on an amazing stage show while they are performing. I have never seen anything like it, nor will I probably ever see anything like it again. If you don't like the music, the fucking show itself is a enough of a reason to go out and see them!
They opened with "Welcome Home", what an insane way to start their set, man. Alcohol euphoria kicking in again, I was extremely happy and energetic at this point in time. Headbanging in unison, it was pretty damn intense. Bashing through "Sleepless Nights" and "Halloween", they played "Melissa" and "Come to the Sabbath". They fucking played "Come to the Sabbath". If you are already familiar with Mercyful Fate, that is enough said. If you're not familiar, those songs fucking rule, and making yourself familiar would probably be a wise choice.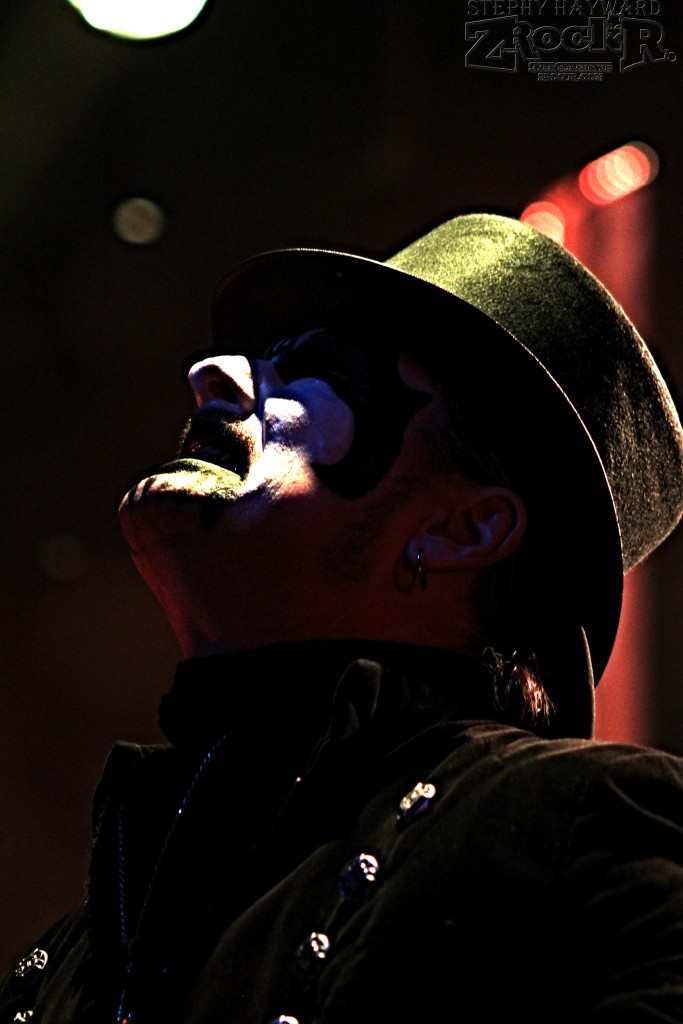 Now we get to Abigail, in all of its entirety, and all of its glory. Everything was complete. Nothing was missing, they even played the opening the background. "Arrival" is my favorite track off of this record. I never thought I would ever see it played in person considering it is not a staple within their live sets. It was quite a treat to see and hear that song being played live. That was probably the highlight of the show for me, even though the whole damn show was a highlight. There are alot of words in the English dictionary, but only a few of them can actually depict how intense, and overall amazing the show was. Seeing King Diamond in 2014, I placed that show in my own list of the best shows I had ever seen. This one replaced it, and even made King Diamond move up a couple of ranks. Gracefully playing through the album, there was not one note out of place, and there was not one point where anything went out of key. Everything was executed perfectly. By today's standards, this is a pretty rare thing to come by, with any genre of music. Respect and credit has to be given, where it is respectfully due. "A Mansion in the Darkness", "The Family Ghost". "The 7th Day of July 1777" and "The Possession", along with my favorite "Arrival" are the strongest points on this album. Which is damn near the whole album.
Seriously. There is not a bad song on this record. In fact, it is pretty hard to come by a bad song by King Diamond. The pit was great, and all the energy was there, and it was focused.
This was by far one of the best shows I have ever seen. Like I previously stated, even if you're not a fan of the music, and you're a fan of dark, morbid, and gallows type humour, go to see them. If you're a fan of the music, go see them. There is no such thing as disappointment when going to see this band. For pushing sixty years old, the King still has as much of an on point voice as he did thirty years ago. My neck is still stiff and hurting, and my body still aches. So worth it.
Setlist
Welcome Home
Sleepless Nights
Halloween
Eye of the Witch
Melissa
Come to the Sabbath
Funeral
Arrival
A Mansion in Darkness
The Family Ghost
The 7th Day of July 1777
Omens
The Possession
Abigail
Black Horsemen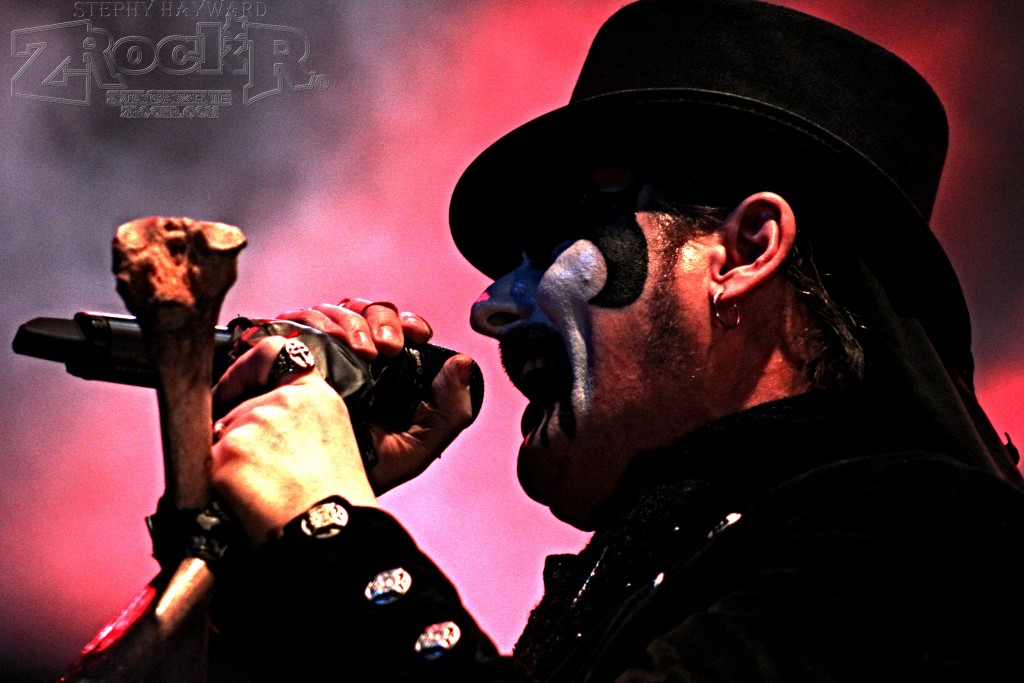 PHOTO CREDIT: Photos by Stephy Hayward for ZRock'R Magazine- ©ZRock'R Entertainment, LLC- ALL RIGHTS RESERVED