When I was a little kid, and even into my teenage and my now young adult years, Halloween was and is always my favorite holiday. There's something calming and homey about it to me. Maybe it's the chill in the air. Maybe it's because it is the precursor to the family gatherings of Thanksgiving or the glittering of Christmas lights. Maybe it's because I've always been one for the macabre, and it is the one time of year where I don't feel like an outcast for listening to the music I do, or dressing all in black, or liking things like blood, cobwebs, zombies, and magick. As such, when the show announcement came out for Ghost, I was beyond excited. I was ready  and willing to spend my Halloween at the House of Blues with my favorite band. I immediately messaged fellow ZRock'R photographer Alex Zayas and said "You, me, Ghost, Halloween?", and upon his answer of "Fuck yes!" we counted down the days. For us both, October was the hardest month to get through, as we anxiously awaited the evening. Then it came…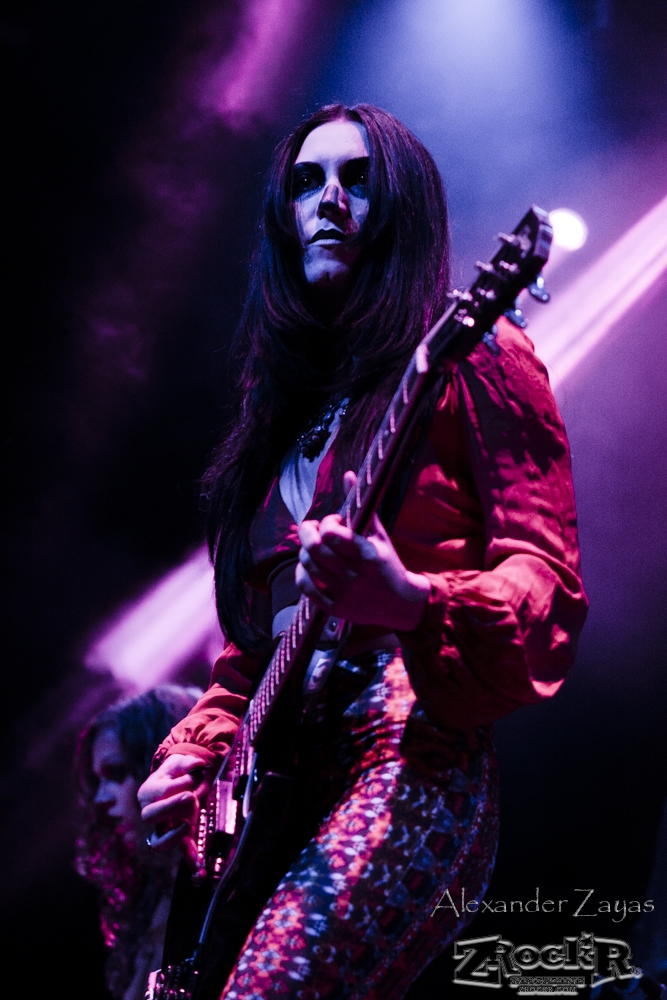 The House of Blues was already packed full when we got there. Fans had been lined up for hours, some as early as one in the afternoon. We walked in and found a spot in the crowd where we could enjoy the opening band from London, Purson, who was (from my understanding) handpicked by Ghost for the tour. As they broke into their opening tune of "Spiderwood Farm" off of their 2013 album The Circle and the Blue Door, I was instantly hooked. The band played along in the Halloween fun, dressed as Ghost on stage during the Infestissumam era. After the costume change into their normal attire, I got a much better feel for their sound. Having never heard them prior to the show, I was highly impressed. Looking as though they had just stepped off of Haight and Ashburry circa 1974, their music was like a fusion of Fleetwood Mac and Concrete Blonde, very classic rock n roll with that hint of darkness. Vocalist Rosalie Cunningham's haunting vocals took over the venue, and the crowd reacted positively to her and her band mates.
After listening to them a bit more, I am a bit upset that they didn't play longer. They are on of the few bands I have seen where I literally stood their mesmerized not only by their talent and the music, but their overall stage performance. Trust me when I say you will not want to miss these guys and gals if they are in your area. After only 6 or 7 songs, Purson thanked the Las Vegas crowd and left the stage.
After the road crew set up the stage, the lights grew dim and the crowd erupted into roars and screams as the familiar introduction music of Jocelyn Pook's "Masked Ball" played through the speakers. For those of us who had seen Ghost before, we knew that the next 5 minutes would drag out as the butterflies in our stomachs grew. The lump in my throat began to choke me as I chanted along in my head. Smoke slowly covered the stage, now illuminated in shades of red. The Ghouls slowly stepped foot onto the stage, and as they did, one by one, the screams from the crowd drowned out the introduction. This was what we had all waited long months and grueling hours for. Halloween night. House of Blues. The Ghouls. Papa Emeritus III. GHOST.
The lights took a quick turn from red to complete black as the opening keyboard line to "Spirit" off of 2015's Meliora began. We screamed as the chugging of the guitar and the drums took over, bright lights shining on Alpha (guitar) and Earth (drums). As the lights grew blue, Papa Emeritus III appeared at the back of the stage under the Cathedral like backdrop. Hands stretched into the air, reaching out to experience the Ceremony. The band sounded amazing and clear, and Papa's vocals of course were on point. Ghost is one of the few bands who I have seen who sound exactly like they do on their records, which in this day and age is rare. They wasted no time as the broke into the 2nd track off of Meliora, and newest single,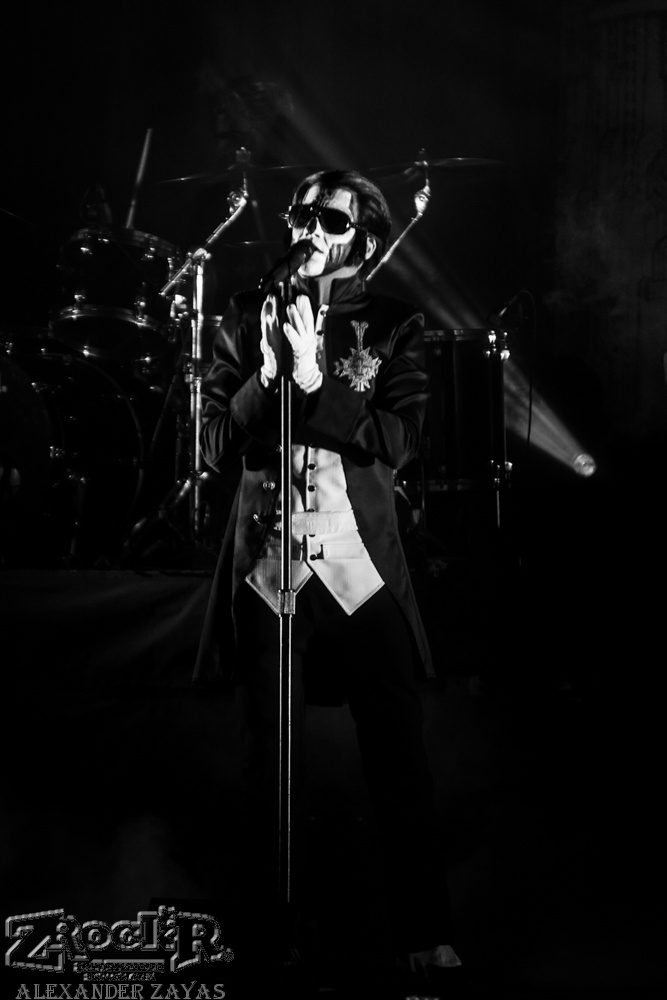 "From the Pinnacle to the Pit". Papa performed this song perfectly, in my opinion, motioning to the sky during the line "from the pinnacle" and forcefully to the floor on "to the pit". Considering this is one of my top 3 songs off of album, I found myself singing along to it, and even dancing (which is rare). It was a perfect way to begin the evening.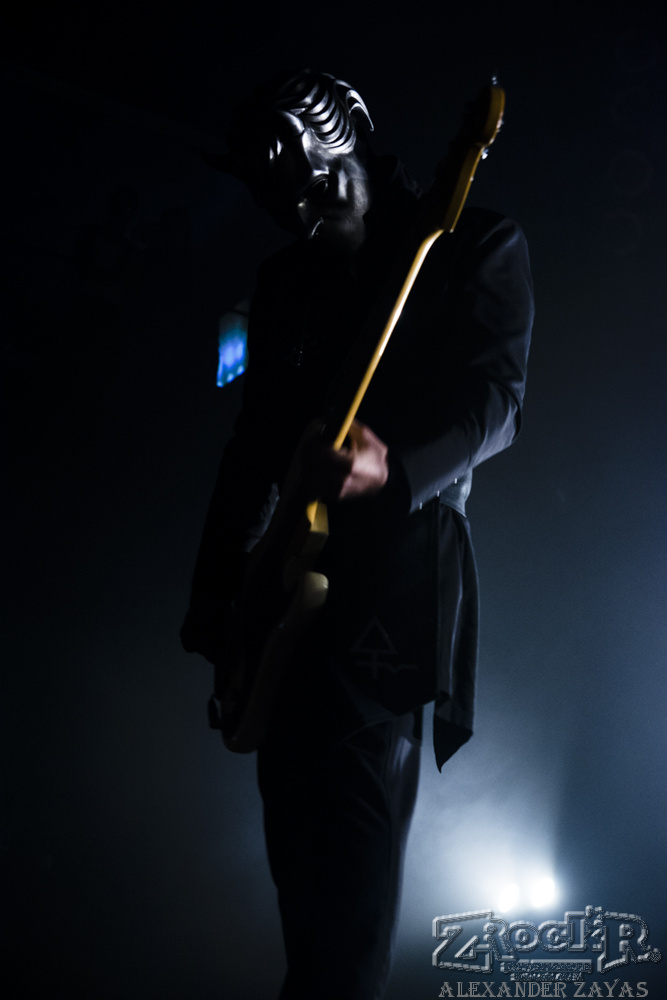 The band took a brief moment to finally greet the crowd. At a glance, you would think these guys were freaky and horrific, but once Papa opens his mouth to speak, you can tell that this is a kind and gentle soul. "Hello, Las Vegas! Are you enjoying the show?" His question was met with screams of approval and "We love you!"s. I craned my neck around to see the stage, as it was beyond the point of packed where I stood. I was pleased when they broke into the first song I heard when I was first introduced to them, "Ritual", off of 2010's Opus Eponymous. As I said in my previous Ghost show review, which you can read here, you would think at a glance that they would be a very grr type of band, but they actually have a Blue Oyster Cult type of feel, which is echoed perfectly in this track. I still stand by my original opinion that if you've not heard them, or if you are a fan trying to convert your friend to the following, this would be a great song to lead in with. Hell, it worked for me.
We moved to the other side of the venue, where we could get a clearer view of the stage, just as they moved into "Con Clavi Con Dio", also off of Opus Eponymous. Unlike when I previously witnessed the Ceremony, my hands were outstretched as I proudly sang the opening line "LUCIFER! WE ARE HERE!" This time around, as the songs played on, I embraced them proudly as opposed to being in complete shock, but the awe was still there. As they went into "Per Aspera ad Inferi" off of 2013's Infestissumam, I began to feel my soul and my aura connect further with those around me.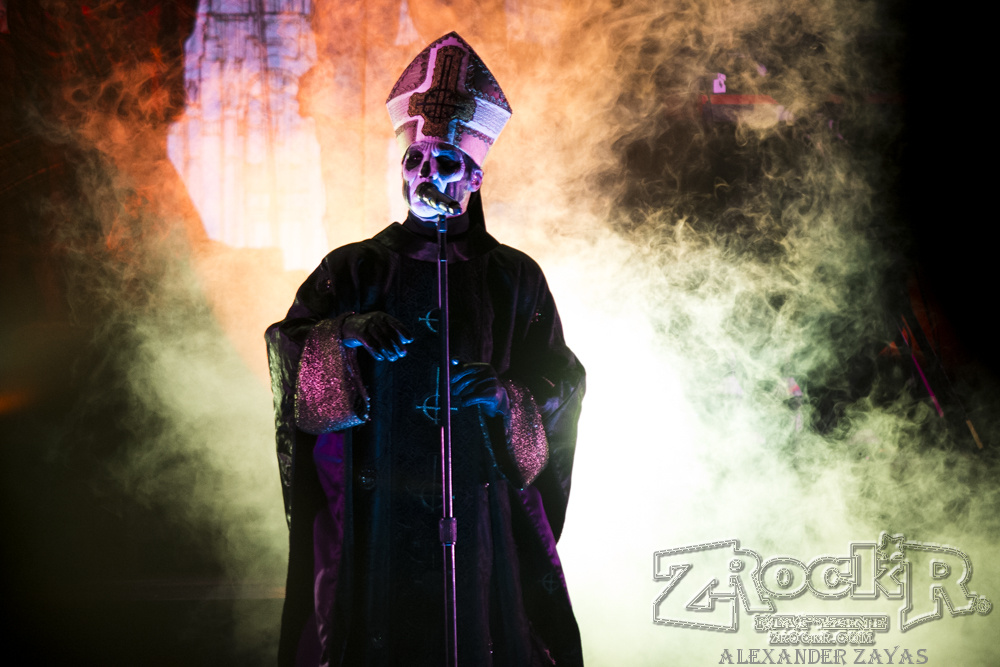 After another tune off of Meliora, Ghost brought out two women dressed as Nuns, or as he referred to them, Damnedstrels of Damnation or Sisters of Sin, letting the front row know they would be treated by a gift. "We need to keep it somewhat decent." he stated. "No honk honk. Believe me, I know all the tricks in the book so just don't. Do we have an agreement?" The crowd erupted in agreement as he sent them down into the pit to perform a sort of Communion (the service in the Christian faith where bread and wine signify the body and blood of Christ), as "Body and Blood" off of Infestissumam began. Papa left the stage as Meliora's "Devil Church", a beautiful instrumental track, began. He returned for the first single off of Meliora, "Cirice", clad in the iconic Papa III conductor tuxedo. At times, the crowd drowned out his voice singing along with each word. He got onto his knees and reached out to touch a fan during the line "Can't you see that you're lost without me?", which was an extremely powerful moment to witness. As the guitar solo struck followed by Air's keyboard solo, he waved his hands as if to control the music. He moved to the back of the stage yet again, controlling the crowd this time, who reacted beautifully.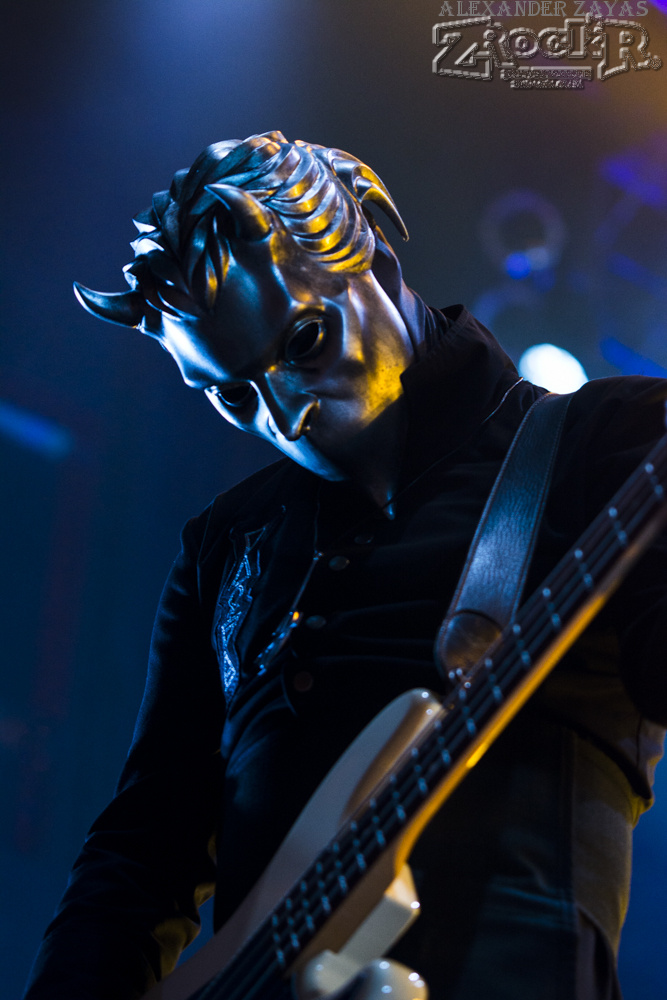 The stage went red for my favorite track off of Infestissumam, "Year Zero", and again I chanted along with no fear to "Belial! Behemoth! Beelzebub! Asmodeous! Satanus! Lucifer!" I noticed Papa's voice begin to break slightly on this track. The crowd took over the "Hail Satan!" as he continued with "Archangelo". After a break from singing on another instrumental, "Spöksonat", his voice seemed to carry on stronger through the next songs in the set.
"How are you doing now?" Papa asked the crowd prior to a sermon about the "attractive God. The one God who gets us here. The God of Greed, the God of Money, who makes us believe that if we get enough money, we'll be better off. This is an ode to him." He asked the crowd to join as the went into "Mummy Dust". With a name like "Mummy Dust", you'd probably think, "What the hell does that have to do with money?" Read the lyrics and you'll understand. It's a song of corruption, greed, and putting your faith into the wrong thing.
The show was coming to a close, and you could feel the energy start to become sad. The amazing thing about Ghost fans though, is we just kind of go with the flow. Everyone is friendly and understanding not only of the band, but of each other. I could hear a fan behind me who had brought his friend explain each song to the guy and how excited he was. He got insanely excited and began rambling a million miles a minute when Papa, who admitted at this point he was feeling under the weather and asked for the crowd's forgiveness, asked for help singing the next track, "If You Have Ghosts", a Roky Erickson tune. I usually am not big on covers, but Ghost as a way of making them their own. I really wish I could see them perform their version of ABBA's "I'm A Marionette", as that song is insanely haunting and beautiful.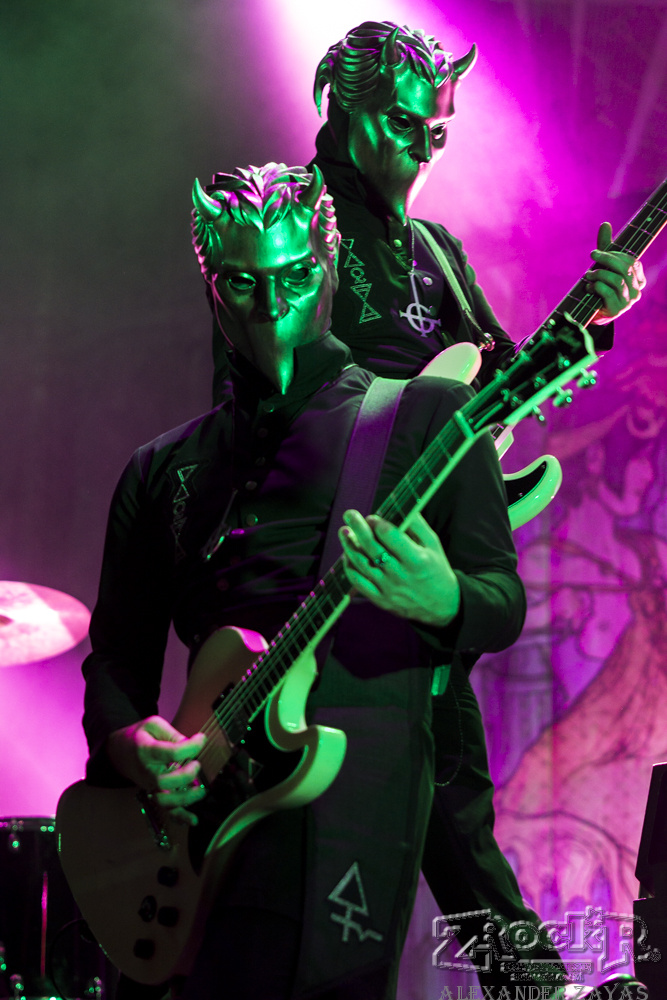 Papa and the Ghouls ended the song and walked to the front of the stage, taking a bow. Before even leaving the stage, the crowd began chanting for their return. I don't think 2 minutes had even passed, and they were back on the stage. "Of course we're going to do this last, because we always fucking do it last…" Papa said jokingly. "This song, it is about fucking. Do you like to fuck, Vegas?! Scream if you like to fuck!" Of course, the crowd went completely wild. I've compared Ghost to KISS before in their makeup and mystery, but their songs are vastly sexual as well, much like KISS. "Gentlemen, if you have your love here tonight, prepare for the ride of your life when you get home." We stood there singing, wishing that it was not going to be over, even though we knew what was fast approaching. Papa reached out to the crowd to say his goodbyes, and the Ghouls slowly left the stage. The choral piece carried on, with our voices in tandem, chanting "Come together as one. Come together for Lucifer's son. Come together forever as one."
And just like that, because of one band, because of one energized night, whether you refer to it as Halloween or Samhain, we'll be together forever as one.
Setlist
Intro: Masked Ball (Jocelyn Pook)
Spirit
From the Pinnacle to the Pit
Ritual
Con Clavi Con Dio
Per Aspera Ad Inferi
Majesty
Body and Blood
Devil Church
Cirice
Year Zero
Spöksonat
He Is
Absolution
Mummy Dust
Ghuleh/Zombie Queen
If You Have Ghosts
Encore: Monstrance Clock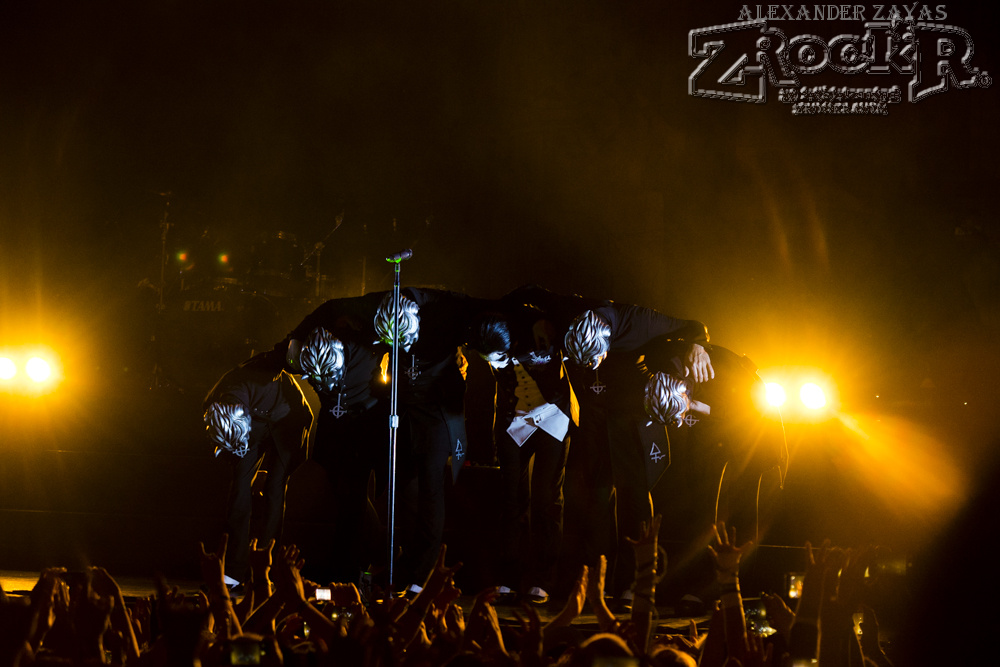 PHOTO CREDIT: Photos by Alexander Zayas for ZRock'R Magazine- ©ZRock'R Entertainment, LLC- ALL RIGHTS RESERVED