In 2000, The Beatles released the 1 compilation, a single disc collection combining a whopping 27 songs that hit the top of the charts. With the band's enduring, worldwide popularity, this disc was a welcomed treat for fans, old and new alike.
Starting in 2009, The Beatles' back catalogue works were finally given modern remastering treatment, must to the joy of longtime fans. Now, the band has done fans one better, reissuing 1 in remastered form, and giving fans two Blu-ray Discs worth of promotional videos, and an informative booklet detailing the tracks, the sessions, and the making of said content.
The tracklist for the 1 compilation is the same as it was back in 2000, upon its initial release. It consists of the following 27 songs:
"Love Me Do"
"From Me to You"
"She Loves You"
"I Want to Hold Your Hand"
"Can't Buy Me Love"
"A Hard Day's Night"
"I Feel Fine"
"Eight Days a Week"
"Ticket to Ride"
"Help!"
"Yesterday"
"Day Tripper"
"We Can Work It Out"
"Paperback Writer"
"Yellow Submarine"
"Eleanor Rigby"
"Penny Lane"
"All You Need Is Love"
"Hello, Goodbye"
"Lady Madonna"
"Hey Jude"
"Get Back"
"The Ballad of John and Yoko"
"Something"
"Come Together"
"Let It Be"
"The Long and Winding Road"
I am not going to nitpick the track selection here; any die-hard could do so and argue for the inclusion of other songs, but as an introduction to the band and a compiled set of their best known songs and biggest charting hits, it more than gets the job done. For a new fan, this is the perfect introduction. More casual and new fans may want to buy the "sold separately" release that is just the CD; this is a great disc if you are looking to get a sampler of the band's biggest and most popular compositions in one place.
The first Blu-ray Disc, labled as "1," has a music video for all 27 tracks that appear on the CD; tracklist is the same as that listed above for the CD. These discs comprise television performances, promotional television spots, professionally shot videos of performances and theatrics, backstage/casual footage, and everything in between.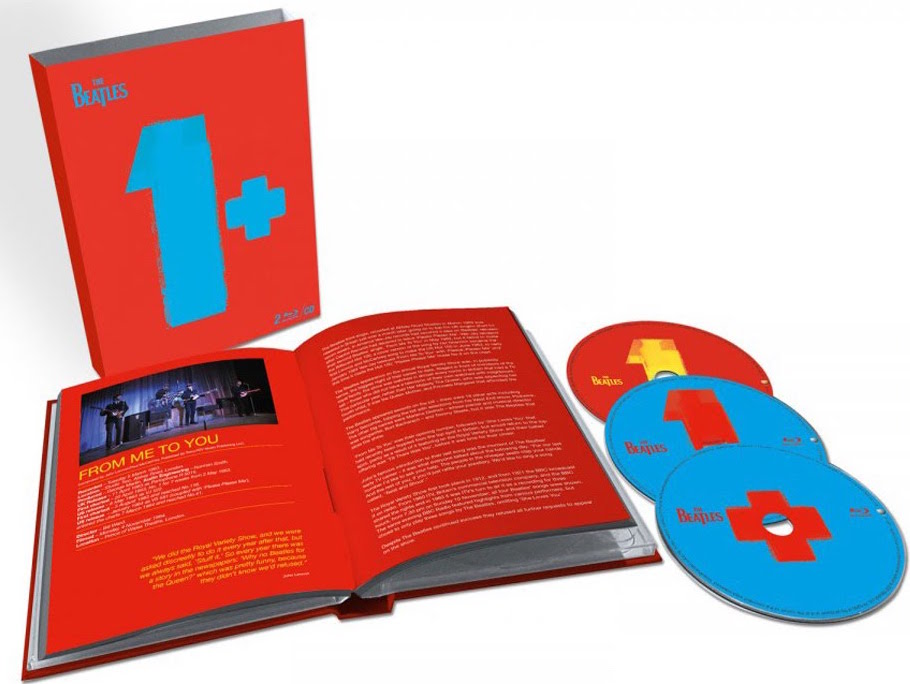 The second disc in the collection, labeled as "+," is the other videos that the band filmed and recorded, some of which are alternate takes of material that was also featured on the first disc, and pulled from just as diverse and interesting an assortment of material. Material on the second disc is as follows:
"Twist & Shout"
"Baby It's You"
"Words of Love"
"Please Please Me"
"I Feel Fine"
"Day Tripper" (alternate)
"Day Tripper" (alternate)
"We Can Work It Out" (alternate)
"Paperback Writer" (alternate)
"Rain" (alternate)
"Rain" (alternate)
"Strawberry Fields Forever"
"Within You Without You/Tomorrow Never Knows"
"A Day in the Life"
"Hello, Goodbye" (alternate)
"Hello, Goodbye" (alternate)
"Hey Bulldog"
"Hey Jude" (alternate)
"Revolution"
"Get Back" (alternate)
"Free as a Bird"
"Real Love"
So, how IS all of this material, and is it worth watching? Big time Beatles fans are going to love what they see here; I guarantee that no matter how big of a fan you are, you are going to see some material here you have never seen anywhere else.
The actual material itself ranges from straightforward television performances to more professionally shot on stage and off stage material, from the conventional to the avant-garde. It is interesting to capture the band in so many different situations and environments, and it makes this material all the more captivating to a longtime fan.
The majority of what is presented here is quite entertaining; audio tracks consist of the original songs, or of live/televised performances that may be partially live, or "live in the studio." Again, it all varies from track to track. The most enjoyable vids here are the vintage live performances, and the material that just shows the band members being themselves off stage; a particular highlight for me was the "Something" video, which features the band members all hanging out with their then-wives. Many are even newly compiled, including a collection of live footage from an American concert brought together for the "Eight Days a Week" video featured here. The unconventional and avant-garde videos are not without their charms as well, with their colorful outfits and outlandish environments. There is even some outright new material, including a creative, all-animated and all-new "Come Together" video. A few of the videos will look familiar to people who have seen the band's theatrical films.
I appreciate the effort made to bring together all of this video content, though it is admittedly a bit redundant in places; many of the "alternative versions" barely differ from the earlier videos, aside from the use of some slightly different footage. Did we really need three versions of "Hello Goodbye" that are more or less the same? I am sure the biggest of fans will love all of what is here, but I can also understand some disappointment in the redundancy in a few places.
As this is a pricey set, fans are likely wondering if the picture quality is up to snuff and justifies the price in question. As the content is from countless sources, film stocks, cameras, and qualities, every single video on here looks different. The oldest material and that which was shot on video tape has not aged too well, but the picture quality is still good overall, and superior to other versions of the same content where applicable. The material shot on film, however, looks absolutely gorgeous, with a natural filmic look and bright colors that pop right off the screen. In particular, I was surprised how poor the picture quality was on the video for the "new" songs from the Anthology sets, "Free as a Bird" and "Real Love;" presumably these were created immediately before the entertainment industry's shift to shooting in HD. Fans will be pleased to know that the audio fares equally well.
There is no traditional "bonus material" to describe, although a few of the videos do feature Paul McCartney commentaries and Ringo Starr intros.
The Beatles are one of the greatest bands of all time, and this is an amazing collection of countless promotional videos, numerous ones of which are rare and more or less unavailable outside of this set. Die-hard fans will definitely want to add the video discs to their collections, while more casual fans may want to opt for the standalone 1 CD.
https://www.youtube.com/watch?v=dfvFHjpsPDQ