Note that this review is based on the extended 70 mm roadshow version of the film, not the shorter, general digital release.
The Hateful Eight is the eighth film directed by Quentin Tarantino. The film stars Kurt Russell, Samuel L. Jackson, Jennifer Jason Leigh, Bruce Dern, Tim Roth, Michael Madsen, and Channing Tatum. The musical score is composed by Ennio Morricone, and was shot by cinematographer Robert Richardson.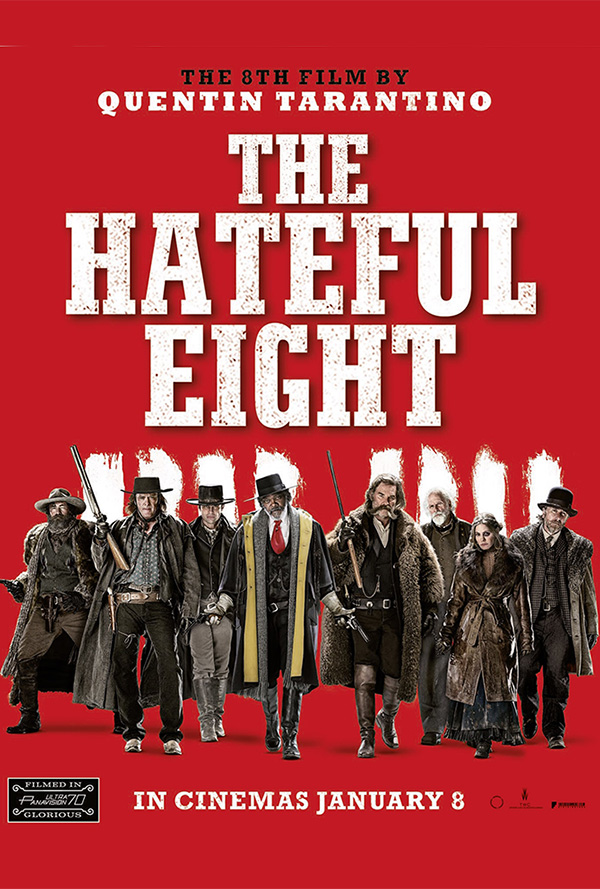 In The Hateful Eight, a horrendous blizzard forces an unlikely company of individuals together, forced to ride out the storm together in an isolated country store. The cast includes a bounty hunter (Russell), his prisoner (Leigh), a black soldier turned ruthless hunter (Jackson), an aging Confederate (Dern), a mysterious cowboy, a Mexican man taking care of the store while the rightful owners are away, a man slated to become the new sheriff in the destination town, and a man slated to become that same town's hangman. It is not long before tempers and old prejudices flare, and suspicions arise that a more sinister plot may be at hand.
Already I have seen reviews glorifying and praising The Hateful Eight, and an equal number that have been, for lack of a better way of putting it, hateful. Love it or hate it, there is one thing that all critics and moviegoers are going to be able to agree on:
It is unmistakably a Quentin Tarantino film. From start to finish. Half love letter to classic cinema, half politically incorrect and over-the-top extravaganza. If you have seen a few of his films before, you likely know what to expect. If you have not, well, do not come in if you are squeamish or easily offended. That is all I will say on the matter there.
Where do I stand in the midst of all of this? To be honest, even I am not quite sure. Never have I been so torn on how I feel about a movie, and never have I been more unsure of whether or not to recommend it to audiences. That makes my job here very difficult.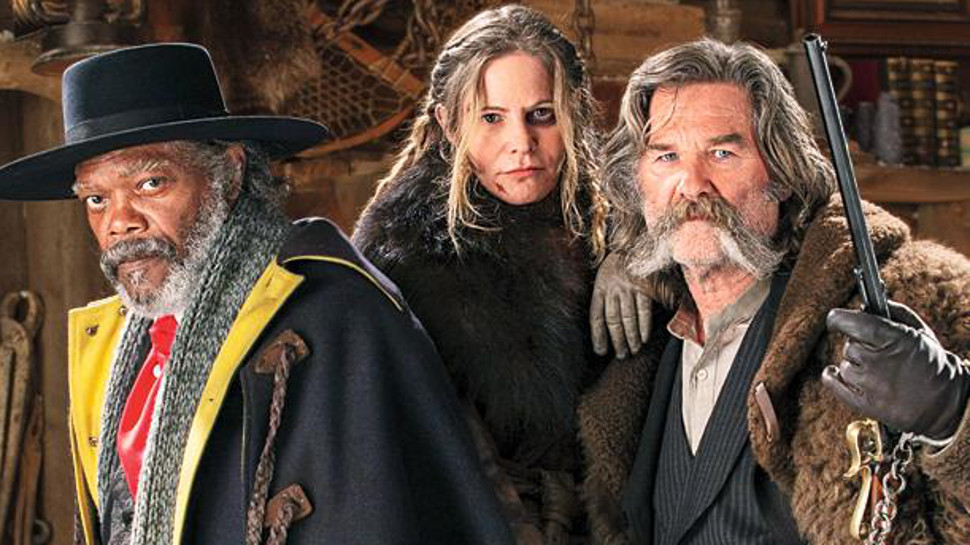 Probably the simplest way I can word my thoughts on The Hateful Eight is this: It is a beautifully shot film, a beautiful sounding film, and a movie with some of the most witty (and outright offensive and politically incorrect) dialogue out there (if the "N word" offends you, do not see this movie). But far too much of the presentation is dialogue, and the sluggish pace causes the experience to collapse on itself. Reviews comparing the film to a stage play definitely have validity, though whether or not that is a good thing will be up to the viewer.
The roadshow version of the film clocks in at over three hours, and even has an overture and intermission. I like these touches; they are awesome throwbacks to a bygone era of film that Tarantino clearly remembers fondly and wants to recapture. The opening credits sequence even has the old "Cinerama" logo on it, and this version is shown on film in the "ultra wide" ratio that was used on many of the old "epic" movies of the late 50s and early 60s. When Tarantino sets out to pay homage to classic cinema, he goes all out. And it shows before the opening credits are even done rolling!
The musical score from Ennio Morricone (the guy who scored Sergio Leone's Man with No Name Trilogy back in the 60s) is a pleasant surprise. The man is nearly 90 years old, yet still composes amazing film scores. The "look" of the film is equally impressive, combining beautiful snowy natural scenery with the claustrophobic environment of the country store that becomes the setting for the good majority of the movie's duration.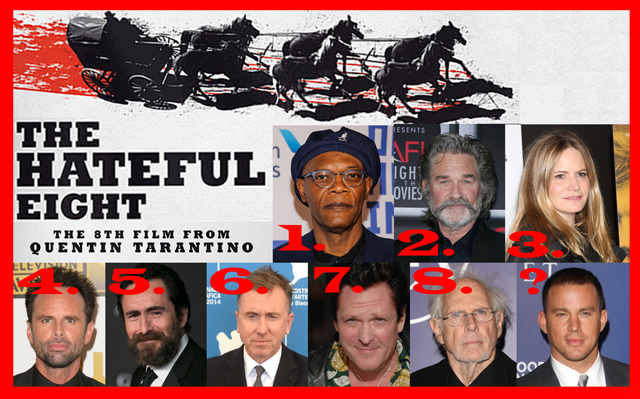 The performances are one of the best aspects of the film; Tarantino has brought together an ensemble cast as only he could do. Not surprisingly, many of these actors will be familiar faces to those who have seen his previous films. Kurt Russell and Samuel L. Jackson steal the show through a mix of witty dialogue and their actions alike (including a flashback sequence narrated by Jackson that takes political incorrectness to new heights, and is outright laughable for it). The unexpected stand-out in the film, however, is Jennifer Jason Leigh as the outlaw that Russell's character is trying to collect the bounty on; this is one female that Tarantino and the crew make no effort to glamorize whatsoever, and her performance is priceless from start to finish. Aging actor Bruce Dern is in the film in a relatively minor role, but definitely helps to bring a lasting presence to the movie.
That said, the sheer length and pacing largely killed the movie for me. Quentin Tarantino has a serious knack for writing great dialogue, but one major problem I have had with his movies over the past several years has been that, in several cases, the whole damn movie has mostly been dialogue. This was the case in Death Proof, it was the case in Inglourious Basterds, and it is true here as well. When a film clocks in at over three hours, and 80% of it is dialogue, not everyone is going to be impressed, no matter how good the speeches are. The fact that a single gun is not even fired until right before the intermission should say something. Put simply, a dialogue driven film, no matter how well written or involving the script may be, is going to show its limitations. If an hour was chopped off the film's run time, it could have been better paced and more fulfilling. Obviously there are critics and fans who like and prefer this approach, but even Tarantino has directed films in the past that were much shorter, better paced, and more concise, yet had the same level of depth and memorable dialogue despite it all (Reservoir Dogs and Pulp Fiction both come to mind).
The real violence does not come until the film's latter segments, but once the violence gets going, it does not let up, and certainly does not relent. As I do not want to include any spoilers, I will simply leave it at that. But believe me when I say that it does reach ridiculous, over-the-top levels. And believe me, you will see more blood in this movie's scenes of violence than you likely have at the movies all year, combined. I am NOT exaggerating here!
Should you go to the theater and see The Hateful Eight? It is a difficult film to review and assess because the good parts excel, and the bad parts drag it down pretty far. Grotesque, over-the-top violence and well-written dialogue are abundant (as they should be), but the sluggish pacing and overemphasis on dialogue is bound to turn off a number of potential viewers. Put simply, if you liked Death Proof and Inglourious Basterds, you will enjoy this one as well; the films have similar strengths and weaknesses. But casual moviegoers can stay at home. If you are not a Tarantino fan, this one will not change your mind.
DISCLAIMER: All images in this review are the property of their respective copyright holders. For promotional use only. All rights reserved.