Ritchie Blackmore has long been one of the most revered figures in the world of rock and roll, as well as one of the most controversial. From his initial years in which he served as a session musician to his more recent medieval-style exploits, and everything in between, including Deep Purple and Rainbow, he is truly a rock legend. Seriously, is there anyone in the civilized world that has NOT heard Blackmore's iconic "Smoke on the Water" riff?
Eagle Rock's release of The Ritchie Blackmore Story follows the life of the legendary rock guitarist. The doc focuses on his childhood struggles in school and early discovery of guitar playing, his session work for other artists, his time with Deep Purple and rise to rock stardom and infamy, the split from Deep Purple and the formation of Rainbow, a Deep Purple reunion, and his surprising development of recent decades, exploring medieval folk music.
Throughout the documentary, Blackmore is interviewed in depth, with additional interview content from various musicians and rock journalists, including Gene Simmons, Graham Bonnet, Joe Lynn Turner, Steve Lukather, Ian Anderson, Phil Collen, Malcolm Dome, Joe Satriani, and Steve Vai. Archival footage of vintage performances and events appears here as well, with the main documentary clocking in at around 90 minutes.
I have long been a fan of Ritchie Blackmore's playing and contributions to the music world at large, though have been surprised that there has not been anything truly career spanning or in depth covering Blackmore's life, and what little has existed has typically been lackluster and insufficient to cover this task. Fortunately, Eagle Rock's release of The Ritchie Blackmore Story rectifies these problems, and serves as the definitive portrait of Blackmore's life.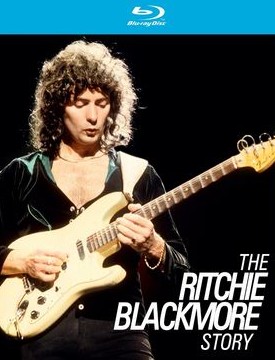 The sheer amount of people on board for the project here, sharing their stories of being influenced by Blackmore, is staggering. It is great to get input from Blackmore's musical peers; these are men who are rock legends in their own rights, and their testimonials only further serve to show Blackmore's prowess as a rock legend, and beyond.
The archival footage throughout the presentation is of varying quality due to the uneven nature and age of the material itself, but the newly filmed footage and interviews look spectacular. The vintage content here, though featured in varying conditions, helps to paint a picture of Blackmore's career, and further helps this to serve as a fantastic documentary.
In addition to the main 90-minute feature presentation, there are also about 45 minutes of extended interviews that did not make it into the main feature. These are a nice supplement, and fans will not want to overlook them.
If there is one minor complaint to be had with the documentary, it is that some eras and time periods feel a little bit rushed. Some prime examples include the latter few Rainbow releases of the 1980s, and most of the Blackmore's Night releases following the first one. I understand that there are time constraints that one must take into consideration here, however, and overall it is a very minor issue.
The Ritchie Blackmore Story is a fantastic documentary covering one of rock's most legendary performers, and what he has accomplished in half a century's worth of professional recordings. No fan of Blackmore, Deep Purple, Rainbow or anything in between will want to pass this doc by.
https://www.youtube.com/watch?v=W9P-tbbOp58