"The Final Countdown" was one of the biggest hit rock anthems of the 80s, and was the song that put Europe (the band) on the map. The Swedish rockers have been entertaining audiences for well over three decades, initally disbanding in the 1990s, but reuniting in the early 2000s. To date, Europe has recorded and released 10 studio albums. Their most recent, War of Kings, was released last year to great acclaim from fans, and it even made this fan's "Best of the Year" list!
Before starting this review, it is important to clarify that this show was a rare event; Europe is a band that almost never does American tours and dates, outside of a few festival appearances here and there. To be able to catch them in a small, intimate Vegas venue was an experience not to be missed by any fan of the group!
Not surprisingly, the band had a support act on the bill this night in the form of Gabbie Rae. I had heard about this girl for the past several months but had not actually seen her perform, so it was good to see that she got the slot supporting Europe. Backed by a full band, this young lady can really sing! We got a mixture of covers and original material; it was a terrific way to start the night. Her intro even paid homage to some of the rockers we have lost in recent months, which was a nice touch. If she returns to Vegas in the future, she will absolutely be a performer to keep an eye on.
Europe was one of my most eagerly awaited shows of recent years since American performances from the band are so rare. This is a band with a varied body of work that features some of the best in classic hard rock, from gloomy and melodic material to more commercial ventures and the like. The group's sense of musical diversity has long helped them to stand out from the crowd, even if American audiences primarily only know them for one song, and of course, that recent GEICO commercial.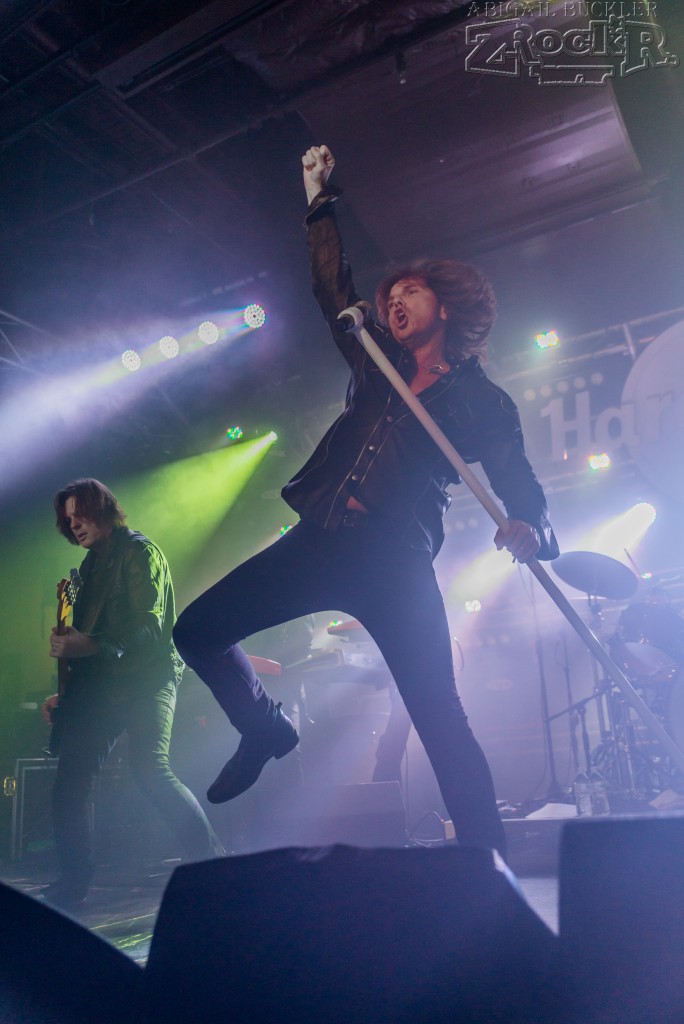 There really has been no better time in recent memory for Europe to tour; War of Kings is easily their strongest record since their 80s heyday. With a more mature sound, reminiscent of the recent Deep Purple albums, it is good to see that the quintet has matured musically, and has not simply clung to their glory days the way so many of their peers of the era have.
It is worth noting that, despite some minor lineup changes during the band's original tenure together, the version of the band that is touring now IS the complete classic The Final Countdown album lineup of Joey Tempest, John Norum, John Leven, Ian Haugland, and Mic Michaeli. This is Europe's definitive lineup, and it is good to see they are all still together, doing what they are best known for.
Of course, shows like this tend to leave this fan with some sense of skepticism. After all, not every band ages gracefully. Not every band that can still put out quality studio recordings and still play live well. There were many questions running through my head prior to this gig, regarding what the band would play, and how well they would play it. How did they fare?
In terms of musical proficiency and the performance itself, any fan in attendance would agree that Europe kicked ass musically on this evening. The quintet clearly has lost nothing in terms of their ability to perform. The real standout talent here was vocalist Joey Tempest, who has no shortage of energy and was twirling the microphone stand around like someone half his age. Granted, it made the rest of the band seem a little less energetic by comparison, but anyone who was there will agree that musically, Europe is at their all-time best today. War of Kings is arguably the group's strongest album to date, and a mixture of old and new tunes in the setlist showed just how much chemistry, both on the stage and in the studio, these guys have together even all these years later.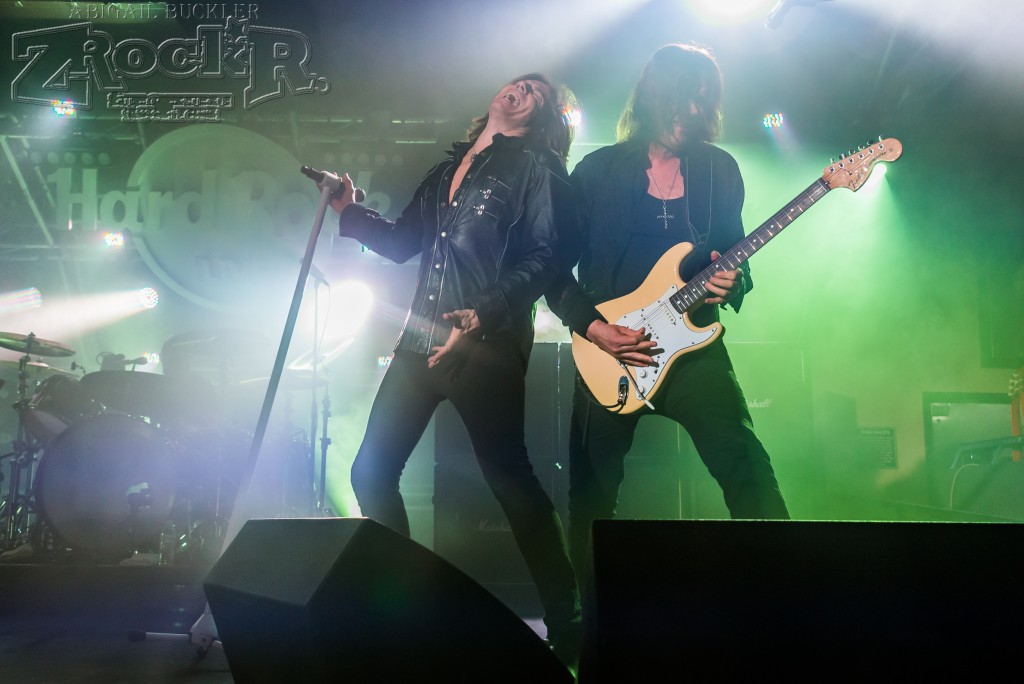 It was nice to have a few musical surprises as well, including an excerpt from The Eagles' hit "Desperado," in tribute to the late Glenn Frey, and even a drum solo that featured Ian Haugland playing along with a pre-recorded version of "The William Tell Overture" (AKA "The Lone Ranger Theme.") It is little touches like this that gave the show that extra push it needed to really stand out. The drum solo's into, consisting of some Monty Python music and dialogue, got a few laughs out of this rocker as well.
The band's setlist, comprised of roughly 18 tracks, featured a mixture of songs from War of Kings, tracks from earlier albums, classic hits, and even a few choice deep cuts. Of course, we heard a number of the band's best known songs, including "Carrie," "Superstitious," "Rock the Night," and of course, the band's biggest hit, "The Final Countdown," as the encore. Other tracks performed in addition to those from the new record included cuts from their other recent releases, and even deep cuts like "Wasted Time" from Wings of Tomorrow, and "Girl from Lebanon" from Prisoners in Paradise! It was astonishing how well the band members could still perform these songs, old and new alike.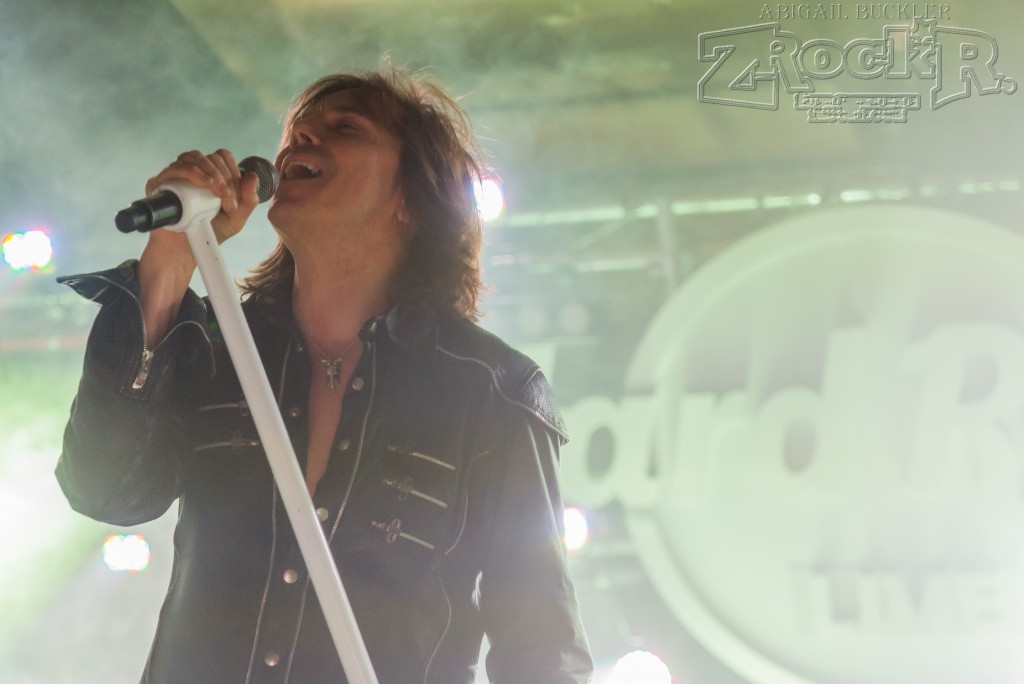 Admittedly, I did have a few problems with the setlist, as much as I loved the performance itself. The Out of This World LP was overemphasized, and the first two records got no emphasis at all (aside from the aforementioned performance of "Wasted Time.") The omission of cuts like "In the Future to Come," "Seven Doors Hotel," "Stormwind," "Wings of Tomorrow," and "Open Your Heart" (itself a much better ballad than "Carrie") were disappointing. Even off of The Final Countdown, classic gems like "Ninja" and "Cherokee" were omitted. Another strange occurrence was, despite the heavy emphasis on War of Kings material, the best track from the new album, "California 405," was left out of the band's set. The performance itself was great, but the setlist could have used a little work in these regards.
Fortunately, despite the minor setlist quibbles here and there, Europe kicked ass and gave the Hard Rock Café on the Las Vegas Strip one of its best shows of recent memory. A rare performance from a band that seldom tours America, and one that the fans were clearly enthralled by. War of Kings marks Europe's strongest album since the 80s, and their performances to back it up do not disappoint. Should the band hit up your city on this tour, do not pass up the chance to see them in action.
https://www.youtube.com/watch?v=oQsVSINN1kQ
PHOTO CREDIT: All photos by Abigail Buckler for ZRock'R Magazine- ©ZRock'R Entertainment, LLC- ALL RIGHTS RESERVED