Anthrax, one of thrash metal's beloved "Big Four," has returned with their latest studio effort, For All Kings. This is the first studio album from the band since 2011's Worship Music, and their eleventh studio effort overall. It also marks the first record from the band with Shadows Fall guitarist Jon Donais, and features cover artwork by Alex Ross.
For years, Anthrax has been revered as one of heavy metal's all-time great bands. Albums like Among the Living and State of Euphoria remain revered as thrash classics, having given the world heavy metal anthems like "I Am the Law" and "Indians." Even with lineup changes and reunions over the years, the group has remained active. Armored Saint singer John Bush has sung for the group over the years on more than one occasion, but the group, in more recent years, has reunited with classic vocalist Joey Belladonna, who performed the vocals on many of their biggest hits. As For All Kings is the band's first studio album in several years, it is eagerly awaited by fans of these thrash giants.
This fan always believed the best work Anthrax ever did was those classic albums from the mid 80s through the early 90s with Joey Belladonna as the band's frontman, so seeing him return to the fray is definitely a great thing (he had previously sung on 2011's Worship Music as well) in addition to the arrival of new guitarist Jon Donais. After several years, the long awaited new record from Anthrax has arrived, but how does it fare?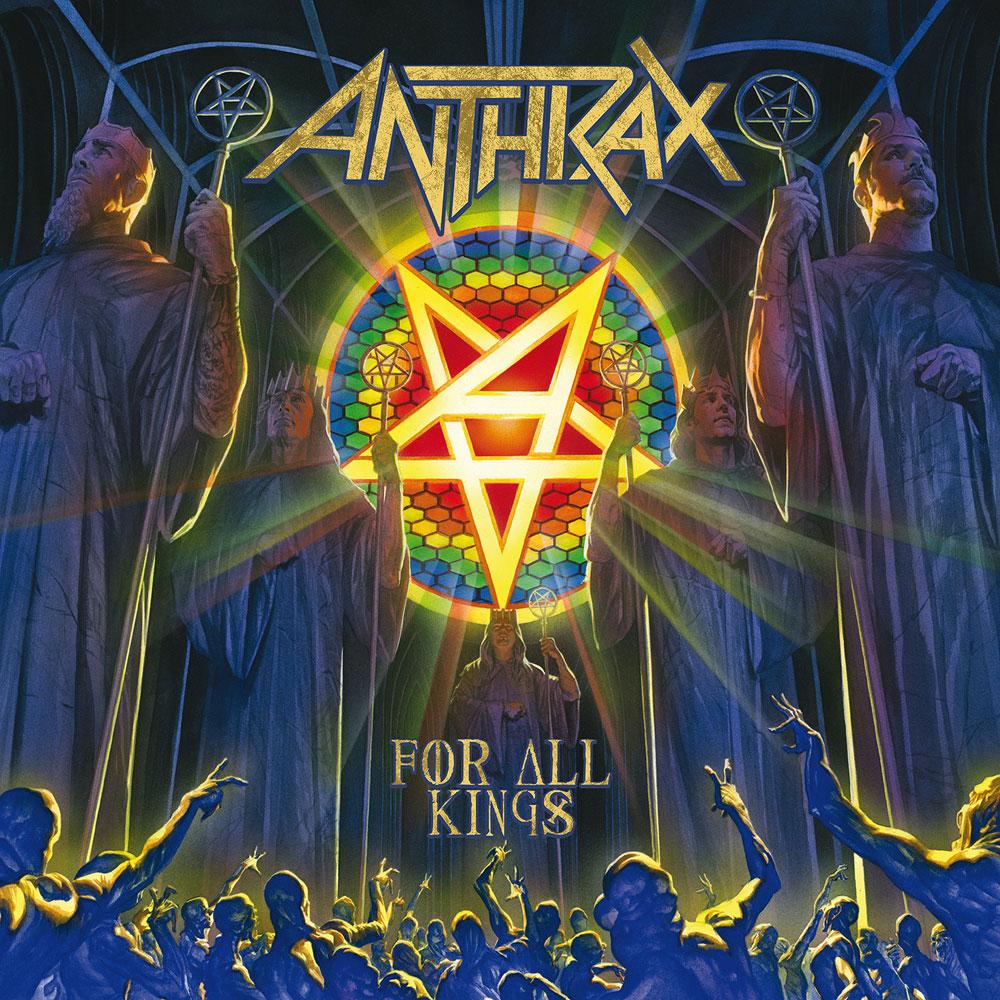 I admit, I have not followed Anthrax religiously over the years. I do own nor have I heard every single album that the band has released. That said, this fan was no less excited for For All Kings. While a number of bands out there are fading away and wimping out as they grow older, the boys in Anthrax prove they are up to the task of rocking the world all over again. The band is as hard and heavy as they have ever been, yet also manage to serve up a fairly diverse mixture of tracks.
Much of For All Kings gives its listeners the hard and heavy riffs they have come to love for much of its duration. The band must be admired for being able to modernize their sound without "selling out" or feeling like they have simply copied modern trends like so many of their contemporaries have over the years. There are tracks on this album with more of a modern rock sound, yet they do not feel contrived or like copycats; this is an Anthrax record through and through. Even a few cuts feel slightly more melodic, though not overly commercial. "Evil Twin," the first "single" from the album, is probably the cut here that is closest to a "classic" Anthrax song, and is one of its highlights. Another one of the record's best is the lengthy epic "Blood Eagle Wings." It is tough to say if any of these songs are going to stand the test of time and become true Anthrax classics, but having given it a few listens, this is a solid record from one of the classic heavy metal world's finest enduring bands.
For All Kings finds Anthrax rocking out hard, with a nice mix of old and new sounds alike. Only time will tell if these songs become revered as classic Anthrax songs like those from the days of old, but it is highly unlikely any heavy metal fans are going to be disappointed with the band's latest record. Highly recommended!