Twisted Sister would rise to fame in the 80s as one of the biggest hard rock and heavy metal bands in the world. The New York-based quintet of Dee Snider, Eddie Ojeda, Jay Jay French, Mark Mendoza, and AJ Pero reached great heights during the peak of the 80s that no one could have foreseen. But the quest to reach those heights is one that stretches back over a decade before their commercial peak.
We are Twisted F***ing Sister is a documentary from filmmaker Andrew Horn, exploring the early phases of the band's career and the respective members' entry into the music world. The film focuses on the band's first decade or so together, with interviews from past and present members, fans of the band in their early days, record company representatives, and a number of other personalities related to the band. The documentary employs newly filmed interview footage, as well as vintage archival footage and images to tell its story.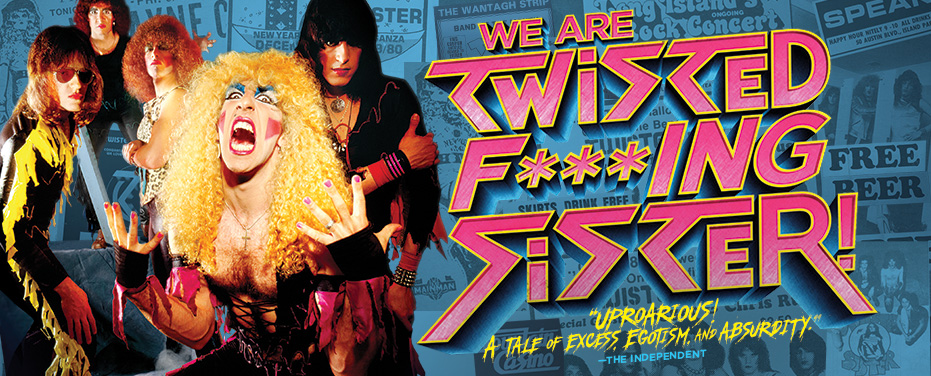 We are Twisted F***ing Sister largely succeeds as a documentary because it does not take the all too conventional "Point A to Point B," beginning to end approach that too many similar films do. Director Andrew Horn makes the somewhat surprising but effective decision to only focus on the band's early years, from their genesis up to the eventual release of the Stay Hungry record in 1984. This method paints a picture of a struggling, up and coming band who became the kings of the New York/New Jersey club circuit, but through every negative coincidence and occurrence, never could quite seem to get any farther up the ladder. Yet through it all, they were drawing mass crowds of enthusiastic young headbangers before they even had an album or a record deal!
Running over two hours, I was afraid I would find myself bored and talked to death with this film. However, this fan was pleasantly surprised by the end result. Perhaps part of this is because of the often unconventional nature employed here. Many of the interviewees are old time fans who went to see the band in their club days; their memories of these early shows make for some very interesting stories. We even hear from early band members that departed the group prior to their subsequent successes. It is definitely bittersweet to see the interviews done with longtime drummer AJ Pero, who passed away last year.
Some of the footage in this collection is in rough shape, given that much of it was shot on low-grade video tape without the intention of releasing it commercially. That said, everything looks decent overall; the newly filmed interview footage looks fantastic on Blu-ray Disc. Audio is generally impressive as well.
This Blu-ray Disc release sweetens the deal with a plethora of bonus interview footage that did not make the final documentary; roughly five hours worth! The film itself was worth the price of admission alone, but this is a fantastic supplement that more than justifies the purchase.
We are Twisted F***ing Sister is a fantastic documentary on one of hard rock's greatest bands, and it is fantastic to see their early history finally getting its just dues here (will we eventually get a second film on the band's peak period?) Absolute highest recommendations for any fan.
DISCLAIMER: All images in this review are the property of their respective copyright holders. For promotional use only. All rights reserved.