Hey. Psssstttt. You! Yeah, you, reading this. There's a really cool band in Vegas that not only has excellent original material, but also cleverly serves up unique cover versions of pop songs from decades gone by. And what I mean by unique is, many times, the vocal stylings will be drastically different, the instrumentation more "in your face," and the song may be grittier or laid back than the original recording by the artist covered. In other words, they put their own stamp on the songs you know and love, so when the song starts you'll probably recognize it, but be ready for some satisfying twists and turns.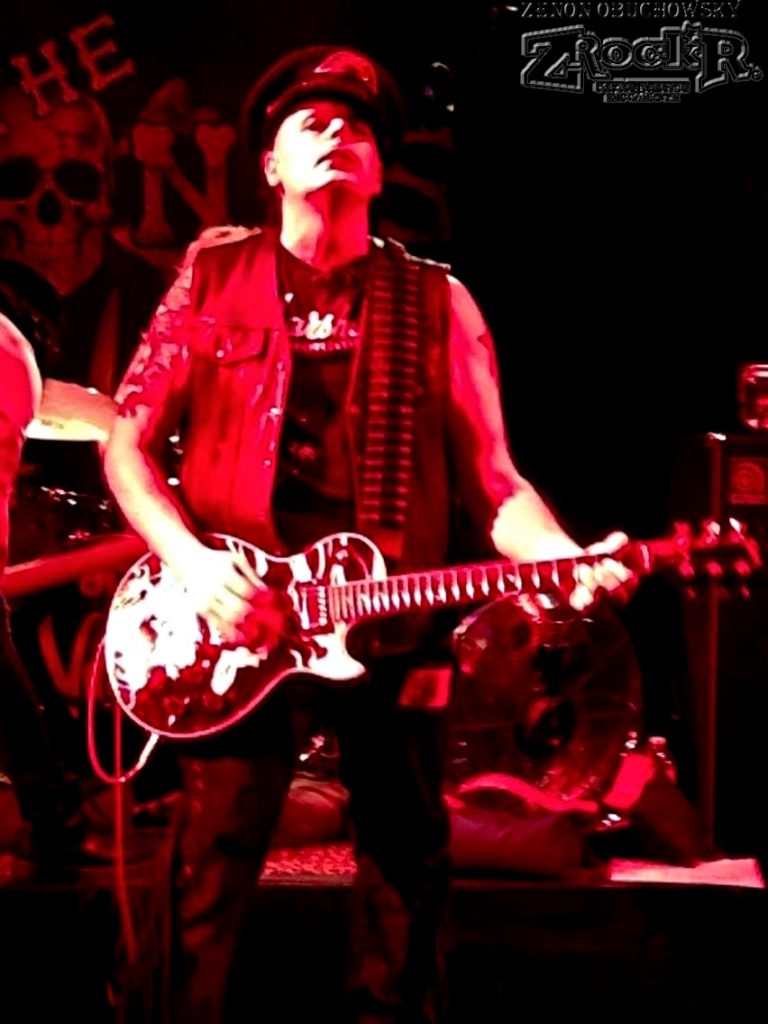 Who is this refreshing act you ask? Why, it's none other than The Bones. Led by lead vocalist/rhythm guitarist/main songwriter and lyricist Patrick Vitagliano, it's rounded out these days by Sean Koos on bass (ex-Joan Jett and the Blackhearts) and the brothers Duncan on lead guitar (Jeff, who also plays in DC4 and Armored Saint) and Sean (who also plays in Bulletboys) on drums. In just a little over two years, they've delivered no less than 3 full LPs; the debut and the latest featuring original material, and the sophomore release a live one of strictly tongue-in-cheek covers. If you haven't picked them up yet, do so as quickly as you can. You'll find yourself listening to them over and over if you're anything like me.
Of their dizzying 19 song set, the vast majority of it was their own material with only four covers featured. To me that's pretty impressive for a band that hasn't been around too long, nor one that doesn't play every week somewhere in town. Starting off with a pummeling version of Lady Gaga's "Bad Romance," the breakneck pace of rockers never let up. As it should be. Patrick's deadpan frontman persona coupled with his microphone stand positioned like Lemmy Kilmister never fails to thoroughly entertain as he relentlessly gains new fans at every show with his garish makeup, furry cowhide-adorned and custom paint jobbed guitars, and flamboyant stagewear.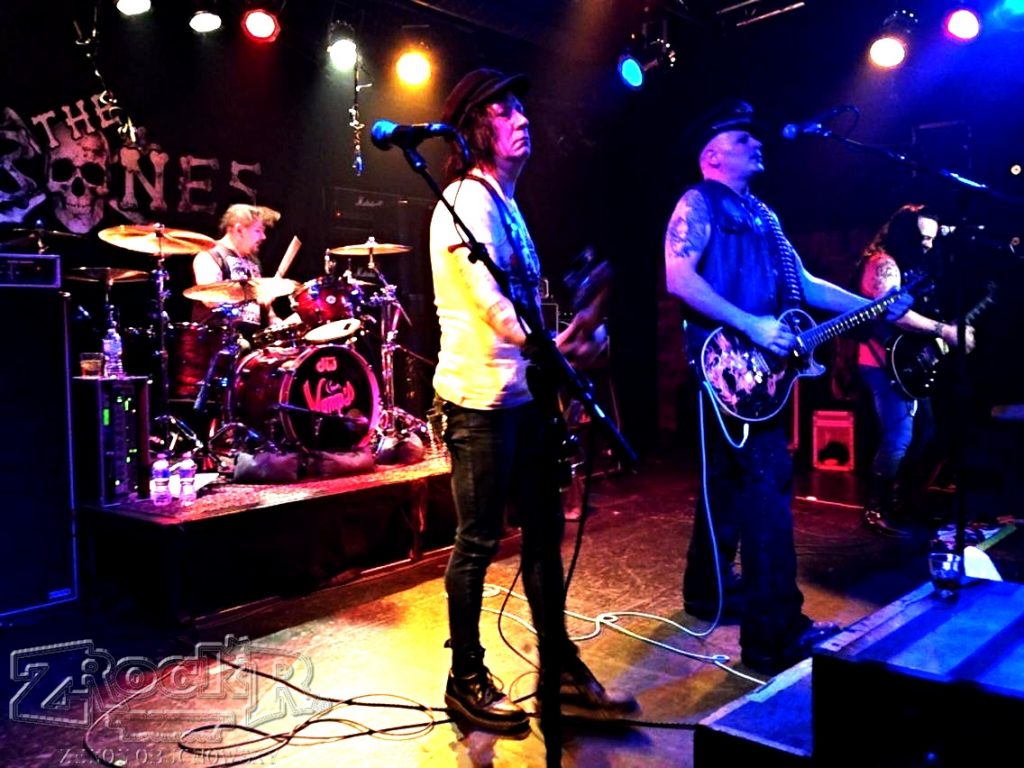 Although most readers are probably familiar with the musical skills of the bassist and lead guitarist, it's worth mentioning that the drummer here certainly lacks none of his own.
I'd describe the material penned by Patrick as power pop ala Cheap Trick delivered with metallic gusto and lyrics worth paying attention to. A generic bar band this is not.
The second cover was a Devo fave, the third a nod and tribute to the recently departed David Bowie, and the last a mega-hit by eighties one hit wonder faves Sly Fox. Rather than go to a blow-by blow description of each song performed, I'd rather you simply consult the setlist pictured and go see them the next time you're able to as to get a better idea of their fresh approach. I will say this: Jeff blazes while serving up melodious licks, Sean holds down the bottom end with tasty runs, and Sean artfully destroys his arsenal of percussion.
Again, pick up their releases either at the show or online at theboneslv.com. I'm sure you'll enjoy their recorded output as well as their act in concert.
You're welcome in advance.
PHOTO CREDIT: All photos by Zenon Obuchowsky for ZRock'R Magazine- ©ZRock'R Entertainment, LLC- ALL RIGHTS RESERVED