While Most Las Vegas music fans can't agree on much in terms of music genres, most can agree on one thing: Michael "Doc" Ellis is a Rock Star. From his stints in the Sin City Sinners as first a bass player, then guitarist, to his blistering performances with his projects Doc's Angels and Brazen, and now as a guitarist in RATT, the "Doc of all things Rock" has wowed fans and friends a like in his 15 years in Las Vegas, but his career goes back even further.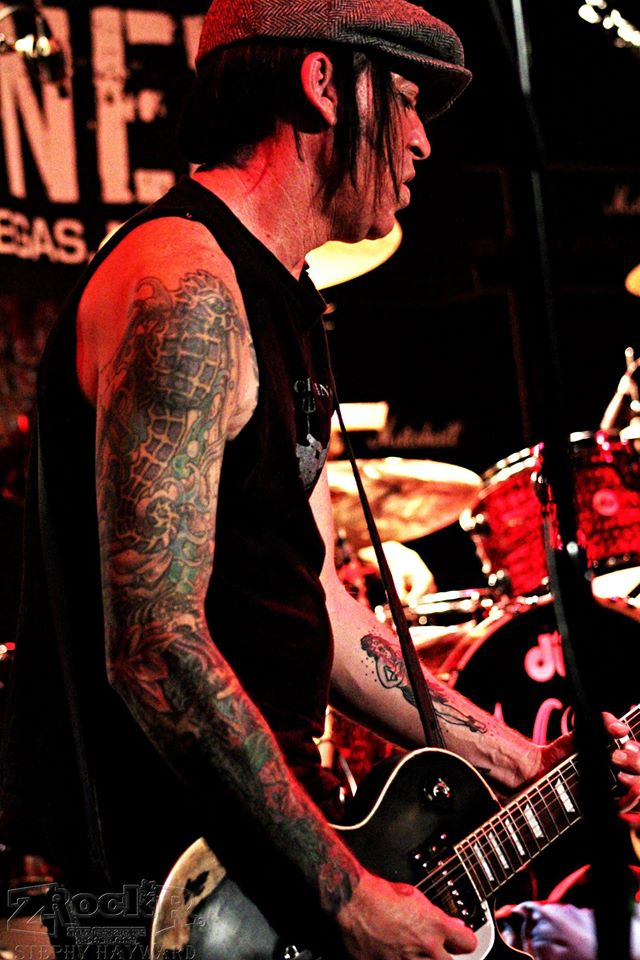 Growing up in California, where he "claims the entire southern California border" as his hometown, Ellis began playing music at 8 years old.  Starting as a drummer, he gravitated towards guitar at 12 and began playing in a local Jazz ensemble before joining a number of local hard rock acts. "Those jazz guys taught me how NOT to play. If you played just a note too much they'd let you have it. They'd give you a look and you just knew. They taught me how to respect the song and not over play."  Doc recorded and toured with a number of groups, and was a highly sought after session player.
    "Man, I played on so many records; I don't even remember what most of them were. I also abused my body back then so that's part of the reason," he says with a laugh.  Doc made his way to Las Vegas in the early part of 2000, and immediately became one of the most popular guitarists in the city. He toiled for years in the casino scene. "I played 'Jessie's Girl' every night for years! It got so old and boring. I used to be the go to guy when bands needed a sub. I had this rep of knowing how to play all these songs. But, most Vegas bands only play the same 15 songs anyway so it wasn't that big a deal." While stopping at the old Dive Bar for drinks, (something Doc gave up going on 4 years now) he stumbled across a loose band of musicians playing songs he could never play in a Vegas Lounge.
     "So, there's Brent Muscat, who I knew from back in L.A., and he's famous. And then, there is this unbelievably tall, talented singer (Former Sinner and current bassist for Slash Todd Kerns) and they are playing shit like Priest and Maiden and old punk songs. I was like 'Finally!'" That night Doc went up to Todd Kerns and said, "I've been waiting my whole life to back up someone like you." Kerns and Ellis hit it off with their love of rock-a-billy and punk, and he was soon asked to join the band as the bassist.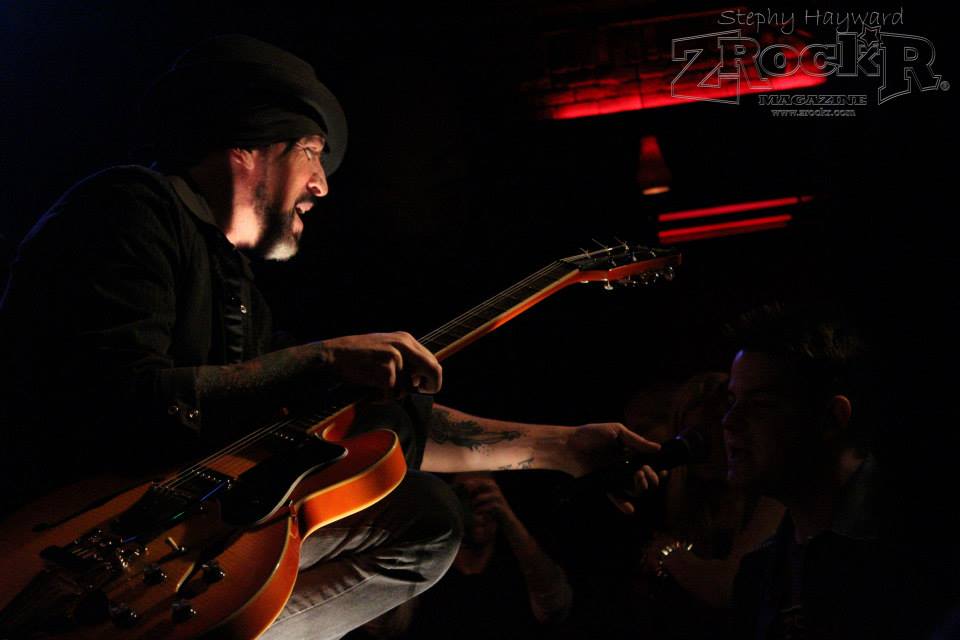 For 4 years, he was the attitude of the Sinners. His ever present cigarette in his teeth, and a well practiced snarl reminiscent of Johnny Rotten, made him a fan favorite. But, Doc was struggling with his own demons, and left the band. "I was drinking way too much, it was out of control.  I couldn't keep living like that. Then, Cian Coey comes into my life. She made me want to be better, it was like 'How could she love ME?' and she got me through all of that. She's the best thing that ever happened to me." Cian,is the lead singer of Brazen, a band Doc also performs with, and is currently on tour with Meatloaf.
Doc found his way back to the Sinners after a year, which had seen the departure of Todd Kerns and the addition of Zach Throne. Picking up where he left off, he was back in full force with the band through even more line-up changes. Eventually, Ellis was the only original member left in the band, as behind the scenes turmoil saw them all leave, one by one.  "I tried to hold it all together man, this last year. I wanted to get that record out. But, in doing so, I didn't see what was really going on. Finally, someone helped me open my eyes and I said 'I'm out of here'". Doc says he and the rest of the old and new sinners are all on good terms and still friends; he doesn't discount them ever playing together again. "Maybe not as a 'band' but definitely sharing the same stage at some point."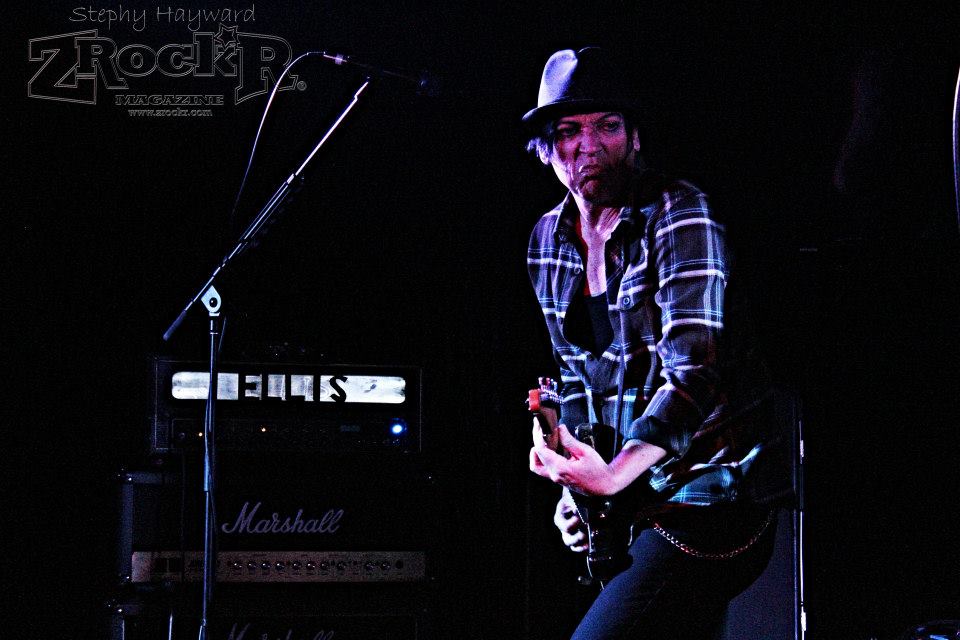 With the Sinners behind him, Ellis now devotes his time to RATT, featuring Bobby Blotzer, an arrangement that has lead to some issues in the metal community, as well as the Vegas one. "I've read all of it man. I'm a scab, a fraud. Whatever, I don't give a fuck. At the end of the day you know what? I'm doing a job and Bobby has taken very good care of me and allows me to play tribute to one of my heroes.  Robin Crosby is one of the reasons why I started playing guitar and Bobby gives me the opportunity to respect his memory by playing his riffs. And, the RATT fans get to hear their favorite songs again," he says in between drags of his ever present cigarette.  While RATT will be keeping him busy for the next few months, Ellis says he looks forward to jamming with other musicians and working with some other projects. He can be seen at Planet Hollywood with The Money Shot, a gig he feels keeps him grounded. "We go up there and just play whatever we want, or whatever the people ask for. There is no ego, no showing off, it's just us playing music, nothing more."   He says he's not worried about his future at the moment, nor does he regret his past, he is just enjoying the present.
"You know what? I make a living doing what I love! I had a real job, it wasn't for me. I get to play my music. I have the love of a beautiful woman, family on both sides and a handful of friends. And, apparently the respect of my peers, that's more than enough I need nothing else."
All photos of Doc Ellis by Stephy Hayward for ZRock'R Magazine- ©ZRock'R Entertainment, LLC- ALL RIGHTS RESERVED