Ever since I was a kid, I've been into what some call "sleaze" metal or "sleaze" rock. That fun loving sound that originated on the Sunset Strip in Los Angeles. I spent a lot of my teen years listening to bands like Motley Crue, LA Guns, Poison (yes, even Poison), RATT, and one of my favorites: Faster Pussycat. Faster Pussycat had that kind of feel to their music where even if you were in a shitty mood, you'd end up smiling, dancing, and singing along. A few years ago, I got to check out the sixth anniversary show for locals The Sin City Sinners, which at the time included co-founder and guitarist Brent Muscat of Faster Pussycat! It was a surreal moment getting to meet and say "Hi," to him; and over the years, I've made sure to check out his gigs, wherever they may be.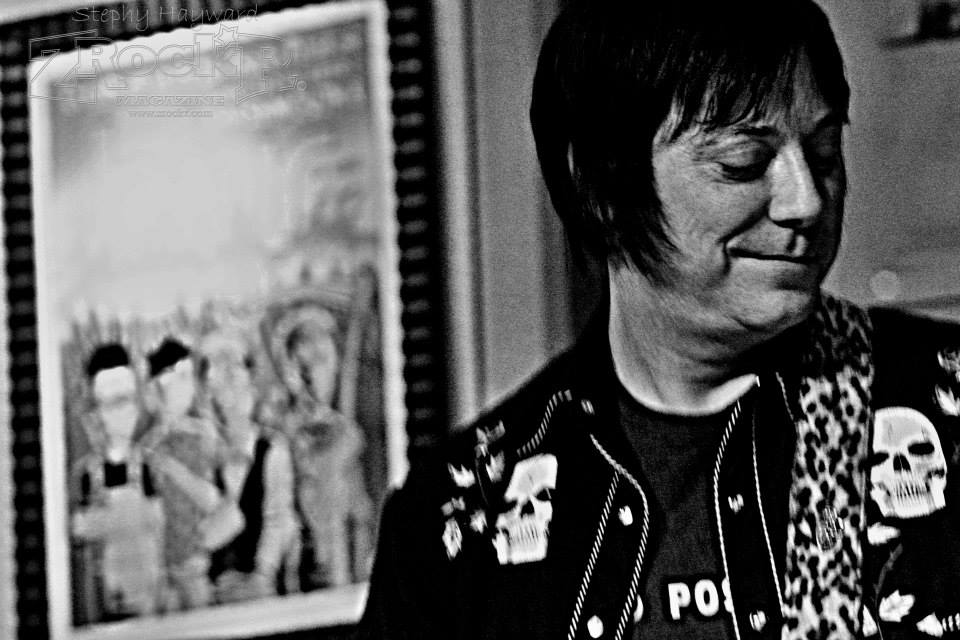 2015 was a pretty big year for Muscat as he departed the Sinners and dove head first back into the scene, jamming with his friends at his Brentapalooza Birthday Bash; doing a mini-tour in Japan with LA Guns' Phil Lewis; jumping on stage with different friends from time to time, and most recently, forming a new kind of jam with his Vegas All Stars band. I was fortunate enough to check out this epic jam's "first" show at The Lounge inside of the Palms Casino, as well as the ones that followed. Each jam has been comprised of different "All Stars", ranging from folks like Nadir D'Priest of London to local favorite Siana King! It's been absolutely awesome seeing Brent push forward rather than fade back into the shadows like so many people seem to do after many years of stardom. So, naturally, when the opportunity arose to get inside of the guitarist's skull and pick his brain a little about his experiences and what comes next, I jumped at it.
ZR: I know the year started off kind of, I don't want to say rocky, but a little strange with your departure from The Sinners. Did that have any effect on what you had planned for your year?
Muscat: The good thing is when I left my former band, it was right before I went to Japan with Phil Lewis. So, it was a good start following my departure, because I had something to concentrate on. It was a big trip going over there doing four sold out shows. We had a great time. The rocky part after my departure was trying to do something new here in town. However, I was hopeful because people like Zachary Throne and Todd Kerns  they left and forged new paths. It was a little bit difficult because of finding the right musicians to jam with – to me chemistry is really important. It's like dating someone. You can date someone good looking, but it doesn't always click chemistry wise. I just wanted to get back to basics and do what I wanted to when I came here. There wasn't a big rock community. There was back in the 80s and 90s in LA, but it was dead when I moved to Las Vegas  in 2004. So, it was good to get back to my roots and play with friends. The Vegas All Stars are about the quality of person you are, not just your accomplishments. Playing less gave me time to go, "OK I can make this better this way." Brentapalooza and the Palms shows with me and my friends and fellow musicians have been packed and been doing well. I needed something new and fresh for myself. I have been able to tweak things in the shows, and I wanted to play new songs, not just the ones I did for eight years. It's been different genres too such as classic rock, country with Siana King, and 90s stuff with Dominick Muzio.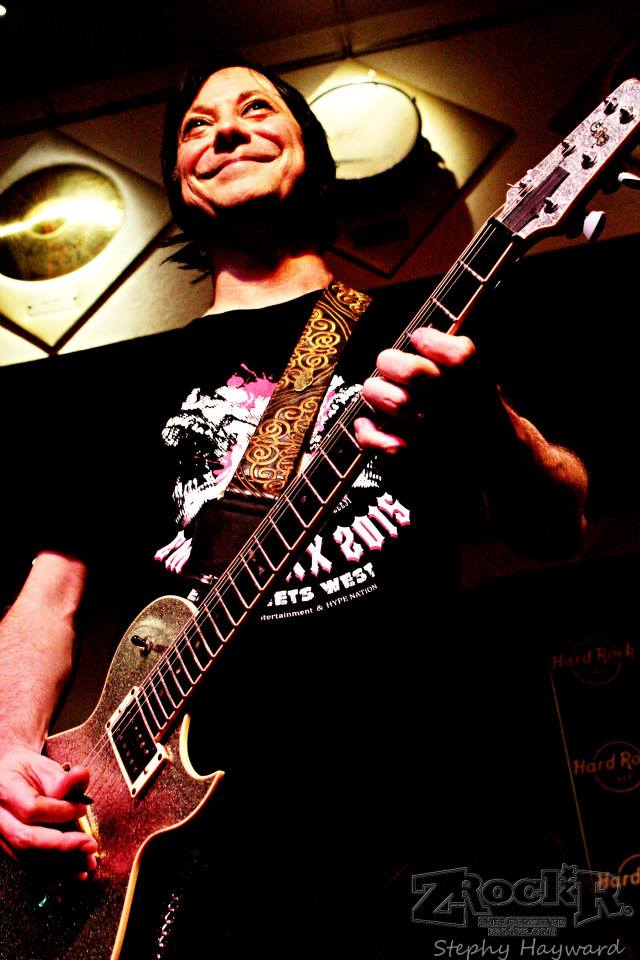 ZR: You are kind of considered the Godfather of the Las Vegas rock and roll scene. Do you find this title fitting for yourself?
Muscat: I wasn't the very first, but it's a compliment though. The first thing I did when I got here was network.  I was proud to be part of something different. When we played the Dive Bar we didn't play to tracks; there is nothing wrong with tracks, but it was more organic. All the musicians would come out, such as Christian Brady with HELL YEAH and Chris Kael from 5FDP —  both were not doing music full time at the time but were musicians. Vegas was starving. I am one of the first ones to come here and start doing stuff, but I am not taking all the credit. I've played with great people. There were a lot of great musicians who were here like  Kurt Frohlich. I had a dream of coming out one night a week, mainly Tuesday nights because Cathouse did their thing on Tuesdays in LA, and I said, let's just do it. A lot of people were against it and would say things like, "No, a Friday is what we want," but I used to tell them that if we can make it work on a Tuesday we can do it every time we play. Todd Kerns used to call me the Mayor of All Things Rock & Roll.  It was important to come here and do things for the right reasons. Not for money, but to build a community. It was after my cancer surgery so I wanted to give back, build a community, and do rock.  I would like to do more with different charities. This year has been me trying to find myself, and refining what I've done.  I've been lucky to work with Alice Goldstein,  who is a great manager and promoter and she has helped me so much. It's been great helping bands too, like with Dominick and Wicked Garden. It's great to see them grow and get to play bigger places. I like helping and bringing people together. I play once or twice and month, and it gets better and more special. People who haven't seen me for a while get to come out and see their friends and be a part of something awesome. I'm really happy with it. It's been great doing what I came to do and get back to my dream. Things got away from me for a while. It was time for a change.
ZR: Has it been weird going back to basics for you and learning to find yourself again?
Muscat: No, it's been fun. It's work though for sure. I put a lot of work into rehearsals and new songs and coordinating. It's not weird though. It's better for me because I get to reach out to a lot of people that I've been wanting to play with and know. There's a ton of locals I haven't even gotten to jam with yet, and I look forward to getting involved with them. There are so many local musicians — it's been great. When I look back, come February will be one year of doing my own thing with support of my friends like Alice, Dom, Siana, Louie Merlino, and of course Rob Cournoyer, and others who have supported me. Having Rob has been great. We have this New Year's thing which will be really great with Todd and all of my friends, and Zachary Throne might pop by as well after his show. It will be a culmination of everything and will be the highlight of the year.
ZR: You've gotten to work with Zach and Rob throughout the year, and you'll have Todd on New Year's. Is it kind of cool in a way that even though you are doing things on your own, you get to end the year with the guys you started out with?
Muscat:  Chemistry is important. Todd, Rob, and I,  together have chemistry and it's important to have fun. I have had a lot of fun with them over the years.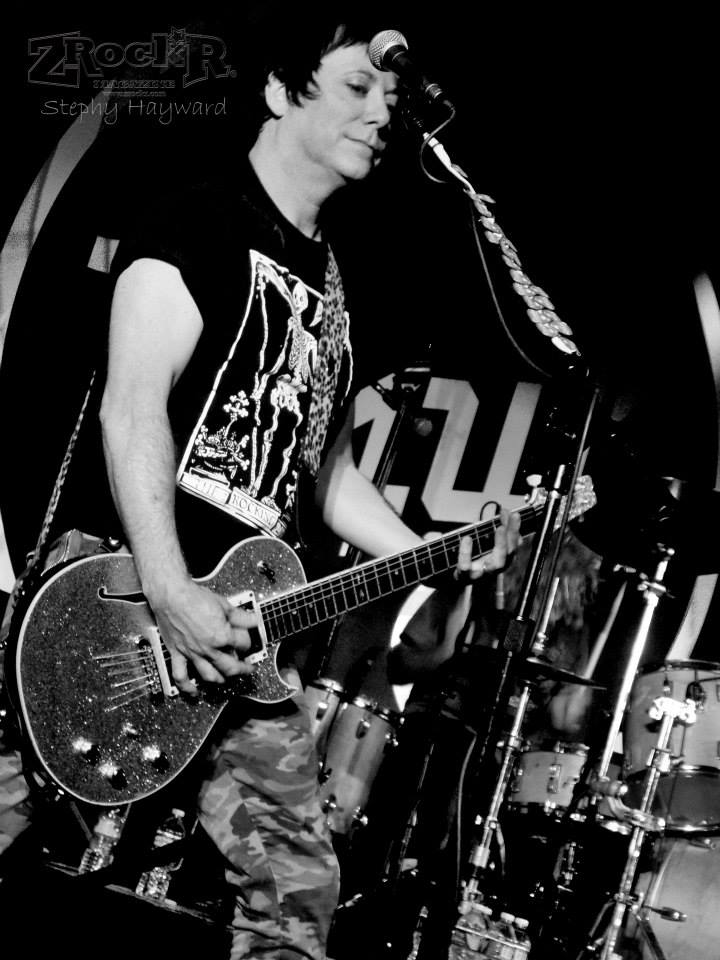 ZR: I guess what I'm trying to say ,it's been a while since the three of you have gotten to do that. So, is it kind of like the icing on the cake for the year because you are getting back to your roots in a way?
Muscat: Oh, definitely! Rob and Todd were with me the first three or four years after I came to Vegas, and the rock scene was changing. I remember someone saying, "Oh, you, Todd, and Rob are the first guys who can actually play without tracks!"  I think 2008-09 was our height and we were pioneers. We were the first ones to go play casinos and originals and we have all done really well. Getting back together is great. Todd has gone out with Slash and done great and Zach has gone out to do amazing things too. To come back together shows that our friendship is tight and there is still a community. We believe in bringing people together. I hate when bands brag, it's not about being the best.  You don't have to play five, six, seven times a week. You don't have to prove anything. It is more important to have the chemistry and know what is behind it. It is very exciting to go back and play with Todd and Rob. It feels like the old days. It's going to be a family reunion of sorts.
ZR: So, what all is in store for New Year's Eve?
Muscat: I've got a set of Faster Pussycat songs with original members Greg Steele and Eric Stacy. We have different people coming and singing Faster Pussycat songs, which is going to be really cool. We will showcase some of Todd's original stuff too and some Guns 'n Roses. We have Wicked Garden and London. London is cool because it goes back to my Hollywood roots. After that I'll start my show with my other friends and guests like Siana King, Kimberly Barnhill, Scot Coogan and Jeff Tortora and Keith Robert. I'm forgetting names; there are so many people playing!  At this rate, I think it will also  be kind of an after hours party. We are going to be streaming portions of it live all around the world so everyone will be able to see it. So, a lot of folks who can't come to Vegas can see this from the comfort of their couch or bed and chat with each other. It will be really great.
ZR: So, it's more than the Vegas community. It is an all around rock and roll community you guys are building.
Muscat: Totally. Vegas has a great rock scene right now, and I am proud to be a part of it and be one of the pioneers. A lot of people have said that, and it is flattering. I haven't done this by myself. I had a vision and am proud of that. I think while there's a good rock scene in Las Vegas, we have room to grow even more, and I want to help other people and make it bigger. I am really into that — mentoring and helping. I've been there and done it. I've gone on tour. People ask if I want to tour and perhaps if the right opportunity arises again, I will. I've toured with Motley Crue, David Lee Roth, Ozzy and KISS and got to do the rock star thing which was fun, but I enjoy being with my family and friends. But like I said, I will never turn down the right opportunity. You know what, though?  I like being the Vegas guy. You look at the past and you have these famous musicians who are just Vegas people. That's my dream and vision. There's enough places to play here.  Vegas is so big now. There's casinos all over and outside of Vegas.  So, my dream is to stay here in Vegas, and make sure there isn't a pay to play thing,  because that's really what ruined LA.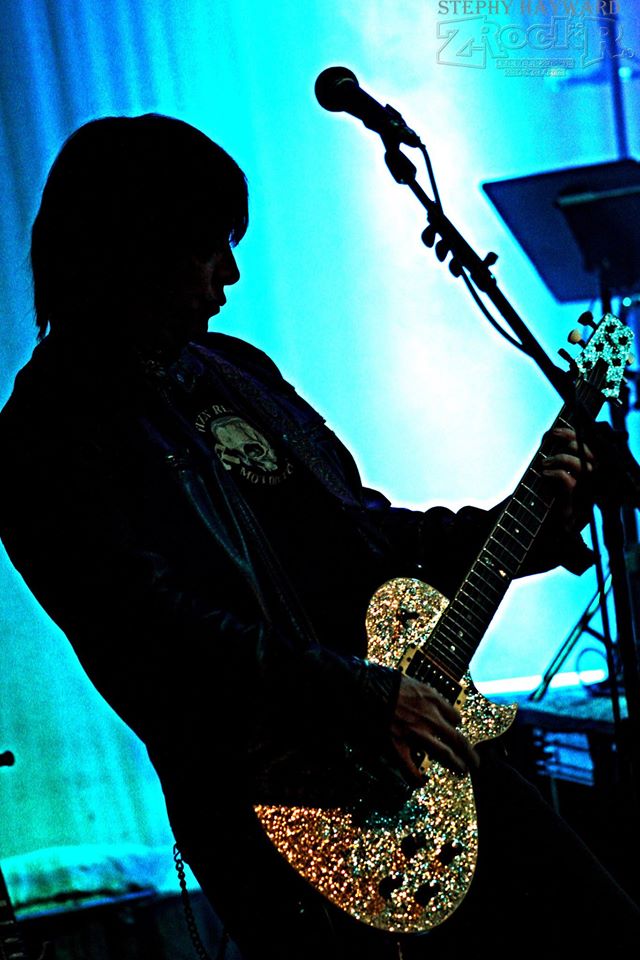 ZR: Is there anything that you would do differently in 2016 from what you've already done, or what do you have planned? You've had such a good year. Where do you want to go from New Year's Day on?
Muscat: I kind of want to just keep doing what I am doing. There were certain things I regretted that I don't want to repeat.  I felt like what started off was bringing people together, and it got away from me because there was a lot of  "We're better than them" or "They suck," attitude coming from others around me;  and there was a lot of negative competition. I don't like that. I promised myself that I would  get back to bringing people together on stage without the negativity. Next year will be a lot of focusing on my vision of positivity, and sticking to it. There is a sign I have on a wall that says simple things such as Be Kind… Be Nice to People… Before You Speak, Think. Words can be hurtful.  Never get into that "We're the best" mentality. It was never about that for me. I want to get back into charitable events, because I have been trying to rediscover myself. Next year I will get back into giving. I just have to find the right event. You know, I'm very proud of things I have done and what I have been a part of, but there's a time and place to talk about it.  I am very happy being recognized and being dubbed the Mayor or whatever of Vegas rock, but I have had a lot of help. I do recognize those before me like Slaughter and other great bands. I am proud to be one of the first from my "sleaze rock" scene. I'm not the biggest rockstar in the world, but everyone has power to do positive things. If you put yourself in a positive place and do things for the right reasons, everything else will come like popularity and money. You don't have to worry about it. Just have fun and do it for the right reasons. I felt like that got away from me. A lot of my vision got away from me the last few years, and I take responsibility for it. I don't blame anyone else. When you are in something and things aren't going well, you have to take responsibility and not blame everyone else. There is responsibility on both sides sure. If you don't stick up for yourself and your vision and your bandmates, you will lose your way.  I don't want to let people impose their visions on me or take away from my vision. My biggest thrill is when someone says, "I got to jam with Brent Muscat and he is a friend!" If I can help someone like Siana King become  famous that's huge. That's very satisfying.  I don't have to brag and take credit. People will know, and they'll say "Brent helped her," and that's enough for me. I get to be a part of that. That's enough for me. If someone recognizes me for it, it's enough. If I can have fun and play with my friends, that's perfect. Money will come. Like I said, the last few years I think things got stagnant and went downhill. You have to have core values. Like with a company, you have to have a mission statement. You can make money, but you need to have a culture. I want to keep my culture. Since I have been on my own, I've been having so much fun and the shows are packed. People have fun and want to be a part of these shows. Each show has been different with guests and songs, and working with great people. Alice has been a really huge help to me and keeping me focused. 2016 is about creating a scene and a rock culture for the right reasons. When Siana first came out at 16, no one saw what I saw. I knew she was going to be great. Now, she's not a kid, but it's fun to watch her blossom. It's fun to even watch Dominick blossom. I feel like I've mentored him , and he has mentored me too as a friend. He gives back too. It's great to watch his band grow and get better. I just love helping other people! And I love everyone I have ever played with. Even though it was time for me to leave certain things in the past, I wish everyone the best, and I look forward to 2016!
ZR: Well, I am super excited for New Year's. I will definitely be there. Thank you so much for taking the time to speak with me.

So, there you have it! Brent Muscat, the Godfather of the Vegas Rock Scene (or the Mayor depending on who you talk to) will be playing at the Hard Rock Cafe on New Year's Eve! Make sure to plan ahead and get down there to check out Brent with original members of Faster Pussycat, original Sinners Rob Cournoyer and Todd Kerns (also of Slash & the Conspirators), Sunset Strip's London, and local 90s tribute Wicked Garden! There will be so many other guests as well. I promise this is something you won't want to miss. You can visit Brent's Facebook here for more information, or the Event Page. If you won't be in Vegas and still want to bring in 2016 with Brent and the All Stars, you can stream it on StageIt here. You also have an opportunity to catch Brent every Thursday at the Lounge inside of The Palms Casino alternating between the All Stars and Gypsy Road featuring Kimberly Barnhill (who you can catch at the New Year's Eve Show) and Les Warner (The Cult/Bow Wow Wow)! 2016 is proving to be another year of Muscat awesomeness! See you at a show soon!
PHOTO CREDIT: Photos by Stephy Hayward for ZRock'R Magazine- ©ZRock'R Entertainment, LLC- ALL RIGHTS RESERVED