In the world of drums, there are few who have had as big an impact as Carmine Appice. His career spans half a century, playing with bands that include Vanilla Fudge, Cactus, Beck Bogert Appice, Rod Stewart, Ozzy Osbourne, King Kobra, Blue Murder, and countless other one-offs and side projects. He even wrote a drum instruction book in the early 70s that is still in print and in use to this day! His drum clinics and Drum Wars gigs alongside brother Vinny have gotten him even further popularity and notoriety.
Given his lengthy career, it is surprising that Appice had not written an autobiography prior to this point in time. He certainly has had no shortage of interesting experiences and has crossed paths with some of the biggest names in the industry. For Stick It! My Life of Sex, Drums, and Rock N Roll, Appice's co-author is none other than Ian Gittins, who co-wrote Nikki Sixx's legendary rock and roll memoir, The Heroin Diaries.
Stick it! begins with a foreword from former bandmate Rod Stewart, and an introduction depicting his all too brief stint in Ozzy Osbourne's band. From there it is a largely straightforward narrative depicting Appice's life both on and off the stage, from being behind the drum kit in the early days and building a name for himself, to providing the rhythm behind some of rock and roll's greatest anthems. And along the way, there are plenty of unexpected occurrences, from groupie antics that take political incorrectness to new heights, to other personal drama and tragedies. No stone is left unturned here.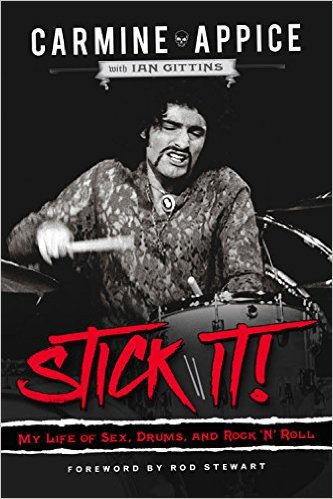 As a big fan of countless Appice bands and projects, this was on my long awaited list of rock and roll books to pick up. It is always good to read new rock biographies, and Carmine Appice's does not disappoint. In fact, this is one of the best rock biographies I have ever read, and I do not use those words lightly.
Everything else you have ever read about Carmine Appice only scratches the surface; this is an in-depth look at his life the fans have been yearning for and finally have, straight from his mouth. The details of Appice's early life and beginning to play are some of the most interesting, including encounters with real life mob figures and unthinkable stories. It is interesting to think how things may have been different, had he not gone down a musical path!
The sheer number of rock and rollers encountered over the course of the book, as well as other musicians and celebrities, is equally staggering. Sure, you knew about the artists he played with. But did you know he gave drumming advice to John Bonham? Encouraged Robert Plant to move around more on stage? Consoled a depressed Prince, who was once booed off the stage opening for The Rolling Stones? This is just a small sampling of what to expect in regards to said encounters, and in Appice's life, as this book so beautifully demonstrates, there is nary a dull moment to be found! At just over 230 pages, it is a concise and entertaining read that never wears out its welcome.
But it is perhaps the "off the stage" stories that are this book's greatest strength. Trashing hotel rooms and banging groupies is no stranger to anyone that has read a rock and roll biography before, but Appice takes it to new heights here. I do not want to spoil it for those who have not read the book here, but it is largely thanks to these scenes that the book actually manages to be laugh out loud funny at times, and that is NOT something I can often say about a rock and roll book! Just be forewarned – once you are done reading, you will not be able to get some of these images or thoughts out of your head.
Fortunately, despite these side trips to sidesplitting laughter, the emphasis largely remains on Appice's personal drama and musical endeavors. It is interesting to hear about things like his authoring of a book on drum instruction due to the lack of decent materials out there for those that want to learn the instrument, as well as what sorts of relationships and drama he has faced. Even if you are familiar with his life and what he has done over the years, I guarantee you are going to learn a lot of new facts and stories that you did not previously know. There are a few areas in the book that could have been elaborated a little further, but overall there are no serious issues whatsoever.
Stick It! is a fantastic rock and roll memoir, hands down the best I have read in years. Whether it is dramatic, intriguing, or laugh out loud funny, this one will give any rock and roll reader exactly what they want, and far more. You will learn a lot here, and even find out about albums you likely did not even know existed! I can easily give Stick It! my highest recommendation.