In the wake of Machine Head, Deep Purple's 1972 magnum opus, the group set off on their first tour of Japan. By this point in time, the classic MK II version of the band, featuring Ian Gillan, Ian Paice, Ritchie Blackmore, Jon Lord (RIP), and Roger Glover was in full swing, having just released the album that contained classic hits like "Smoke on the Water," "Highway Star," and "Space Truckin'."
The band's Japanese record company thought the recording of a live album during this tour would be a good idea, even though the members themselves were not too enthusiastic about it, believing the intensity of their stage show could not be fully captured on an LP. The group recorded concerts on August 15 and 16, 1972, at the Festival Hall, Osaka, and August 17, 1972, at the Nippon Budokan, Tokyo. This was not the band's first live release; the group had previously put out the Concerto for Group and Orchestra in late 1969, though that release is widely forgotten by the general public, and is more a reflection of the group's early "art rock" sound, when Jon Lord was more the creative force in the band.
Made in Japan hit stores in December of 1972, with the record coming to America the following month. Right away, it was a mass success. Initially it was not meant to be released outside in Japan, but it was not long before it became the live record the group needed. Long before the boom of classic hard rock live albums in the latter half of the 70s, this stood as a truly iconic release; a reputation the album still holds to this day.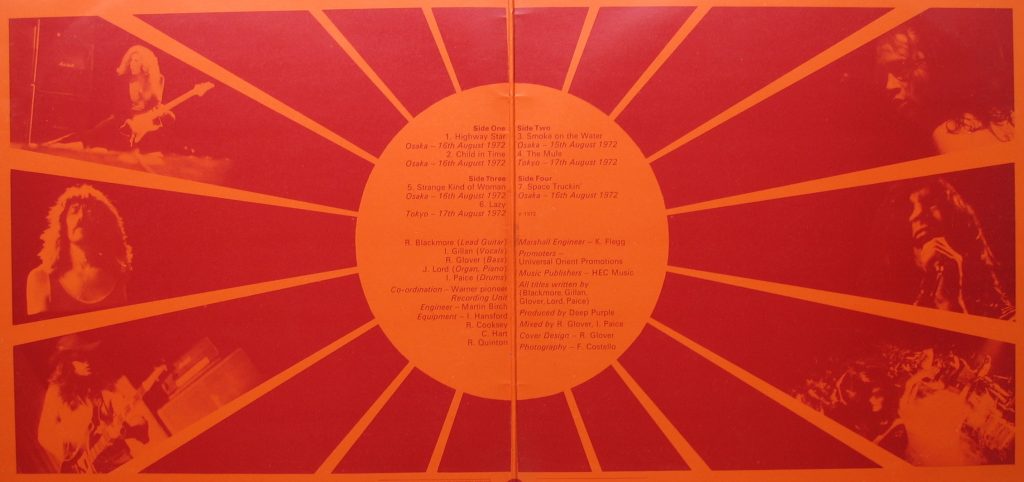 Initial releases of Made in Japan on vinyl were a two LP set, clocking in at just under 80 minutes. The first CD releases combined both discs of the LP on one CD. A number of different releases of this album and tracks from the three concerts that comprised it have come out over the years, including (but likely not limited to) a two CD set featuring a bonus disc of three encores, a Live in Japan set featuring the three separate concerts albeit with omissions for time constraints, and a later 2CD set featuring a Kevin Shirley remix of the album and a disc of encores from each night.
Does Made in Japan live up to the lofty reputation that has been built around it for years, and is this the truly definitive Deep Purple live album? Revisiting the release all these years later, this fan can safely say that the answer is yes. If you want to hear Deep Purple's most legendary lineup in their prime on the tour of their life, promoting their biggest album ever, this is a release that absolutely does not disappoint in any record.
The best thing about Made in Japan is that it is not simply comprised of clones of the studio recordings. There are only seven songs, but the fact that these versions took up a whole two LPs upon their initial release should go to show just how much more wild and adventurous these live takes truly are, and why this album has remained so revered over four decades later.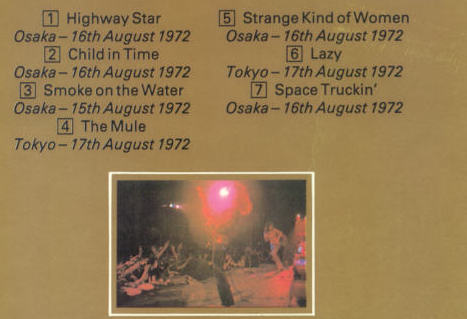 It is also a noteworthy release because it was not overly cleaned up in the studio; this is an accurate portrait of what Deep Purple sounded like live in 1972. This "warts and all" approach is how I like to hear my albums. Since you cannot have multiple guitar tracks on a live stage, we get to hear Jon Lord's organ playing holding down the rhythm parts a few times, which sounds surprisingly good. Hell, Ian Gillan even breaks down and starts laughing mid-song at one point! It sounds and feels live, and I doubt there is any greater praise than that for this release.
Where does the fun begin? This is an epic amongst epics, and easily Deep Purple's finest hour captured on the live stage. The opening rendition of "Highway Star," one of the true Deep Purple classics, is represented in a fine, energetic form here. Deep Purple in Rock's lengthy anthem "Child in Time" is done justice and then some, even more lively and emotional than an already impressive studio counterpart. "Smoke on the Water" uses some wildly different opening guitar riffs from the better known hit single version, and is further enhanced by its separate guitar and organ outro parts, giving it a much more epic feel than the take on the song most people know and love. "The Mule," originally a deep cut from the Fireball record, is transformed into a lengthy drum solo from Paicey, which goes to show just how criminally underrated a player this guy always has been. Cuts like "Strange Kind of Woman" and "Lazy" get the extended treatment as well, with these live takes clocking in at roughly ten minutes each! But none of it can compete with the epic 20 minute version of "Space Truckin'" (and no, that is not a misprint). In fact, when this album first came out on vinyl, due to the sheer length of this version of the song, it had its own entire side of a record!
Which version of the album/concert should you buy? You have so many options here, so it can be more than a little overwhelming. My personal recommendation is to go for the remastered two CD version that includes the three encores of "Speed King," "Black Night," and "Lucille" (a cover of the Little Richard classic). Other releases have more discs and contain more of the concerts from the three nights, but you will also be hearing the same songs (including encores) multiple times in most cases. The remastered two CD version gives you the highlights and the encores so you are getting the best of all three nights.
Made in Japan is overlong, overindulgent classic hard rock that pulls out all of the stops and shows what this group of legends sounded like on stage together in their prime. It clocks in at damn near the full 80 minutes you can fit on a CD, but if you are a fan of the band, you will never be bored once in that duration. Absolute highest recommendation for all Deep Purple fans.