It's always difficult losing a loved one, whether they be family, friend, or a beloved musician. On March 21, 2015, the world lost all three when Duke Collins of The Deadlights passed away. The circumstances surrounding Duke's passing came to light a couple months after his passing; overdose.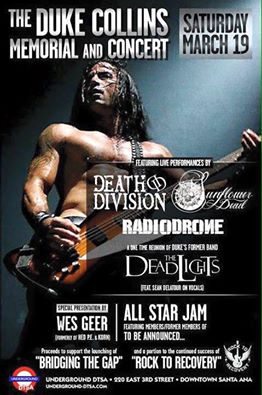 Shortly after his passing, his mother Sharon Gipson (or as most call her- Mama Duke), decided to make a difference and began Bridging the Gap, an organization to help those who are trying to seek help for their addictions with their life expenses. ZRock'R got to sit
down with Mama Duke for an interview, which you can read here .
I don't want to make this article about the sadness that surrounded Duke's passing, or solely about addiction. Instead, I want to tell you about the awesome celebration that was thrown for him not only by his family, but by friends, fellow musicians, and his band- The Deadlights.
We stood outside of the Underground in Santa Ana, California; a decent sized club which is basically like a gigantic basement with a stage. It was actually really cool. The place was completely packed with locals enjoying the beer fest in the area, as well as those who were there to support the cause. The crowd meshed together well as the show began.
The evening began with a beautiful ceremony in remembrance of Duke.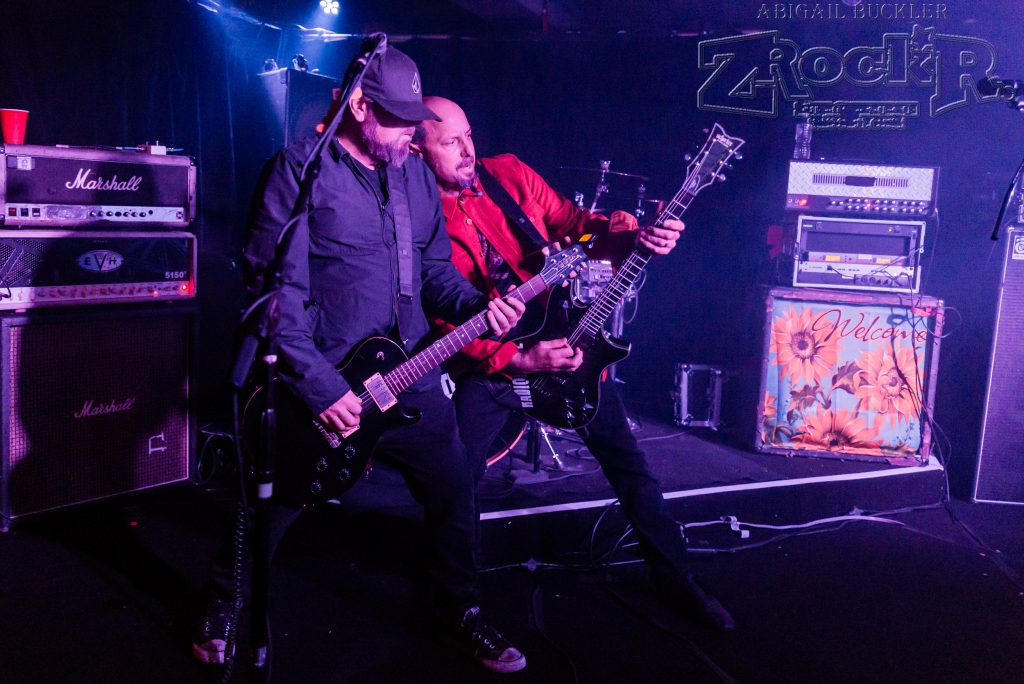 As some may know, Duke was of Cherokee descent. A group from the tribe came out on to the stage, as well as the floor in front of it, and began the drums and chants. The crowd became instantly mesmerized, taking out their phones and cameras to record. People from the back of the bar crowded around to get a better look at the ceremony. This went on for about fifteen minutes, and the energy in the room completely shifted. You could close your eyes and feel the power of it. After the ceremony was over, the tribal members lingered for a moment, asking Duke's family to join them on stage. I could tell that I was not the only one effected by complete shift in energy, as Mama Duke and his sister both had tears streaming down their face. The most powerful moment of this entire portion of the show was being able to see this family finally get closure in a way.
After a quick change in set, the first band took the stage. Radiodrone, a four piece band with definite attitude, immediately grabbed the audience with their hard rock/punk vibe. I was highly impressed by the energy they had. Each song was fast and upbeat, with just the right amount of grr.
Following Radiodrone was a spoken word piece by "Rockman" of the publication BackStage 360. His speech was very powerful. He talked of his own battles with addiction. I had the fortune of speaking with him that evening before his piece, a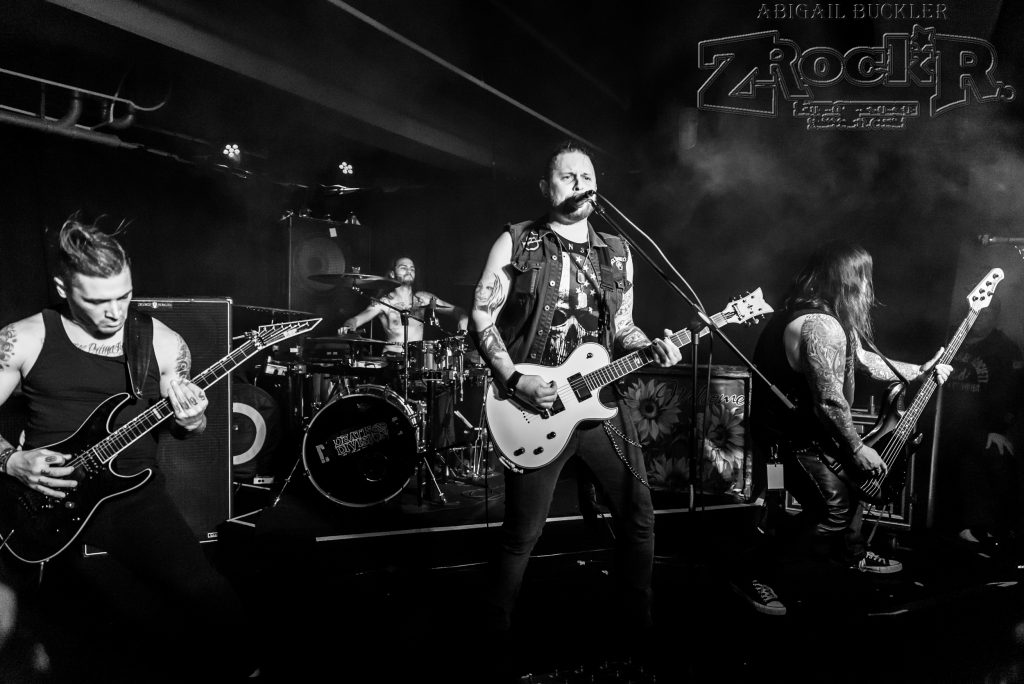 nd it was very powerful to hear his story. He spoke of trying to get away from drugs, and how when he was addicted he felt they'd always find him, but it turns out that he ended up seeking them out. We spoke about how some people don't get second chances, and that was one of the main reasons he wanted to tell his story that night.
While the next band was getting their gear together, there were a couple of musical interludes. First, Ronnie King got up on the stage and played traditional flute. Although he was not on the stage for more than maybe three minutes, it was still beautiful, and kept the crowd entertained so that there was no dead air/space. Following his performance was a moment of silence. During the silence, a song featuring Duke Collins on guitar was played over the speakers. The song, "Never Fade", had the vocals removed for the occasion so all we could hear was him. It was yet another moment of the evening where the energy seemed to rise.
Death Division, a metal band featuring the Deadlights bassist Jerry Montano, took the stage. Fog began to fill the club, covering the crowd. It added to the allure of the band. They were very entertaining to see and I definitely recommend them to anyone who likes metal. They reminded me a lot of a band back in Las Vegas called Sicosis. Similar energy and sound.
Following Death Division was probably the most emotional moment of the night for the crowd, myself included. Mama Duke took to the stage to speak about her son and the demons he fought. Fighting back tears, she spoke of how he would call her every day just to say I love you, and how much he gave to this world and to those around him. She spoke of the addiction he faced and how his body was found. At one point, the crowd at the bar was getting a bit loud. Everyone watching could tell how hard of a moment this was for Mama Duke, and as she stood in a small moment of silence to catch her breath, people began to get frustrated at those not hearing her message. She got a look on her face that I can't really describe, other than that it was one only a mother could give, and said, "Those who want to listen will." This one small sentence in the middle of such an intense speech was responded to by cheers of support, and one small voice in the back of the venue yelling, "We hear you, Mama!" She thanked the crowd and continued.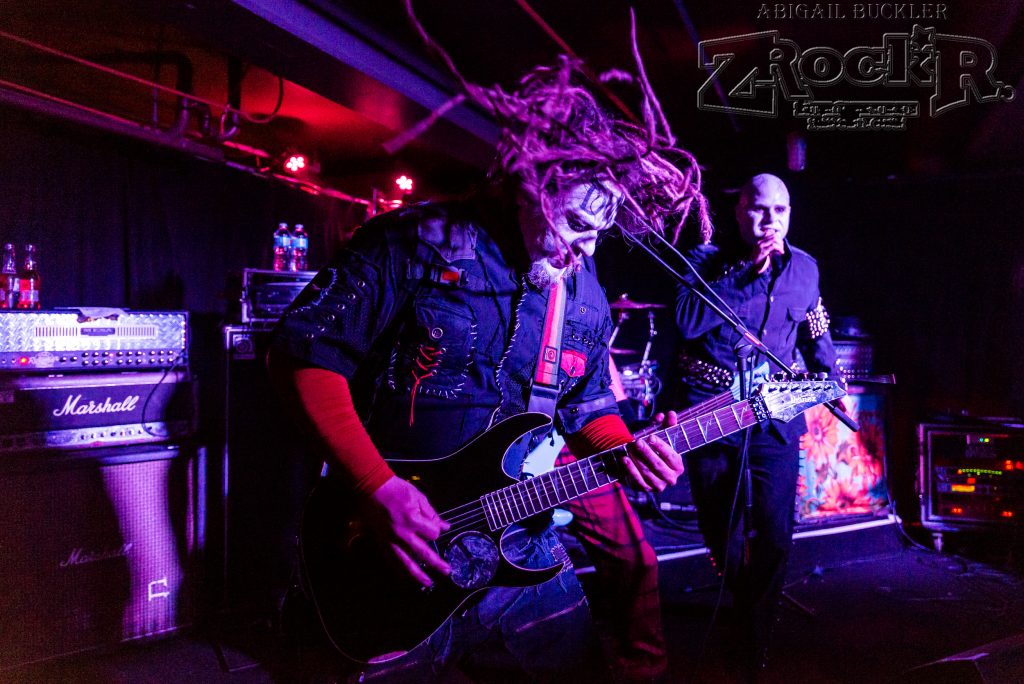 Next up was a band that I will admit had me intrigued from the moment we got to the venue. Sunflower Dead. I was supposed to cover them in Vegas a couple weeks prior to the show, but was unable due to a small mix-up, but their performance at the benefit for Duke definitely made up for it. Prior to them starting their set, which featured songs like "It's Time to Get Weird" and "Dance With Death", they talked a bit about their personal history with Duke and how they had wanted to do some tunes together, but it just didn't pan out. This band was definitely entertaining to watch. They kept their energy, even when the third song of the night had sound issues, cutting vocalist Michael Del Pizzo's sound completely.
From night to day as far as the set went, Sunflower Dead was followed by a one song set performed by Duke's sisters. The girls did a traditional Irish song for their brother, which from what I understand, he would have loved.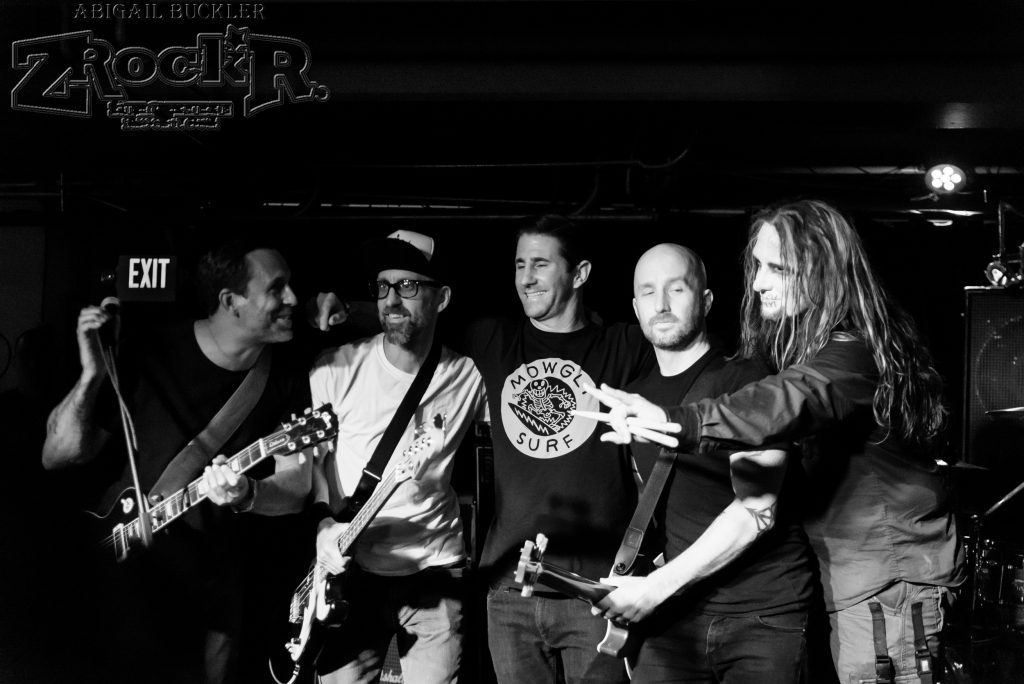 Then came the All Star Jam, featuring musicians of all kinds. The night started out with members of Sunflower Dead playing an extended version of David Bowie's "Let's Dance". The second song performed was The Police's "I Can't Stand Losing You", which had it's lyrics changed to "I Can't Stand Losing Duke" for audience participation. The next group to come up featured members of Trans Siberian Orchestra and Loyd Grant of Metallica, which of course means you have to perform some Metallica (they ended up doing my favorite song "Seek & Destroy").
Finally, it was the moment a good chunk of us had been waiting for. The return of the Deadlights! Bassist Jerry Montano started off their set by saying, "This is fucking weird, right? This will be the very last night this band will ever perform." Just before the band was about to kick off their set, a cab blew. Within 5 minutes they had a new one on stage and ready to roll. Once everything seemed to be working, the band broke into "Bitter". I instantly felt tears sting my eyes as I sang along with the crowd. Death Division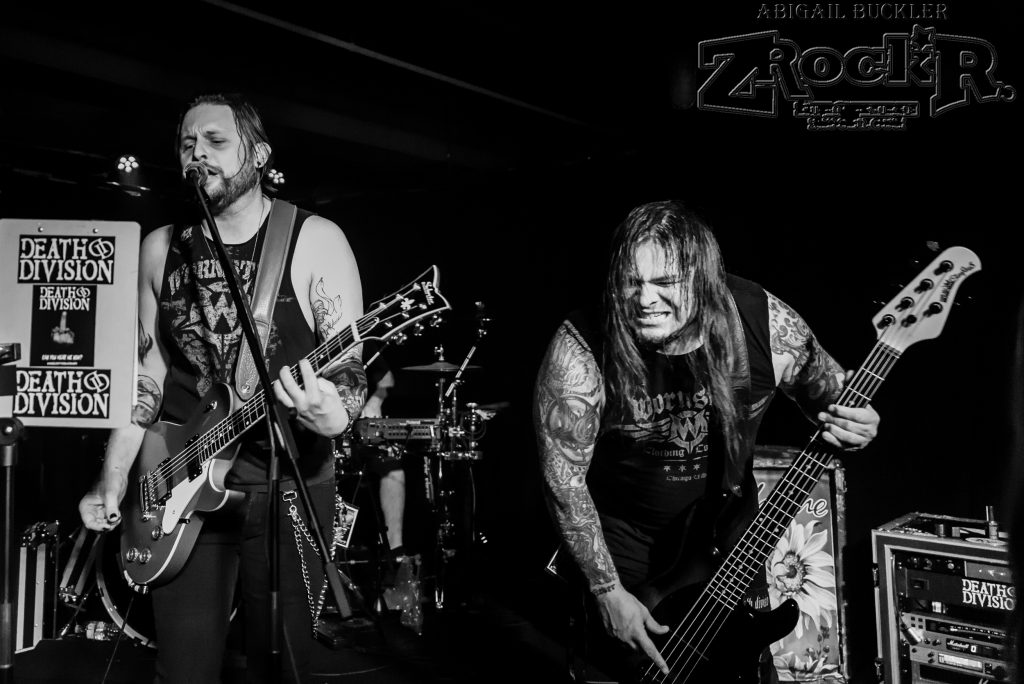 vocalist Sean De La Tour did Duke's unique vocals justice. Following "Bitter" was "Sado". It was literally my childhood playing in my head, which to some may be a weird thing, but I was raised on great music. Before they went into "Time", Jerry took a minute to take the moment in. "It's like we played yesterday, but it was 16 years ago…" He went on to talk about his conversations with Duke that they would have over the phone, and how they had even discussed getting together to do a second Deadlights album… The final song of the night was of course their main single, "Sweet Oblivion". As I listened and sang along, it hit me that it was almost prophetic. I looked over to Mama Duke, who was also singing and wiping tears from her face.
Just as quickly as the night began, it was over. It was a powerful night full of love and respect.
The Dukeness.
PHOTO CREDIT: All Photos by Abigail Buckler for ZRock'R Magazine- ©ZRock'R Entertainment, LLC /Abigail Buckler Photography- ALL RIGHTS RESERVED