1981 saw Rainbow releasing Difficult to Cure, the first studio album to feature new vocalist Joe Lynn Turner, as well as the first with new drummer Bobby Rondinelli, both of whom joined forces with Ritchie Blackmore, Roger Glover, and Don Airey. The record was featured classics like "Spotlight Kid," "I Surrender," and "Can't Happen Here," all of which have become amongst the group's most respected hits.
With plenty of archival rare Rainbow live material being unearthed, we have now gotten this release from Cleopatra Records, featuring a rare show from the Difficult to Cure tour. As live Rainbow shows from the band's assorted eras have primarily have only appeared as bootlegs over the years, it is good to finally get some official, sanctioned releases of these shows.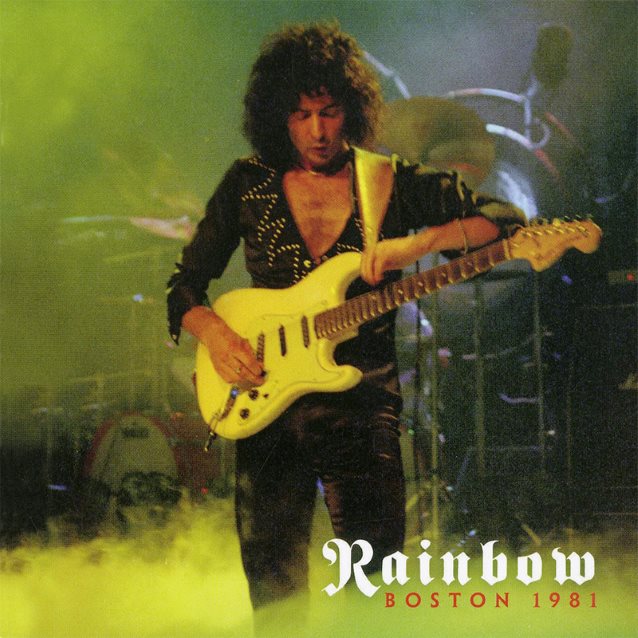 Recorded in support of the band's first release with Joe Lynn Turner, Boston 1981 features the group playing songs from the then-recent Difficult to Cure record, as well as older songs from the Ronnie James Dio and Graham Bonnet eras of the band. Throughout it all, the group gives a spirited and wild performance worthy of their musical talents. The tracklist for the release is as follows:
1. Spotlight Kid
2. Love's No Friend
3. I Surrender
4. Man on the Silver Mountain
5. Catch the Rainbow
6. Can't Happen Here
7. Lost In Hollywood
8. Difficult To Cure
9. Long Live Rock N' Roll
10. Smoke on The Water
Boston 1981 hits the high notes and then some. With epic, lengthy renditions of many of these songs transforming them into extended jams, and rare takes on Turner revisiting the music of his predecessors in the band, this is a live Rainbow release from a tour that previously had no officially released representation.
It is not clear to me if this was originally a bootleg that was cleaned up and sanctioned by the band/record company, or even if it represents the complete concert in question. Regardless, this Rainbow fan was more than satisfied with what he heard here. These are energetic and powerful renditions that are not merely clones of their studio counterparts.
The real star on this release would have to be Don Airey, who has always been one of the most underrated keyboardists. He gets more than a few chances to shine here, as any listener will quickly see (Glover and Airey now play together in Deep Purple). The rest of the band is in tip top shape as well.
The release also scores points for not simply having a "paint by numbers" setlist. There are some definite surprises on here. Even the songs from earlier eras of Rainbow are not simply the obvious hit choices in all cases; I had no idea "Lost in Hollywood" was even still performed by the band after Graham Bonnet left! The release is even closed out with Blackmore's Deep Purple classic, "Smoke on the Water," complete with intros pulled from other DP classics. This performance closing out the release is strangely appropriate given vocalist Joe Lynn Turner's eventual short tenure fronting that band in the late 80s/early 90s.
Rainbow fans will not be disappointed with Boston 1981, which is a beautiful portrait from one of Rainbow's most interesting eras. If the diverse setlist is not enough for you, perhaps the live renditions and Turner's taken on these classics will be. Very highly recommended release!