To borrow from a popular Game of Thrones meme- One does not simply interview Tyler Lawson. You pretty much ask him the first question, start your recorder, and let him go. The lead singer/guitarist/songwriter of Las Vegas band CracKerman, which also features bassist Jason Froberg and Drummer Anthony Gamez, is a hyper active ball of kinetic energy that's never at a loss for words.
     Tyler and CracKerman is more infamous than famous at the moment. The video of them destroying the set on local television show "Valley View Live" has been viral for over a year, currently viewed over 5 million times. Tyler has appeared via phone on the Howard Stern Show, and their local gigs are known to end with broken equipment, primal yelling, and sometimes nudity. And all of that sits just fine with Tyler.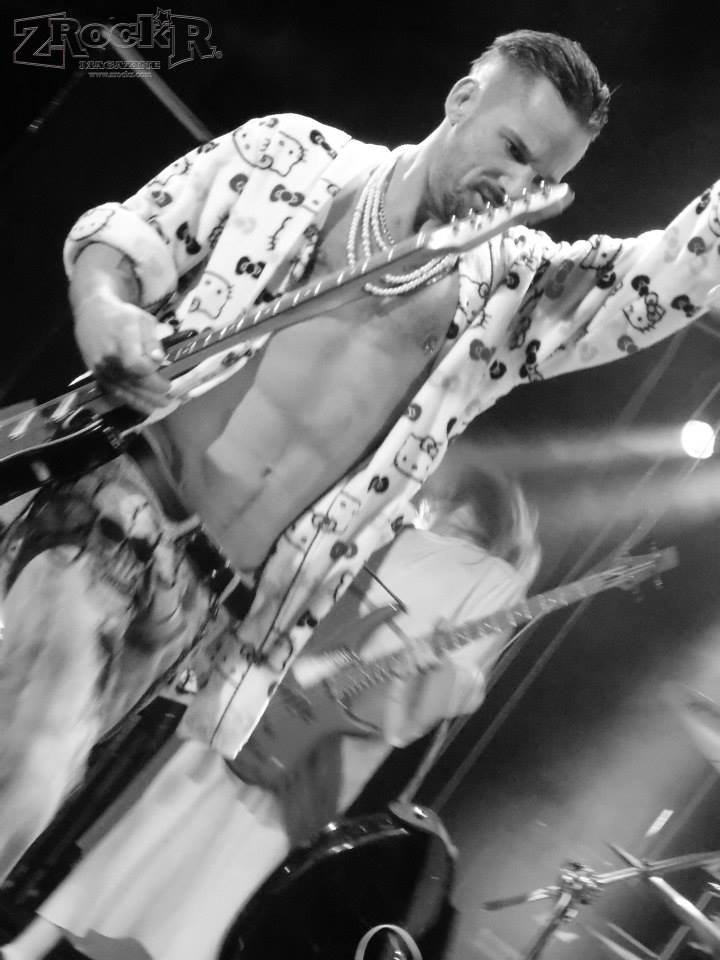 "Man, I'm all about passion. I don't give a fuck about being a rock star or money or anything like that. I've got a lot of shit built up in me, and I just let it out. And it's fucking real! Who's real in rock n roll anymore?" he asks no one in particular.
Tyler's stream of consciousness is never ending, something that endears him to some and turns others off, and again, he's just fine with that.
     "Some people hate me and my band! They scream 'CracKerman Sucks!' at our shows and I laugh, because I'm like, yeah maybe we do suck, but we are real and we are up here doing it, and you're not!"
     CracKerman doesn't suck. Far from it. The band features almost virtuoso playing from Froberg. Drummer Gamez, the newest member of the band, instantly made his mark with his powerful drumming behind the intense, edgy songs penned by Lawson. With cuts like "They Call Me White Trash" and "You're Nothing Without You", Tyler and the boys bring back a danger to the live music scene reminiscent of early Nirvana, a fact that's not lost on Tyler.
     "Man, I loved Nirvana! I have their lyrics on my arm. I had a fucked up time growing up, and hearing Kurt Cobain sing got me through it. I mean when I say it saved my life." While doing a short jail stint in his youth, Tyler learned to play guitar and immediately starting writing his own tunes. "I played around with a few bands, but it was shitty. Then a few years ago, I pretty much forced Froberg to start a band with me, and since then it's been getting better and better."
     Tyler speaks with bravado, but never comes off as egotistical. He throws self depreciating humor into his conversations, but never backs down from what he says. When asked about his feelings of the local, live music scene in Las Vegas, he pulled no punches.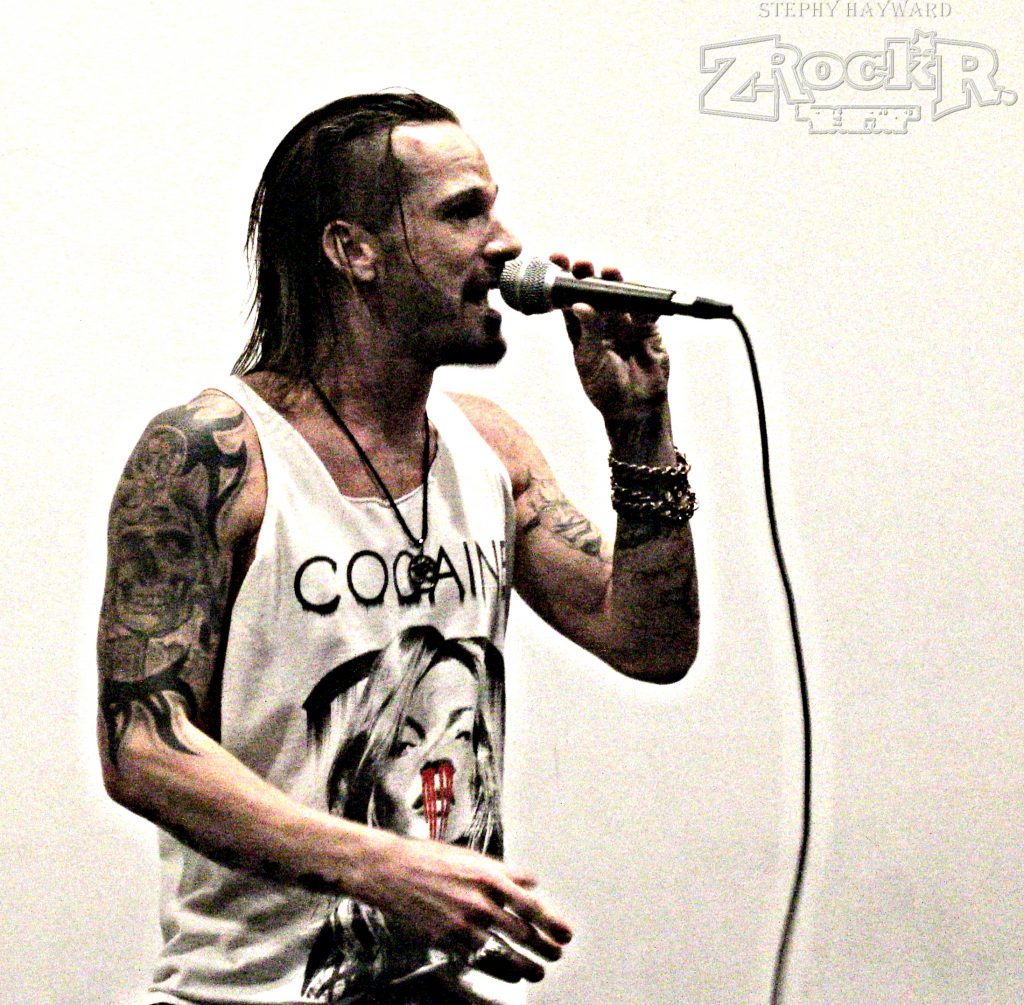 "Las Vegas has so many shitty cover bands! That's all it is! I wanna hear people play their own shit, man! And the ones that are are so concerned with their fucking image, they pay no attention to their music! I went to the DJ Ashba event a few weeks ago (The Sixx A.M. guitarist recently opened his own clothing store at The Stratosphere Hotel), and there was all these fucking people taking pictures and shit and I'm like, 'Who the fuck are you people?' Seriously! They hang out at all the clubs in town and look like rock stars, but I never see them play shit! Then there was this one band, I see them all the time at every fucking event, but I've never seen them play a fucking note. And their hair and make up is perfect, and they are doing their rock star poses, and I asked the dude, 'So, when are you playing?' And he was like, 'Uh. I don't know I'll have to ask my manager.' Why the fuck do you need a manager if you don't even play! Every musician knows when their next fucking show is!"
     Ironically, CracKerman just recently acquired a manager of their own, and is currently finishing up their second CD (release date set for September 30, 2016 so stay tuned!), with plans to tour behind the release in the works. "We are gonna go out and play and probably lose money and come home broke, and I don't give a fuck, because that's my fucking passion. Look, I'd love to be able to make money from music and not have to work a shitty job to pay my bills, but money don't mean shit to me. I'm a broke asshole, and if I ever get rich, I'll be a rich asshole. Same fucking thing."
Tyler makes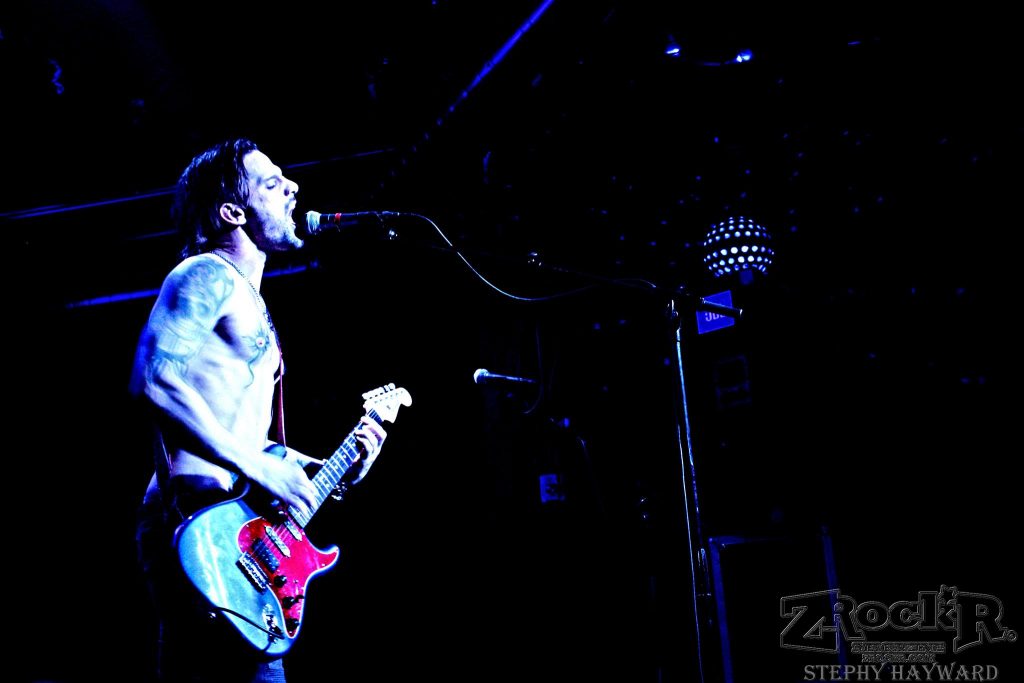 many points about how the current music scene is too processed as well. He, like many musicians, is no fan of the prepackaged, auto-tuned pop that is shoved down our throats these days. "I hate all that shit on the radio! CracKerman went into the studio, just us and the engineer for 3 fucking days. Day one, Boom! All the bass and drums done. Day two, Boom! Did all the fucking guitars! Now tomorrow I'm gonna do the vocals. No auto tune, no bullshit! I see these people making their records and they have these fucking go fund me pages and they're like, 'I need $50,000 to make my CD.', and I'm like, 'Fuck you! Just fucking grab your shit, and go in the studio for a couple days!' You don't need all the fancy tricks and shit. Just be fucking real."
In a time where there is more and more fake people and musicians then ever before, Tyler Lawson is the realest one out there. He is a welcome addition to a stagnant seen. Check out CracKerman's
Facebook
page for their next show and see for yourself.
But don't get to close to the stage, somethings gonna get broken….
PHOTO CREDIT: Photos by Stephy Hayward for ZRock'R Magazine- ©ZRock'R Entertainment, LLC- ALL RIGHTS RESERVED