When Enuff Z'Nuff debuted in the late 80s, they quickly proved that they were one of the most innovative bands of their era. They were wrongfully thrown under the hair/glam umbrella, though their fusion of hard rock, melodic sounds, alternative, and power pop had far more in common with groups like Cheap Trick. Over the years, even though the band never quite achieved the mainstream success of a number of their peers of the day, they have continued to keep on releasing albums, their sound continually evolving and changing.
Needless to say, when a band releases countless songs over a three decade period, they are going to have some ideas that are cast aside in favor of the cuts that make it on the official albums. Clowns Lounge is the latest release from the band, essentially taking a number of rough demos, rarities, and the like, and revamping them with new musical additions.
It seems to be more and more common these days for bands to go back and revisit old "lost" tracks for their new releases. The results can be questionable, but in some cases, groups manage to unearth and revamp hidden treasures. With Clowns Lounge, the band has completely surprised their audience, giving them a powerful dose of power pop that, in the case of many songs, would not have been out of place on the first album the band put out back in the day. Likewise, even the newer songs, with a more modern edge, manage to stand on their own.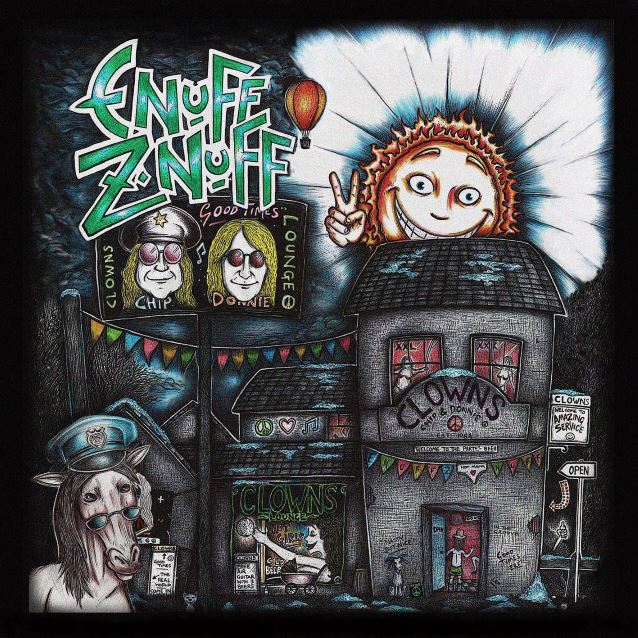 Do not let the nature of this album fool you; these are not "throwaway" tracks by any means. In fact, the initial track that was released from the album online, "Rockabye Dreamland," may very well be the best song I have ever heard from the band, and I do not use those words lightly. The power pop here is beautifully illustrated in a song like "Runaway," and a more modern edge is seen in something like the opening cut, "Dog on a Bone." "Good Love" is a great traditional 80s hard rocker. In fact, this album does not feel like a collection of discarded, unused tracks that were rush recorded. Audio quality is a little rough in places, no doubt due to the nature of the source material, but this actually feels like a coherent ALBUM.
Even more surprising is a guest appearance from James "JY" Young of Styx fame, and the late Jani Lane of Warrant, both of whom appear on the song "Devil of Shakespeare." So many tracks on this release defy traditional classification, and this is a great number that certainly falls under that category. This rock and roll fan likes a band that manages to impress while not sounding like anything else out there, and is there really another band that does that as well as Enuff Z'Nuff?
Clowns Lounge is a fantastic release, and fans of the band should not write it off on account of it not being a traditional studio album/offering from the group. There are some excellent songs here, and anyone who picks up the release is bound to be impressed. This new release from Enuff Z'Nuff comes highly recommended!