Ahsoka is a new Star Wars novel, marketed as a Young Adult book. Set roughly one year after the events of Revenge of the Sith and the formation of the Galactic Empire, the book sees former Jedi Padawan Ahsoka Tano on the run, following her parting ways with the Jedi Order, and the announcement of Order 66 and their annihilation. Running to hide from a growing Imperial presence, Ahsoka takes refuge on a moon comprised largely of a farming population. But the Empire has plans for the world, and before long, she sees herself forced to spring into action against these foes. Unfortunately for our young heroine, the Empire has released a deadly new agent to track down surviving Force users. Will she be able to successfully combat this new foe, and rescue her new friends from the Empire's wrath?
Ahsoka was one of my most eagerly awaited Star Wars novels; who amongst us did not want to see what became of our favorite former Jedi Padawan following her parting ways with the Jedi Order in The Clone Wars, but prior to her returning in Star Wars Rebels, set roughly 15 years later? If you are looking for a book that answers all of the questions as to what she was up to during that time, Ahsoka may disappoint; it is almost entirely set in a small window of time just a year after Revenge of the Sith and does not cover the later years at all. There are some flaws, but overall it is a solid edition to the new Star Wars canon. Not one of the best novels in it, but still far better than some of the worst.
One interesting thing about the novel is that it contains "interludes" between every few chapters, which may or may not be Ahsoka-centric. These give a bigger picture of the galaxy at large during this point in time, not unlike what was done in Chuck Wendig's Aftermath and Aftermath: Life Debt. This is an interesting touch which actually works surprisingly well, even if a few other parts of the novel do not fare quite as well.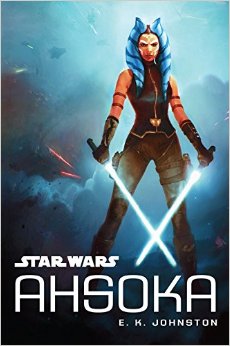 The novel succeeds in its depiction of Ahsoka herself; it is interesting to get in the character's head following the loss of everything she has known and loved, and the trials and tribulations that she continues to endure and face. There are also a handful of fan favorite characters that show up, and in what little time they do make an appearance, they are handled faithfully and well.
Of course, the book is not perfect. Ahsoka is definitely one of my favorite characters in the Star Wars canon; she became a fan favorite of many. The problem here is the other characters, as well as the pacing. There are way too many characters on the farming world explored in the book, and it was not long before I was unable to keep track of them all and found myself caring less about what individuals where who. Likewise, the pacing drags in places; in many cases there is heavy build up to combat and action scenes, but when said scenes happen, they are fairly bland and nondescript, and over faster than they should be.
The lack of material beyond the main storyline explored here may also put off some readers that want to see what the character was up to closer to when Star Wars Rebels takes place. Perhaps the lack of material from that era means we will see sequel novels, or possibly a Marvel Comics mini-series? Hoping for more material starring the character set in that time frame regardless.
Ahsoka is a solid new addition to the Star Wars canon, it is certainly not the best story in the franchise, but not the worst either. Fans should be impressed with what they read. Do not let the Young Adult branding put you off; it is a good enough read for all ages. Recommended.