Ritchie Blackmore was long hailed as one of rock and roll's greatest guitarists, as the classic axeman behind bands like Deep Purple and Rainbow. Longtime fans were in for a bit of a shock when he left the world of rock and roll to perform medieval folk music in the late 90s! Those very same fans wondered if Mr. Blackmore would ever return to his glory days of rock.
Twenty years later, the fans have their answer.
Memories in Rock is a show from Blackmore's new version of Rainbow, recorded at a German rock festival in June 2016. Aside from guitarist Blackmore, none of the men in this version of the band are former Rainbow members, and are largely unknown to fans of the former band/genre. The group features bassist Bob Nouveau, drummer David Keith, keyboardist Jens Johansson, and vocalist Ronnie Romero. Of these musicians playing alongside Blackmore, Johansson is probably the best known, having performed alongside Yngwie Malmsteen and Ronnie James Dio in the past.
The concert takes place in a beautiful waterside locale on a festival stage, surrounded by gorgeous German architecture, definitely making for the ideal scenery for this historic night of rock and roll. Blackmore and company give the fans a mixture of Rainbow and Deep Purple hits, and several deep tracks as well.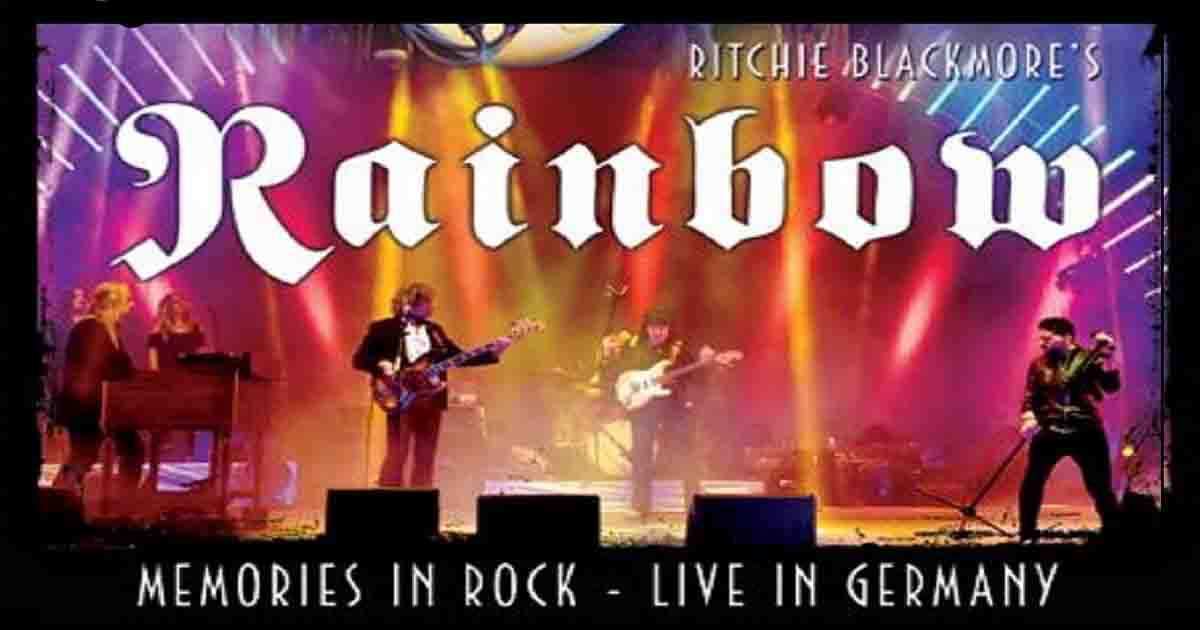 But is it GOOD?
While I admit this show does have its share of weaknesses and shortcomings, overall the end result does manage to deliver. It features Ritchie Blackmore's return to rock and roll after a two decade absence, and that alone is worth the price of admission. As far as laying down the riffs goes, Mr. Blackmore is as capable as ever. The young and spirited vocalist Ronnie Romero, of whom I was not familiar with prior to viewing this Blu-ray Disc, does a surprisingly good job on the songs, even if he might not quite be what the fans are expecting initially. Yes, I would loved to have had a reunion with Joe Lynn Turner, but this guy gets the job done and should not be written off by any means.
The band, though a bit lacking in the chemistry department, proves to be capable at shelling out the tunes. These are all spirited renditions of classic Deep Purple and Rainbow songs, and I am glad to see Blackmore has opted to find a way to keep this music alive on a live stage.
That said, the setlist is a bit disappointing. This is billed as a Rainbow show, but there are far too many Deep Purple songs. A few is understandable, as Blackmore did perform them back in his Rainbow heyday, but with the Rainbow name on the package, one would expect a Rainbow show first and Deep Purple tunes as supplemental at the most. There are way too many missed opportunities, with classic cuts like "Starstruck," "Tarot Woman," "Run with the Wolf," "Gates of Babylon," "I Surrender," "Jealous Lover," "Can't Happen Here," "Stone Cold," "Death Alley Driver," and "Street of Dreams." As far as the classic Dio era goes, too many tracks come from the first, and arguably weakest of the Rainbow albums from that time period (though one will not argue that "Man on the Silver Mountain" is an essential addition to any Rainbow/Blackmore setlist). This should have been billed as a Ritchie Blackmore show, not a Rainbow show; no other former Rainbow members appear, and the setlist is almost half Deep Purple songs.
This set is two CDs and a Blu-ray Disc. Audio and video quality are solid on the video disc, with no major flaws to report outside of the typical anomalies one finds on a concert disc, mostly stemming from issues with the stage lighting. As an added bonus, there are four "alternate version" bonus tracks filmed on one of the other festival nights.
It could not have been perfect, and the enormous expectations people have for what is supposed to be such a landmark show may impact their overall enjoyment of this package. But for what it is, this remains a solid concert that longtime fans of Blackmore will still want to check out.