Stephen Pearcy, the classic voice of Ratt, is still touring and entertaining a global fanbase. In recent years, he has performed with a band that includes guitarists Chris Hager and Erik Ferentinos, bassist Matt Thorne, and drummer Greg D'Angelo. Smash is the latest album from Pearcy, scheduled to be released by Frontiers Records on January 27, 2017.
Pearcy, who just turned 60 last year, will forever be associated with Ratt, but has a substantial history outside of that band as well, including the supergroup Arcade in the mid 90s, and a number of other side projects and solo recordings. In recent years he has reunited with his former Ratt bandmates, and rumors of future tours with them continue to circulate. In the meantime, we have a new record from his solo band. How does Smash measure up, and will longtime Pearcy fans want to pick this one up?
I will be the first to admit that, despite being a die-hard fan of the old Ratt material, as well as the musicians who comprise his solo band, I have not been a fan of every single thing that Pearcy has ever done in his career, including being underwhelmed by a few of the live performances I have seen in recent years. That aside, though, despite any initial doubts or misgivings I may have had, Smash really is a fantastic record.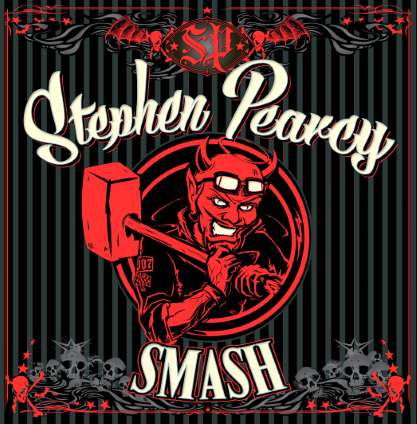 A challenge that many classic rock/hard rock/metal artists face is what direction to move in amidst modern times. Do you continue to do the same music you have done in your most popular years, or modernize to try to appeal to a wider fanbase? Finding a balance between these two extremes is not an easy task, but with his latest release, Pearcy and his backing band have accomplished just that. The album is a little too long, but this is a minor shortcoming. You get one of the 80s most iconic frontmen doing what he does best, modernizing but staying true to the raunchy rock sound of the old days. Smash should impress the old Ratt fans, but it is no mere nostalgia trip either.
Smash manages to be the best of all worlds. Fans of the classic Ratt era will find a lot to like about the new release, but a few modern twists make the album all the more universal and accessible. There are Ratt-esque sleaze rock songs, stripped down tunes, bluesy rockers, and even a few more modern rockers that have a borderline industrial sound to them, though nowhere near the extent that some past Pearcy projects had explored such a sound. While I would not go so far as to say every song here is an "instant classic," overall it is a great comeback record for Pearcy, alongside a fantastic band of musicians.
Stephen Pearcy is back with a vengeance! I admit to having my share of skepticism regarding some of his work and performances in recent years, but Smash shatters those doubts and shows us that the legendary Ratt frontman is not about to be done rocking the world. A very highly recommended release. Pick it up when it arrives in stores later this month!