The Everly Brothers, Phil and Don Everly, were two of the most influential musicians and biggest hit makers of their day, peaking in the mid 50s through the early 60s, and leaving a major impression on the musical world in a relatively short window of time. The Brothers continued to sporadically reunite to tour and record, with Phil passing away in 2014.
Harmonies from Heaven is a documentary produced for British television, which now sees a home video release from Eagle Rock. The doc focuses on the beginning of their long career and musical genesis, from being taught music by their parents to their early days recording music and eventually topping the charts, as well as the lesser known aftermath and many of the things that would come later for the brothers. Don Everly, Phil Everly (in archival footage), Keith Richards, Graham Nash, Albert Lee, Dave Edmunds, and Art Garfunkel are amongst those interviewed here.
Harmonies from Heaven does an excellent job focusing on The Everly Brothers in their musical prime and their days when they were regularly topping the charts and touring; the input from the various guests, many of whom played with them or collaborated with them at times, are especially enlightening. You get an idea of where they came from and their time in the spotlight, as well as the less successful times that followed, not to mention career choices and complications that derailed what seemed like a good thing that would never end, not to mention the Brothers' personal differences and difficulties with one another.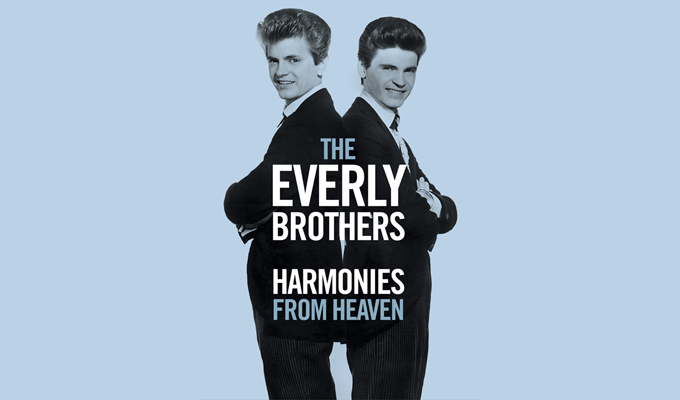 The biggest flaw of the documentary is that it is simply not long enough, clocking in at just about an hour. And there is next to nothing on their career following the early 1960s, when the hits stopped coming and the Brothers were eclipsed by changing musical trends like the British Invasion (which ironically consisted of many acts that were heavily influenced by The Everly Brothers' vocal harmonies!) It would be great to get a second doc covering everything that came later one day, but one can only hope.
Eagle Rock's Blu-ray Disc includes about 30 minutes worth of additional content, including some interview clips that did not make it into the final documentary, and young musician Jake Bugg performing his own versions of two of the classic hits the duo popularized. There is also a standard definition DVD included of a 50-minute Everly performance from the late 1960s in Australia, which is quite entertaining despite the rather weak production quality (this was likely recorded for television back in the day, and thereby, not intended for commercial home video release).
The Everly Brothers' story is one that needs to be heard; they were amongst music's most influential groups, bringing together a plethora of sounds and reigning as an inspiration to countless acts that would follow in the world of popular music. The doc itself is far too short at an hour; the band's post-hit making days are sadly neglected. But this should not stop you from picking up Harmonies from Heaven; this is a fantastic presentation despite its brevity.
DISCLAIMER: All images in this review are the property of their respective copyright holders, including Eagle Rock. For promotional use only. All rights reserved.