Rock Candy Records has been putting out remastered reissues of classic rock, AOR, and heavy metal albums for years now, from the most successful artists to one-off groups that were largely forgotten but no less excellent. Unfortunately, the UK-based company's origins made it rather difficult to find many of these releases, leaving fans to visit specialty stores or the Internet to get their hands on them.
That situation has finally been remedied; Rock Candy has begun officially releasing and marketing releases in the USA!
Amongst their inaugural American releases is a reissue of one of classic hard rock's most criminally underrated bands and albums: Salty Dog's Every Dog Has Its Day.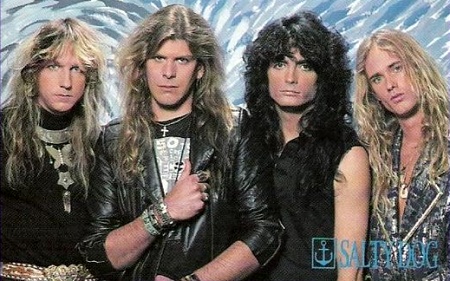 Salty Dog is a band that only put out a single album, which never got off the ground despite the talent of the members involved. The group featured vocalist Jimmi Bleacher, guitarist Pete Reveen, drummer Kurt Maier, and bassist Mike Hannon. Legendary producer Peter Collins produced Every Dog Has Its Day, the band's one and only album. Despite rave reviews, Bleacher had parted ways with the group prior to its release, and attempts to replace him and keep the band going did not work. Despite the less than favorable circumstances at hand, how does the album fare nearly three decades later?
Every Dog Has Its Day is a fantastic record, fusing the best of many rock and metal worlds. The group had the sleazy, aggressive attitude of a band like Guns N Roses, but heavily emphasized bluesy sounds and elements in their recordings and performances, which gave them an edge, and something more unique than many of their contemporaries. From the raunch rock of opener "Come Along" to a cover of the blues classic "Spoonful" (perhaps best remembered by rock fans for its Cream cover version), there are no dull moments to be had here. The group tends to get lumped under the "hair band" umbrella as many groups of the era did, but this band was really something more than that. And anyone who gives the songs on this record a listen, whether rediscovering it, or hearing it for the first time, will be more than impressed with what they hear.
Rock Candy's reissue of the Salty Dog album includes the obligatory lengthy essay and rare photographs, as well as four rare demo bonus tracks, one of which is for a track that did not make it onto the final album in any shape or form. These only add to the appeal of Rock Candy's package (there have been previous import reissues of the album, though it is not clear exactly which bonus cuts those included, if any).
Salty Dog's Every Dog Has Its Day is an underrated record that begs to be rediscovered, and Rock Candy has certainly done it justice here. Definitely recommended!