In a relatively short period of time, Black Star Riders has unleashed their THIRD album on the masses.
For the unfamiliar, Black Star Riders is a Thin Lizzy spin-off band, featuring the musicians of that group recording/touring/releasing new music under a different name out of respect to Lizzy's late frontman, Phil Lynott. Heavy Fire, released in February 2017, is the third release from the group.
The band features classic Thin Lizzy guitarist Scott Gorham, as well as vocalist Ricky Warwick, guitarist Damon Johnson (Brother Cane), bassist Robbie Crane (Ratt), and drummer Jimmy DeGrasso (Y&T).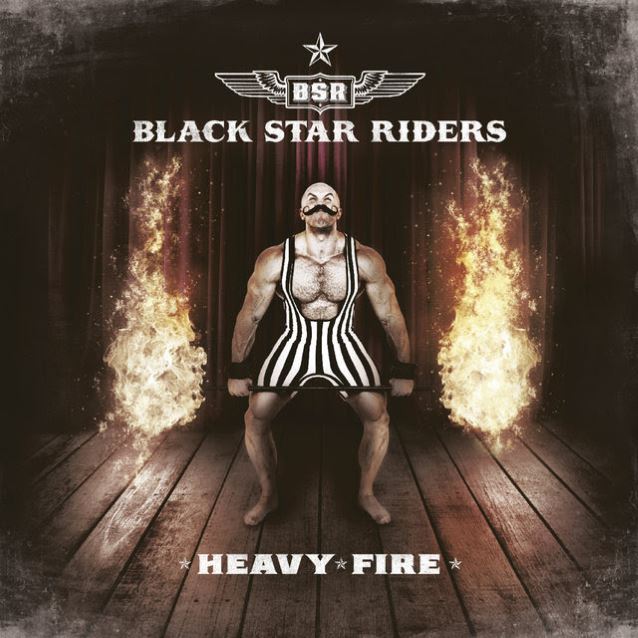 Black Star Riders has managed to impress me immensely, putting out a great deal of studio material in a limited time, with albums and songs that impress. Overall the group takes an old Thin Lizzy-esque sound, but puts a modern spin on it. At times it feels like Ricky Warwick is truly conjuring up the spirit of Phil Lynott, but this is certainly not a "copycat" group of the old days either. It is one of the few combinations of "old school" and "new school" rock sounds that actually works, and it has for three albums thus far.
In all honesty, this is probably the weakest of the three BSR releases to date, but that certainly does not mean it is a weak album. From start to finish, the group delivers true rock and roll, yet you get your share of the occasional surprises and unexpected cuts as well. If you have heard the previous BSR albums you probably have a pretty good idea of what to expect here already, and that is certainly not a bad thing.
To date, my personal favorite BSR record is the debut, All Hell Breaks Loose, but Heavy Fire is a worth addition to the band's steadily growing catalogue. It is not their best work, but stands as a respectable addition to the discography. Strongly recommended!