For four decades, Def Leppard has persevered in the face of tragedy and in an ever-changing music industry. The current lineup of Joe Elliott, Vivian Campbell, Phil Collen, Rick Savage, and Rick Allen continues to rock the world and a fanbase that is as enthusiastic as ever.
Events for Def Leppard in recent years include a successful Las Vegas residency, a new studio album that came out in late 2015, and most recently, a live Blu-ray Disc featuring the band performing in Detroit in support of their new record.
And There Will Be a Next Time – Live From Detroit (hereafter referred to simply as "Next Time") is the band's latest live release. Available on multiple formats, this review will primarily cover the Blu-ray Disc release.
Next Time features the legendary quintet rocking the Motor City to a packed house, with a setlist featuring tracks from their early 80s beginnings, right up to a handful of cuts from the latest studio release. The group's setlist sticks primarily with cuts from the classic 1981-1987 era, but does throw in the occasional surprise, as well as some of the new hits from the latest record. While I was a little disappointed to see nothing from albums like On Through the Night, Retro-Active, Slang, Euphoria, and Songs from the Sparkle Lounge, I doubt that fans are going to be disappointed with the assortment of classic Def Lep hits that get new life on stage here.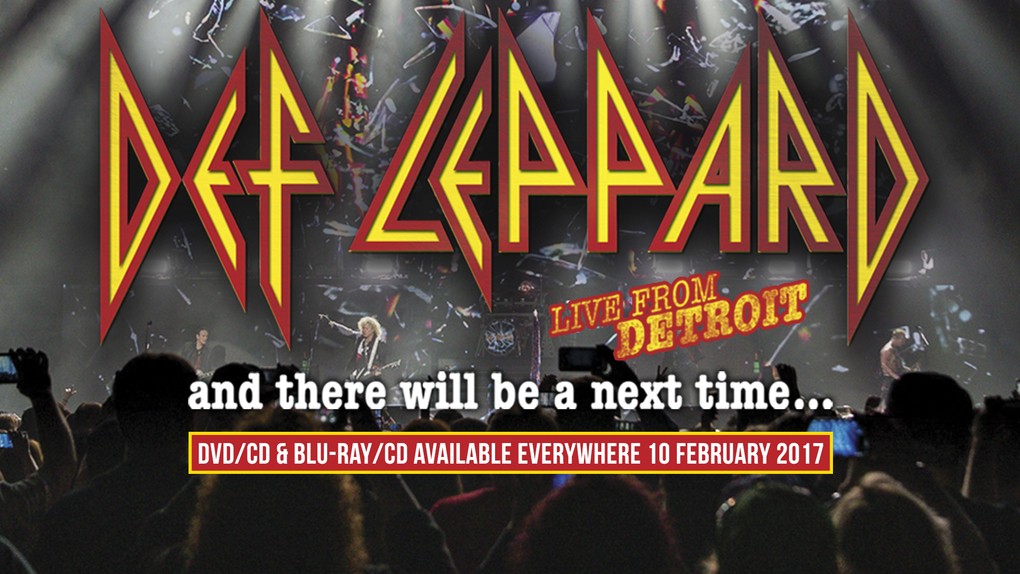 The band members themselves deserve credit for both their playing ability and their stage presence, both of which are still at an all time high, even with men in the group in their late 50s/early 60s. Phil Collen goes the show shirtless and is in better shape than men half his age. Vivian Campbell shows no signs of fatigue from his recent cancer battle. Rick Allen continues to pound away at the skins with a missing arm never standing in the way. Rick Savage remains the unsung hero of sorts holding it all together. And frontman Joe Elliott still belts out the tunes with a powerful yet melodic voice that still sounds great. There is definite chemistry amongst the quintet, something no one who sees this gig will deny. While I would liked to have seen more solos, that is a small complaint.
Eagle Rock's live Blu-ray Disc has fantastic video and audio quality, and as a bonus, you even get the music videos from the new studio album.
If you are going to only buy one of the Def Leppard Blu-rays, I would instead get the earlier Viva Hysteria release; it features a live performance of Hysteria in its entirety plus a "first set" of rarely heard Def Leppard songs and classic hits in a live setting. It is the superior release, but Next Time is certainly no slouch. I still strongly recommend the new release to all Def Lep fans.