In the early 1980s, there were many heavy metal bands that came onto the scene with great promise. These bands would ascend the charts and join the ranks of major labels, rocking the world and gaining an impressive following over the course of the decades. In many cases, these groups are still together today, doing what they do best.
So what the hell happened to Canada's Anvil?
Anvil – The Story of Anvil, first released in 2008, is a documentary that seeks to answer that question, and show us where this band's two founding fathers, Robb Reiner and Steve "Lips" Kudlow, are today. While many of their peer bands are still touring the world to enthusiastic crowds, Anvil remains something of an obscurity, with a cult following of sorts. The band members even have to work "day jobs" to make ends meet, since they have made next to nothing money-wise as far as their music goes.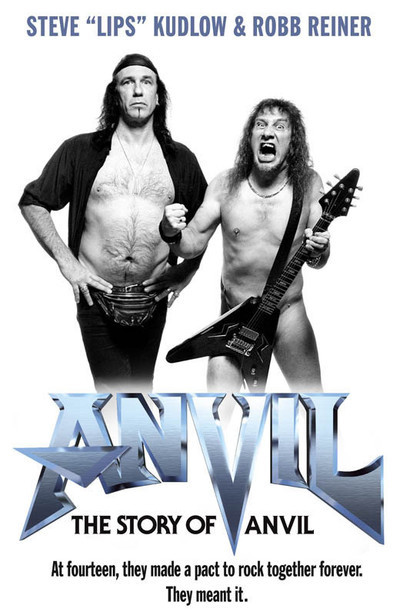 In the film, the band is offered the chance to go and tour Europe to enthusiastic crowds…. only to have nothing go right, with the band getting stiffed after performing, missing their transportation, being cancelled at the venues due to lack of promotion, and countless other obstacles. When reminiscing about the old days with fellow rock stars, said rock stars have no memory of the band. 10,000 seat arenas are sparsely filled with crowds of people numbering only in the hundreds. The band gets the opportunity to record a new album with legendary producer Chris Tsangarides, but lack the funds to create the record. Even after getting a loan from Kudlow's sister to record the album, no record label sees the band as a viable investment, prompting them to sell it independently. And when the band gets a call to play a massive festival in Japan, will anyone show up to see them perform?
Anvil – The Story of Anvil is brutally honest. This is not a fairy tale or a rags-to-riches story; everything that can goes wrong does go wrong for these Canadian rockers. And yet, there was a time when they were seen as one of the "next big bands." Despite their talent, the years have not been kind to Kudlow and Reiner. Even with an eternal optimism, you can see the harsh reality in the eyes of friends and family members. There are films that paint the splendor of the rock and roll world and the music industry, and movies that show the brutally honest truth about the world of music in a post-Napster society. Anvil – The Story of Anvil is the latter, and this is the movie's greatest strength.
When is the last time a rockumentary brought you to tears with its harsh reality and drama, yet had you in hysterics in its more comical moments? I assure you, this is the only film you will ever see in which you are sympathizing with a man's situation one moment… and giggling hysterically the next minute when you see archival footage of him playing his guitar on stage, using a dildo as a slide (seriously, I'm not making this up!)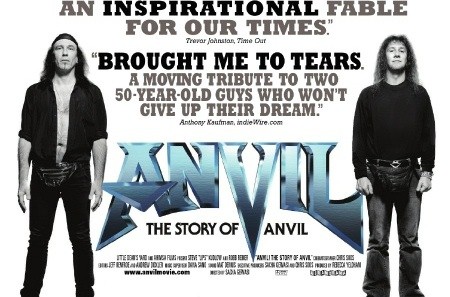 In many ways, Anvil – The Story of Anvil is the real life Spinal Tap. Everything goes wrong at every gig. There is drama and unrest with the recording of a new album. Hell, we even have visits to Stonehenge (the real one, which is considerably taller than 18 inches) and a trip to play in Japan closing out the film (fortunately, Robb Reiner does not explode on stage). And oddly enough, Spinal Tap was even directed by a man named "Rob Reiner." If you loved watching This is Spinal Tap, you're going to love seeing a band who has a story that is more or less the real thing!
At only about 80 minutes in length, the movie is paced well and never drags, though I gladly would have spent another 80 minutes with these Canadians that success has wrongfully eluded. It would be nice to get a follow-up film from the guys, seeing how their lives have changed for the better since the movie's release (they have been touring regularly and recording more records in the years that have followed). Personally, I would liked to have seen more on the band's past and why success did not come to them in their heyday, but this is a minor criticism.
Anvil – The Story of Anvil is brutally honest and painfully dramatic. It is also a ton of fun. No rock and roll fan should pass up the film. Absolute highest recommendations!
DISCLAIMER: All images in this review are the property of their respective copyright holders. For promotional use only. All rights reserved.