Personally, I've only been to a handful of music festivals over years to compare to Las Rageous. In 2007, I attended Extreme Thing at Desert Breeze Park,  Lollapalooza in Chicago's Grant Park twice in '06 and '09, the 2009 edition of Mayhem Fest in Tinley, IL, and the last one would have been Voodoo Music + Art Festival in New Orleans' City Park in 2012.
So, how does Las Rageous stand up? Well, it's smaller than most, if not all of them. Which depending on your point of view is either a good or bad thing. My personal opinion is that what Las Rageous lacks in variety and scope it makes up for in focus. There's no long walks from a stage on one side of Grant Park to another for one. Having all of your food vendors within throwing distance of one another is good if you're having trouble deciding what you're hungry for. Want a drink? Whether it's booze, soda, or just want a bottle of water to stay hydrated the lines are short and service is speedy.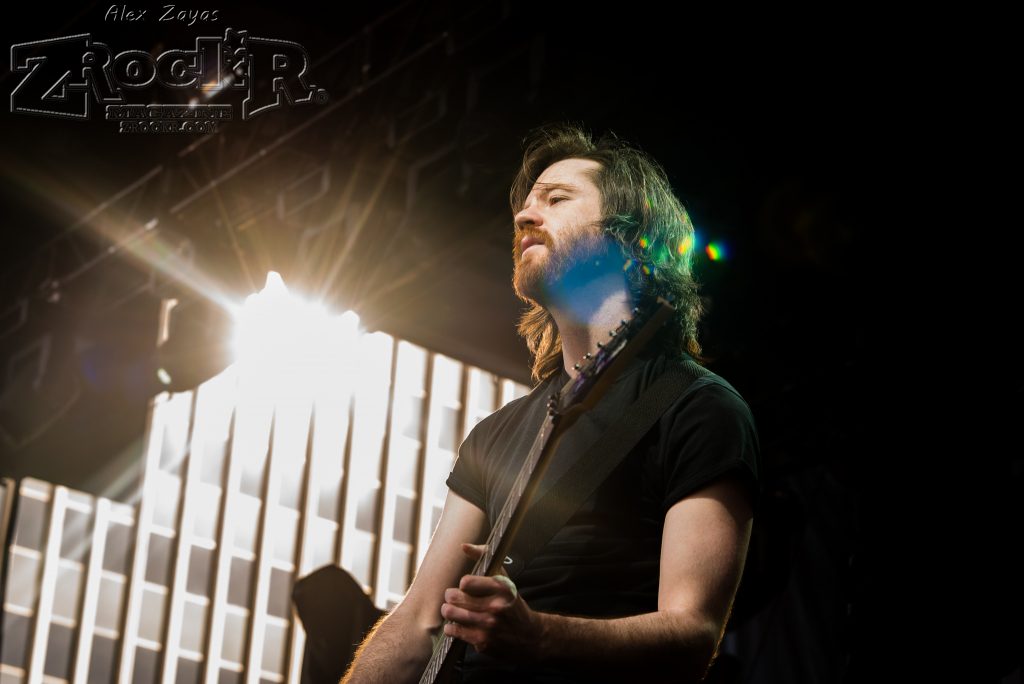 So, there is definitely something to be said for having a contained area for your music festival, not to mention if you needed to leave for whatever reason I've seen longer lines at places ranging from retail stores, restaurants, and even high school cafeterias. Not to mention you're within walking distance of Fremont Street so if you want to bar hop your way down a street, which it's whole purpose seems to be to party, you'll save yourself cab fare unlike myself who had the grand idea (and I'm saying this without any sort of sarcasm) of getting pissed on Bourbon Street before going to see Metallica.
I unfortunately don't have just nice things to say. I found myself disappointed by the lack of booths available for concert-goers to browse through. One of the fun things about many of the music festivals I've been to is the amount of things to see. Aside from the usual merch tables, I've sifted through books and demoed Tony Iommi's signature Epiphone guitar at Lolla. I've seen shelves of CDs in tents like it was a pop-up record store . There have been various times I've been able to take the time to look at art and I appreciated it (even if I was drunk at the time) and even carnival rides a short distance of the main stage of Voodoo. And you've never wanted a patch of grass more than I did at Las Rageous as the only place to sit that wasn't hard concrete was either at the food court or the two benches near Bridger and Third. Decisions, decisions do I prefer a sore ass or sore feet?
What was there though? A merch table that for the first night had longer lines than the entrances, two additional apparel booths of dubious legality considering the franchises used in their wares (visit moshitup.com to see for yourself). There was a booth giving one free sample of Fireball Whiskey. Want to win something? Then you could have visited the booth selling discounted tickets and a raffle to win a $500 tattoo for the Scars & Stripes Festival, and another hosted a contest for a guitar signed by Godsmack.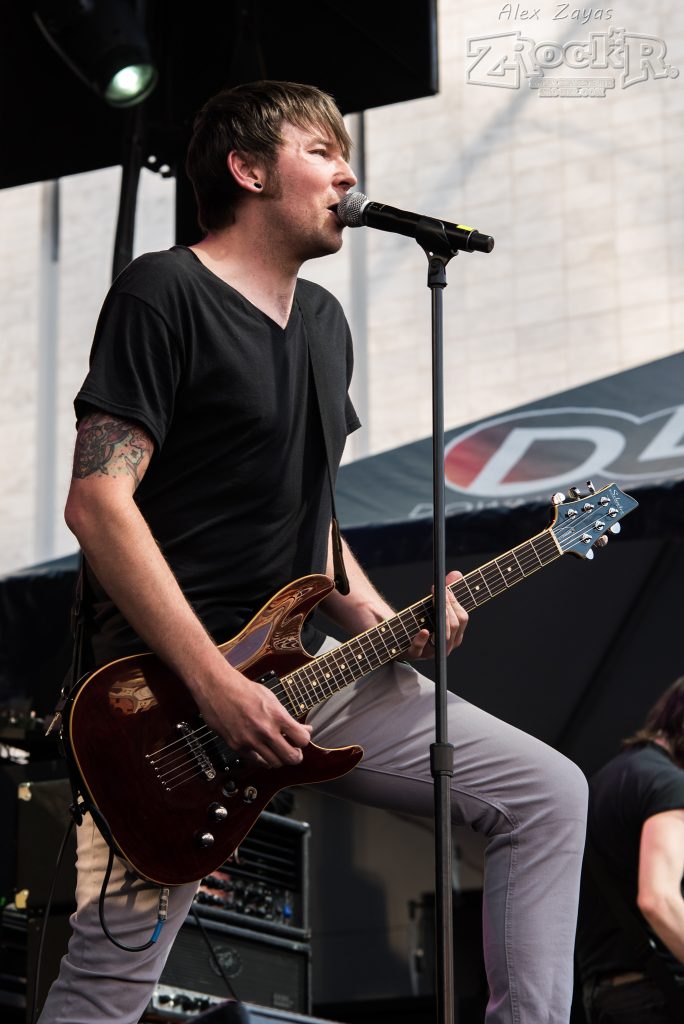 The freak show performers that were advertised? What I saw was few people who were located fairly high above the exit. So, you'd have to face away from the main stage to watch them play with fire. I only noticed them a grand total of twice in two days. Oh, I almost forgot that there was either Guitar Hero or Rock Band set up at one of the tents. However, I didn't care enough to check which one.
I don't want this to spiral into a loop of negativity, so I'd like to add that as far as keeping to a schedule, bands went on pretty much when advertised to the point that I would be rushing between stages as to not miss anything. Even having three or so minutes between bands for people to get to the other stage would be plenty of time rather than setting a pace that could be charitably called a dead sprint.
So, not quite the positive point that I meant to make.
As for the bands themselves, they were all great live performances regardless of my personal opinions of their music. So, if that was what you were wondering you may stop here if that's your wish. From here on out I'll be going through the many bands that played and wrapping things up with some ideas on how Las Rageous might improve in the years to come.
So, to begin there were a lot of local bands performing on each stage both nights, and they will be getting a mention as well, so first up on Stage F was one of the KOMP 92.3 Battle Of The Bands winners BRAVO DELTA. They played a twenty minute set that displayed a great sense of melody that I can see translated in mainstream success down the line. Singer Brandon Davis' voice reminds me a bit of Matt Heafy from TRIVIUM's Vengeance Falls (2013) if he hadn't been channeling the producer for that album David Draiman of DISTURBED fame. Lead guitarist Andy Ingraham (also of FIRST CLASS TRASH) played some really slick guitar licks. Bravo man bravo – Ah crap, no pun intended.
As far as interesting happenings there were a number of small technical issues during a number of performances at Las Rageous and BRAVO DELTA was the first to have to deal with them. That said when there seemed to be a disconnect somewhere on his pedal board Ingraham got the situation fixed in time to go straight into his solo and he dealt with it so well that the song hardly suffered for it if at all.
If you'd like to support BRAVO DELTA you can find a number of t-shirts and CDs as well as their new single "Karma" from the band's website bravodeltamusic.com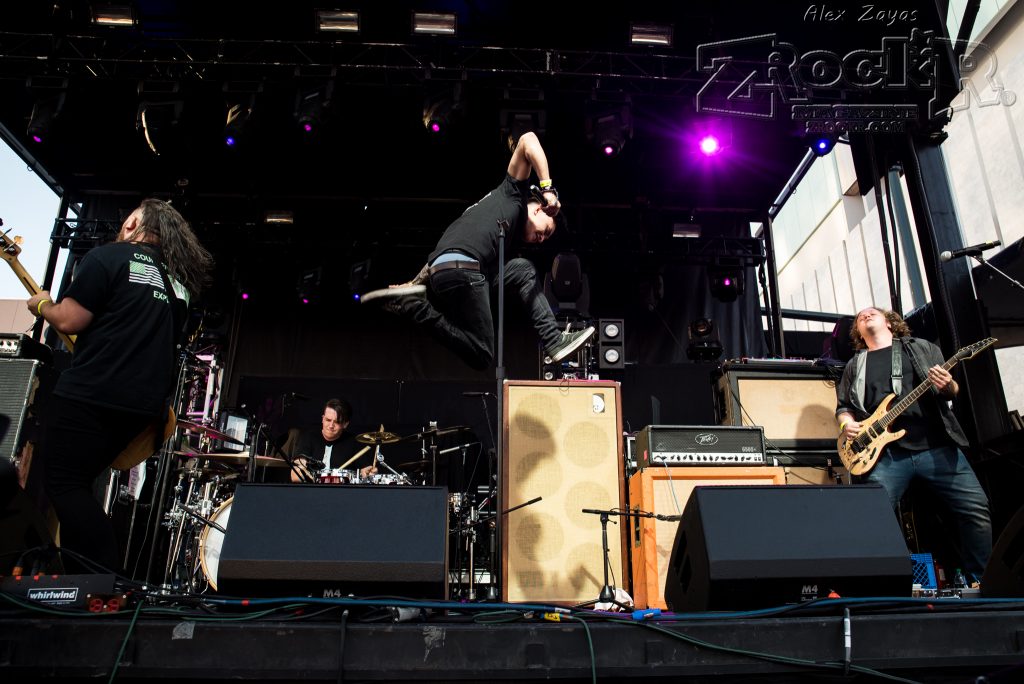 The second local act A FRIEND, A FOE probably didn't need the full twenty minutes to set up since they were sharing gear with BRAVO DELTA.
Good sports these guys, you hear enough horror stories about people trashing borrowed gear so it says a lot about both bands to do that for one another.
The band's sound is obviously Metalcore (at least to me). What can you get from that exactly? Well simple really, there will be a balance of singing and screaming, lyrics based more in reality and my least favorite musical idea – the breakdown. That said A FRIEND, A FOE seem to use their breakdowns more as transitions rather than a main attraction. Also, any band that plays an anti-racism song and coins it "Gray Matter" definitely has the right idea.
As for how A FRIEND, A FOE stands up against the rest of thelocal metal bands I've covered so far. I nominate them to take top spot for best stage presence. At face value they seem to be incredibly comfortable on a stage performing to an audience and as is typical in most genres of live music this is incredibly important for any band. The set went mostly off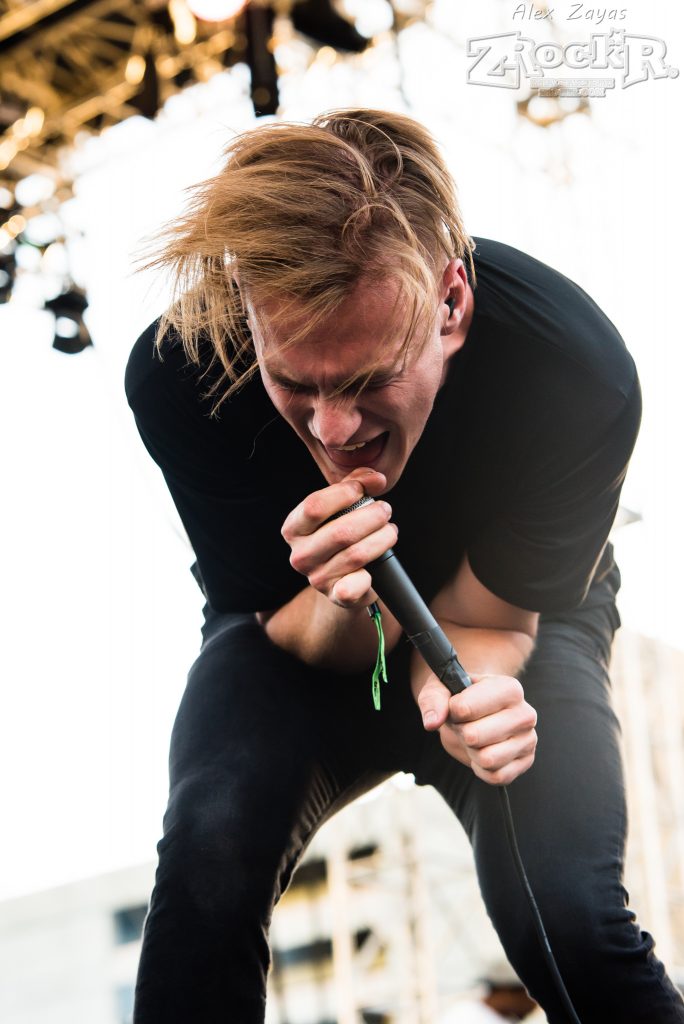 without a hitch with the exception of technical issues striking again this time for guitarist Chase Long.
On a side note the band's bassist Stephen Graff gave a shout out to his parents, his boss, and co-workers and the (newish) vocalist Juan Gutierrez spotted the band member's girlfriends shortly after the crowd shouted 'Happy Birthday' for the bass player's mother at his behest. As a boyfriend, a Mama's boy, and someone with a work history I approve.
A FRIEND, A FOE have released an EP earlier this year entitled The Risk In Playing It Safe (2017) which is available now on iTunes, Spotify, Apple Music, and Tidal. Also you can be taken to their BandCamp page from here.
WE GAVE IT HELL is the last Vegas act of the festival's first night and the first up on the main, or 'U' stage. I'd say this band exists somewhere on the spectrum of Metalcore with a progressive edge to their music. Sigh. Breakdowns. However, on that note the band make me laugh my ass off when during a lull in their last song the guitarists and bass player downtuned their low strings for the final breakdown. I have to say that was damn clever.
You can watch the music video for the band's song "Heretic" here and find links in the description of the video where you can purchase their self-titled EP.
Before I move onto the next band I have a confession to make. I don't believe in Christian metal. Just the idea of it blows my mind. Take that as you will. So, that said it should be obvious that I've not heard much from THE DEVIL WEARS PRADA. However, they are band that if you aren't turned off by the Christian metal label as I am they are a good band to see live. Definitely an energetic live show. Also, you know you're doing good when one of the security guards loses his serious face and seems to not be able to help nodding his head to the music. All that needs to be said really…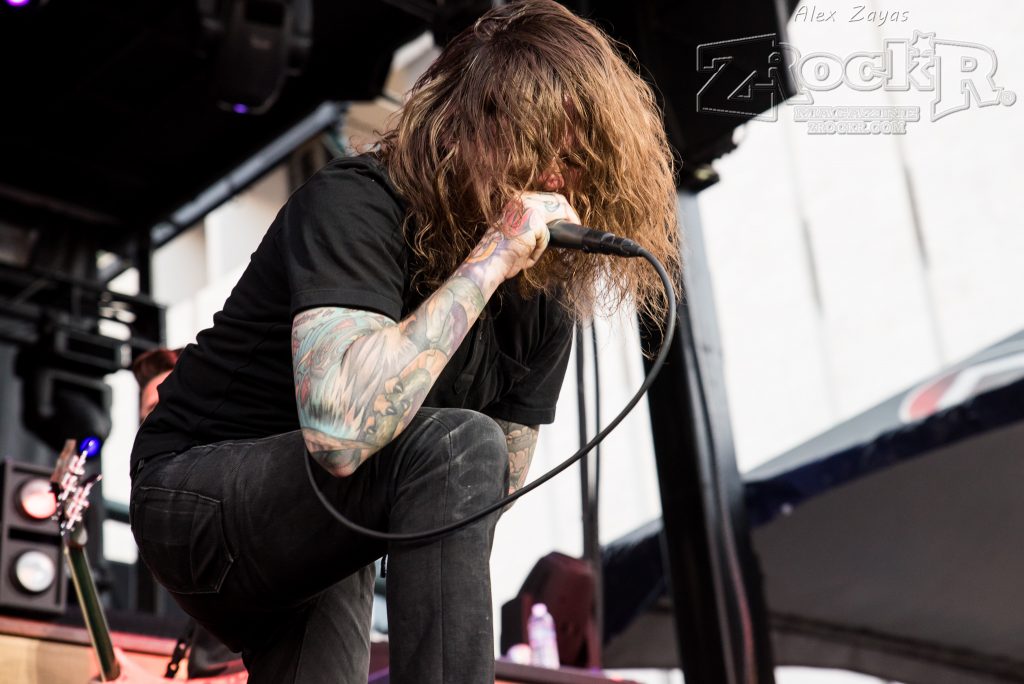 OF MICE AND MEN is a band that like THE DEVIL WEARS PRADA I'd heard very about over the years and aside from the track "Would You Still Be There" that at one point received a lot of airtime on FM and satellite radio. It was what it was. Their heavier tracks definitely gave their performance the extra oomph that simply wasn't there for much of the show unfortunately.
There was a short technical hiccup during OF MICE AND MEN's set. I'm starting to think there must be some shadowy organization that is attempting to sabotage the festival. Luckily, the road crews seem to have things well in hand and putting a stop to their devious plots.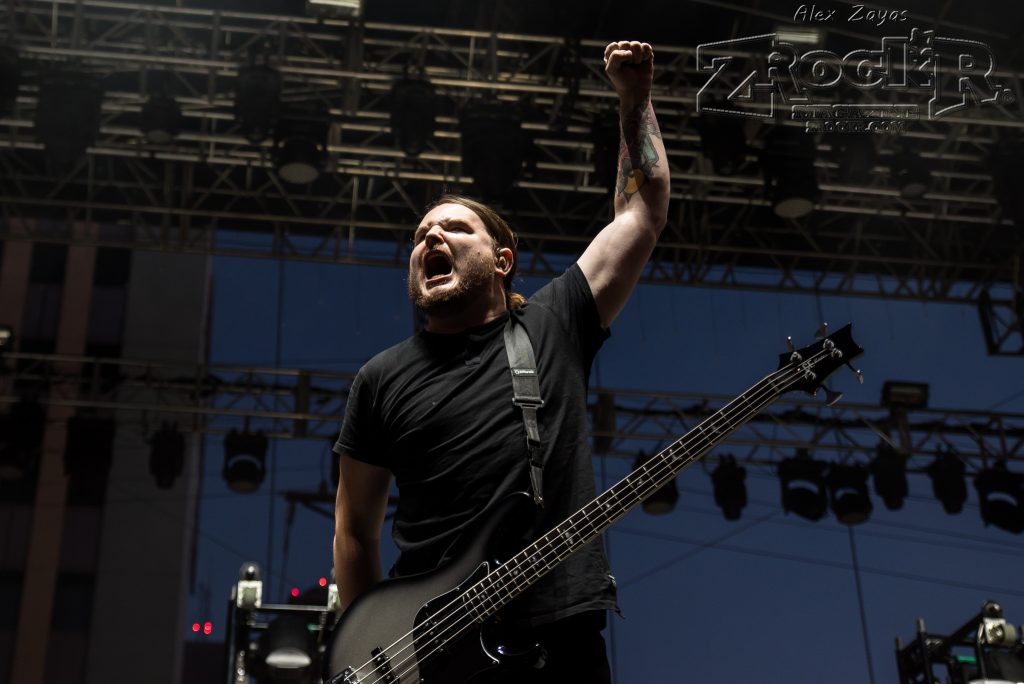 The metalcore act and one of the forerunners of the New Wave Of American Metal KILLSWITCH ENGAGE is a band which has had the advantage of having two amazing singers over the years. When Howard Jones left KSE back in 2012 the band, news of original vocalist Jesse Leach coming back in the fold was announced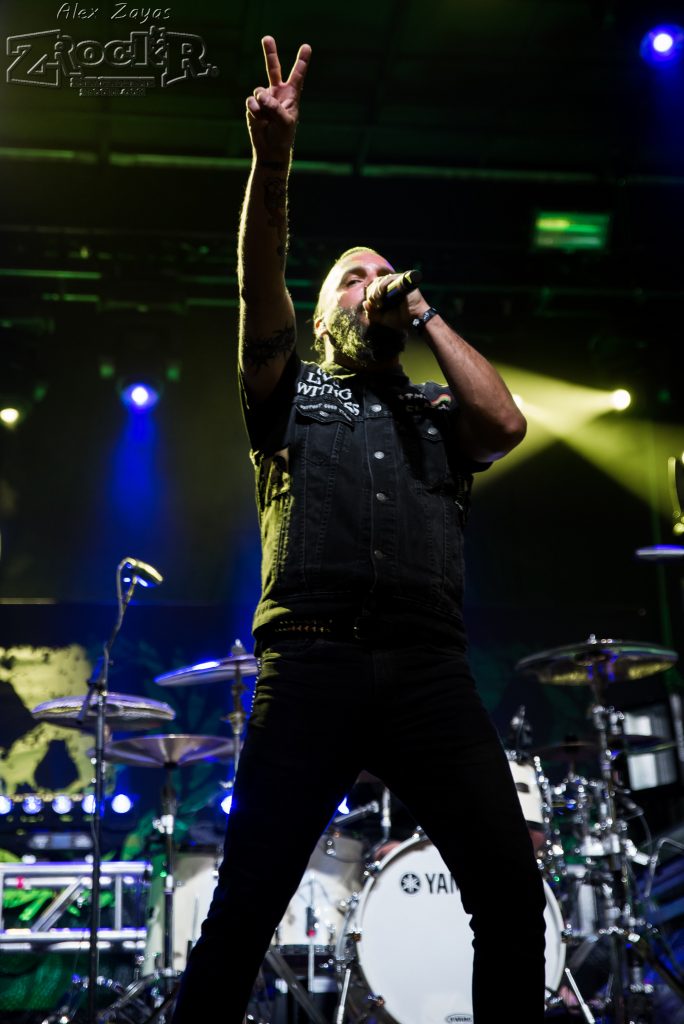 practically within the same breath. The two men have always brought the same amount of talent to the band while having their own distinct voice that makes it obvious which of them you're hearing.
This was the first time I'd seen Jesse live in KILLSWITCH or any of his other projects and it was well worth the wait. Despite what I just said there was the question at the back of my mind of how the songs from the Jones days would sound. Would they sound off? The answer is no. Singing along with Jesse to classics such as "My Last Serenade" or later stand out tracks such as "The Arms Of Sorrow" were equally satisfying and the band performing their cover of "Holy Diver" was something I wasn't expecting but a definite treat.
The onstage antics and banter of Adam Dutkiewicz were as entertaining as I had hoped for from the pelvic thrusts in the direction of his fellow guitarist Joel Stroetzel, shaking his ass at the crowd. Before "My Curse" he berates Jesse for not letting him finish his beer and gets the crowd to yell that "Jesse is a cunt!", and told the ladies trying to get a better view on men's shoulders to either show their tits or get down. If any of that offends you Adam preemptively defended himself earlier on by saying "Las Vegas we aren't here to talk about our feelings. This is a metal show!"
I've actually seen COHEED AND CAMBRIA live twice before during Lollapalooza '06 and '09 in Chicago. My opinion hasn't really changed after seeing them a third time. Not my thing most days but a damn good band when you just want to hear something just a tad different. The band spurning convention started things off rather slow and dark as fuck with their song "The Willing Well IV: Final Cut". Later on they could be heard playing the first song I remember hearing from them "The Suffering", which despite the track's title is considerably more upbeat.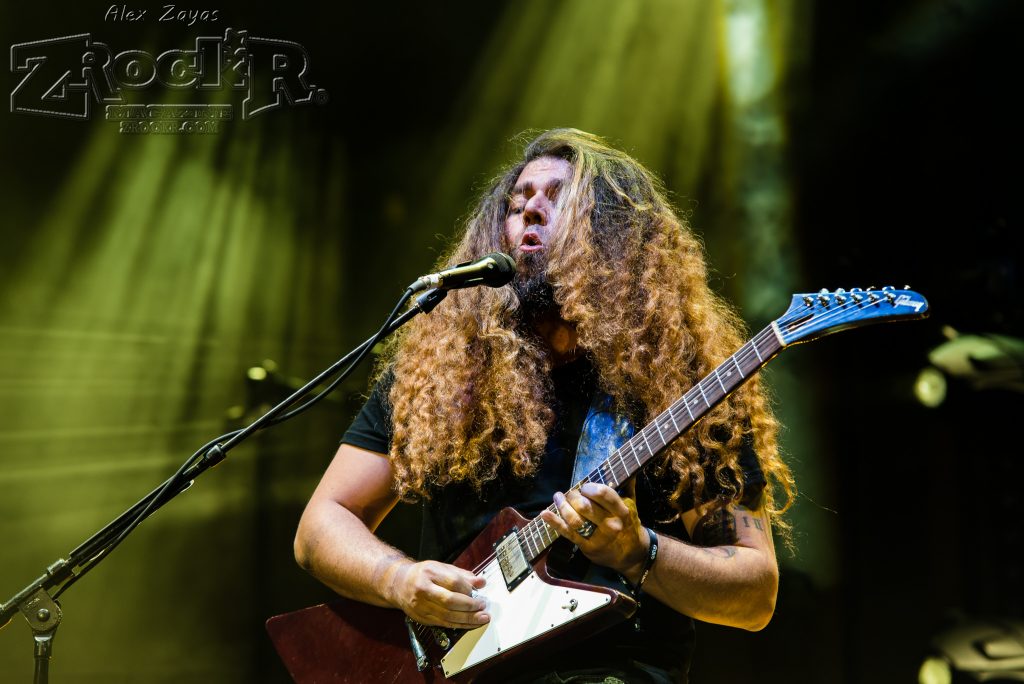 However, the song I waited to hear from them was "Welcome Home". The riff, lyrics, and orchestra backing make for a song that I could listen to any day of the year. Claudio Sanchez and Travis Stever really get to show off their chops and if that's not epic enough Sanchez will break out the double neck Gibson SG for this song. It's killer.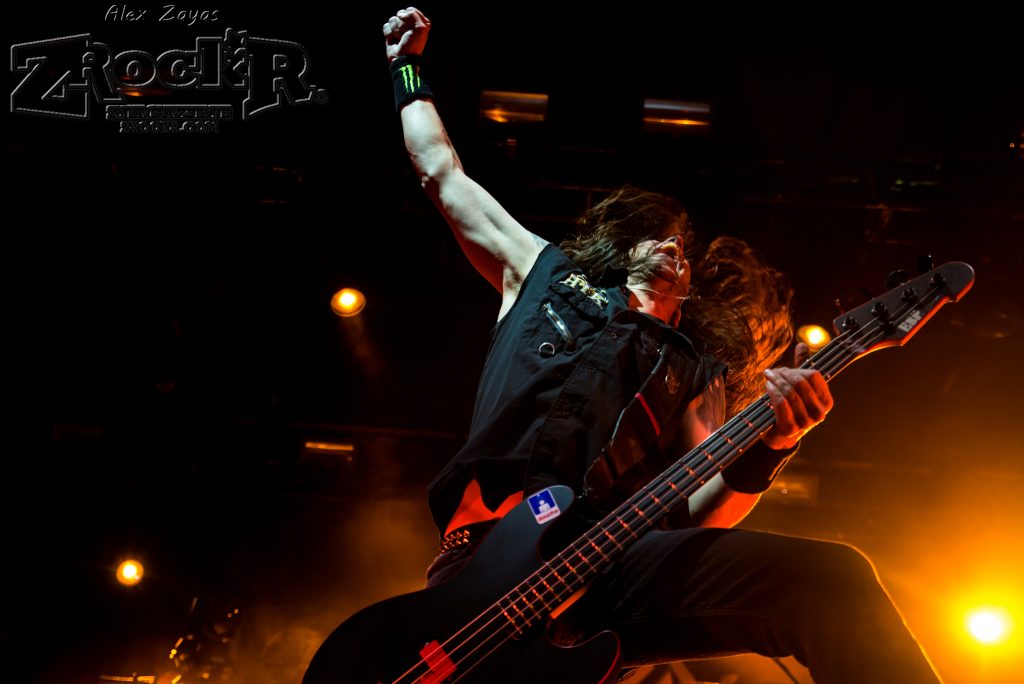 ANTHRAX being the band I was most looking forward to seeing tonight. I missed my chance to see them back in October but made the choice not to since I was preparing a move and didn't have the time to drive to Baton Rouge not once but twice that week. The other show I missed out on was BARONESS.
Back to the band themselves, after a sound clip of The Blues Brothers, ANTHRAX take the stage and play "Caught In A Mosh", and here is how you get a mosh pit going without putting forth the effort of trying to cajole the crowd into it. If you write songs people will want to mosh to. They will. And mosh they did, very quickly two separate circle pits have formed into one that resembled a Venn diagram. They would follow that up with another classic "Madhouse".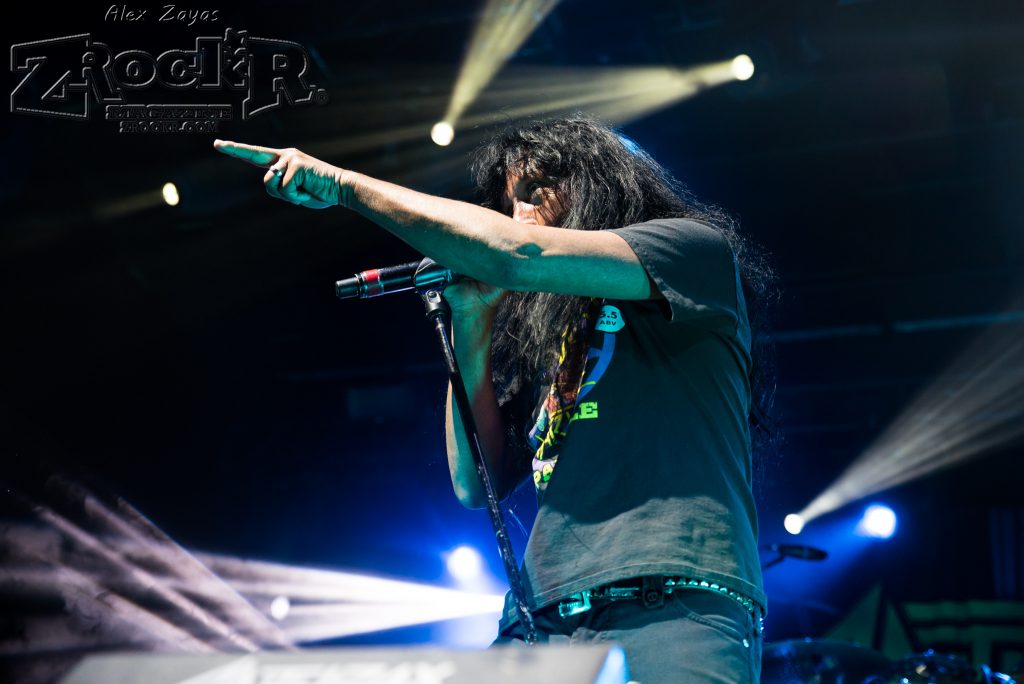 Can I just say Charlie Benante's drumming in "Fight 'Em Til You Can't" is fucking awesome! It's after "I Am The Law" that Scott Ian gets on the mic to ask the crowd if they love trash metal?! "YEAH!" Then he singles out a guy in an Anthrax shirt who didn't join in. Poor bastard.
They move onto "Evil Twin", "Antisocial", and "Breathing Lightning" before the last song "Indians", and it's after this song that I notice a grown man crying into his girlfriend's shoulders. Whether he was crying for the Indians or Anthrax I don't know, but I feel you man.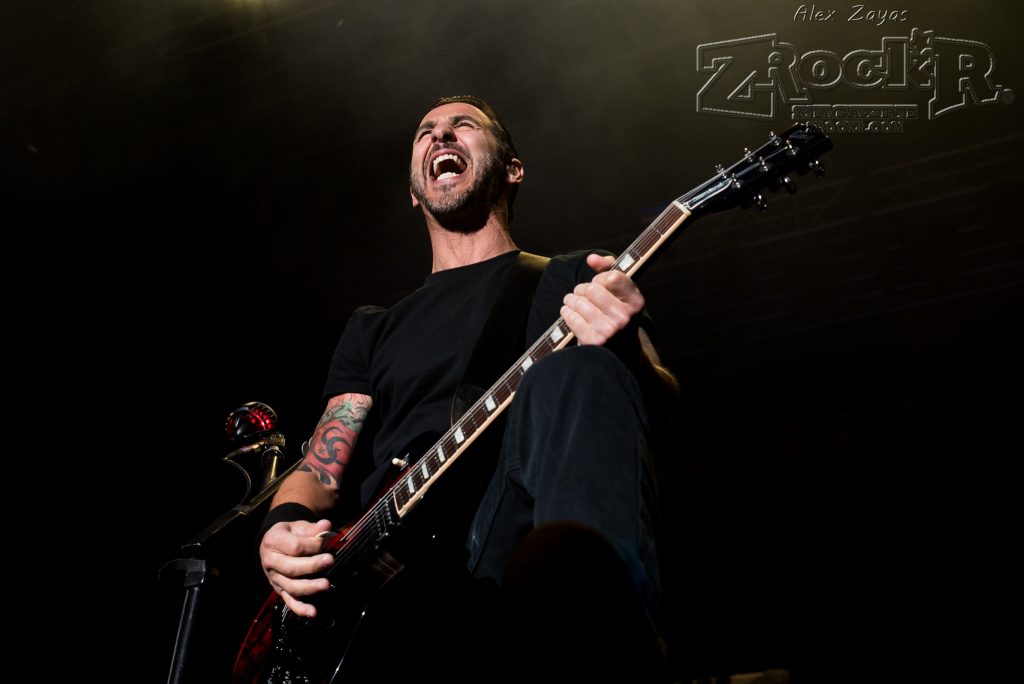 Day one's headliner GODSMACK is a band that I've appreciated for what they were. Afterall they could write a good song, that said I've never bought a GODSMACK album or anticipated news about the band or had any inclination of seeing them live. Having said that I'm glad I stuck around. They played the hits, the pyro was intense you could feel the heat even from way back. Sully's voice was spot on. There wasn't any moment during their time on stage where you would go "Well that wasn't good." All around I was perfectly content to stick around and enjoy the show despite feeling like I'd been stepped on all night.
Read up on Day Two soon. Thank you for reading, Ethan signing out!
PHOTO CREDIT: All photos by Alex Zayas for ZRockR Magazine – ©ZRockR Entertainment, LLC – ALL RIGHTS RESERVED