Las Rageous – Day Two
On the second day of the event I knew exactly where to go, where to park, and I wouldn't be running around like a chicken with it's head cut off asking event employees where the media was supposed to enter the event. In addition to all that I was under the misguided illusion that an unannounced band wouldn't be scheduled to perform before the advertised time. I was wrong.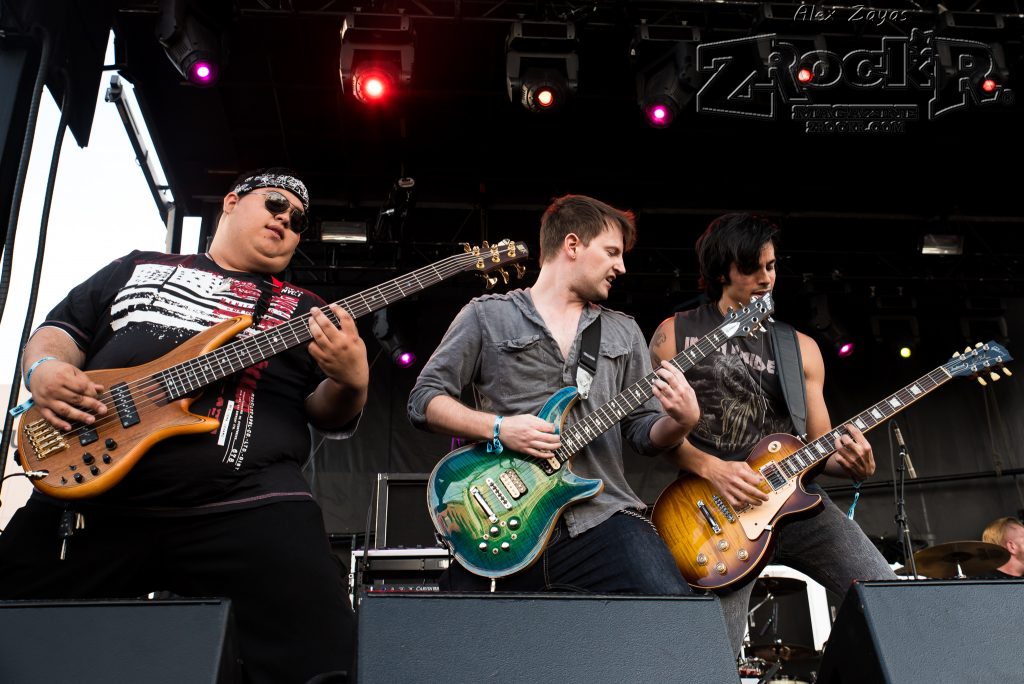 Local band UNDER was just about to finish their set when I arrived at the 'F' stage so I have no earthly idea why the bass player was dressed in a sari or why the singer was dressed in little more than short red track shorts. To my memory it wasn't that effing hot. I'm sorry I got nothin'.
HONOR AMONGST THIEVES the second local act of the night. A Hard Rock/Metal outfit with various influences. Their Facebook page reflects this in that the various members claim their influences to include bands such as METALLICA, IN FLAMES, and DIMMU BORGIR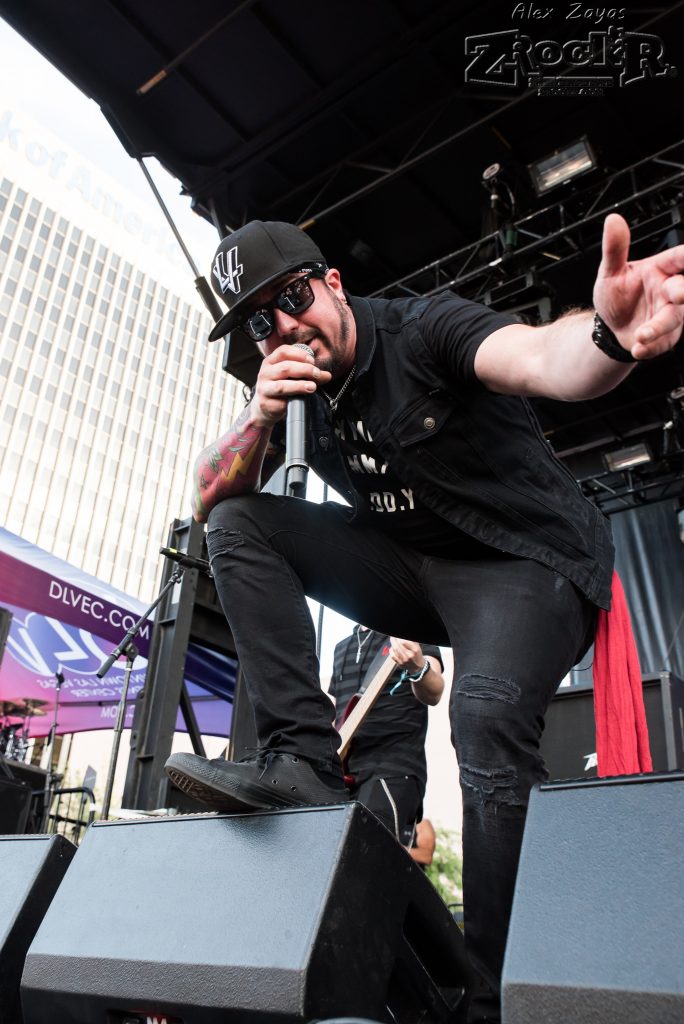 in the same breath as acts such as HINDER and THE POLICE. The band's music reflects this in that the songs are incredibly varied.
Check out what I mean and listen to their music here.
The next band, CODE RED RIOT had quite an energetic outing. The Alternative Rock act pulled no punches when putting on a show for the audience. We saw frontman Corky Gainsford (ex-OTHERWISE) stepping over one photographer's head who got real up close for her shot. The band's sound takes many of the classic bands of decades past they take influence from and seeps added aggression into many of those sounds.
Check out the band's website here at coderedriot.com
The local metalcore band NATIONS is a great live act that even though it isn't to my taste, is a band I'd suggest to fans to this style of heavy music. The five piece includes two vocalists Danny Losana and Chad Dague. The two of them showcase the 'good cop, bad cop' vocal styles often seen in several styles of metal. Translation: one of them does the clean singing bits, the other is doing the screaming parts. I also swear I saw the bassist do a backflip at one point.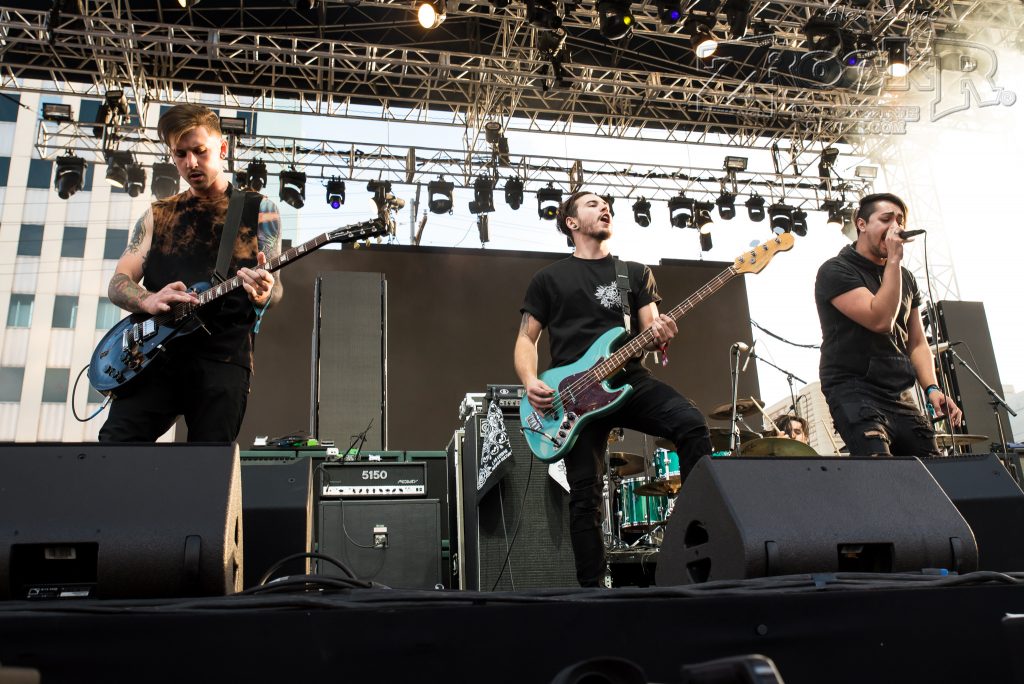 Formed in 2005 in Pahrump, Nevada and now based in Las Vegas they were local heroes to many when I was a teenager. ESCAPE THE FATE was a band whose name was mentioned quite a lot in my high school. As far as their performance went, aside from the lead vocalist not being heard for the first minute or so things went rather well. My musical taste may have expanded since I first heard ESCAPE THE FATE however they didn't make a new fan out of me this time but perhaps they did out of others in the audience.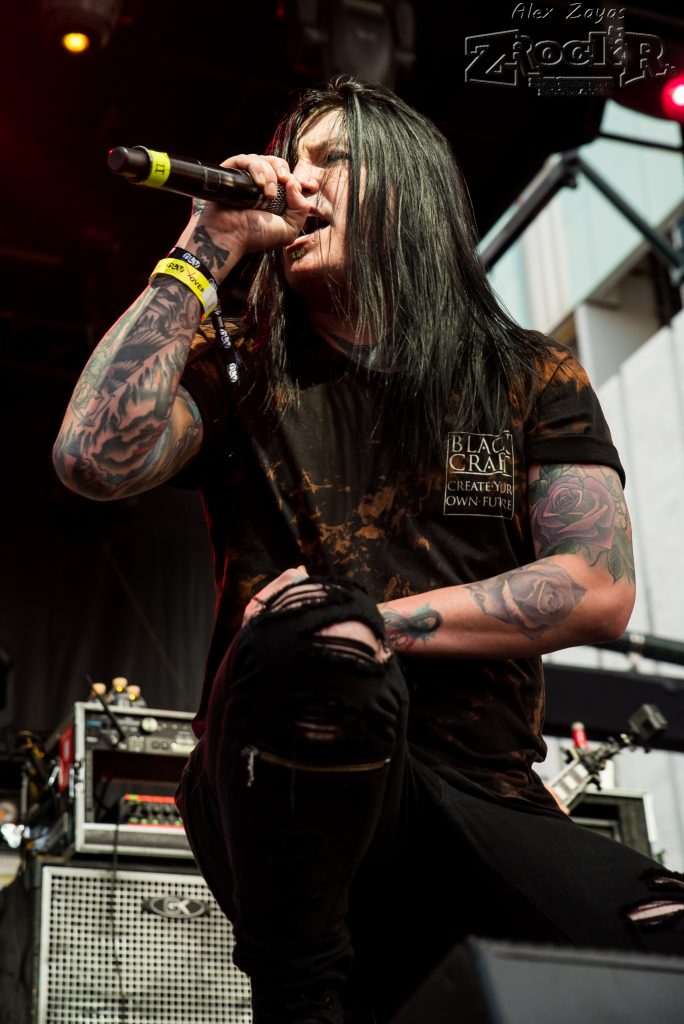 ALL THAT REMAINS had their start originally as a side project of vocalist Phil Labonte until he was asked to leave his previous band SHADOWS FALL due to musical differences. Starting off as more of a melodic death metal band and later evolving into a melodic metalcore style the band had some significant exposure when their song "Six" appeared on Guitar Hero 2 when the franchise hadn't yet reached it's peak of popularity.
Their album The Fall Of Ideals (the second of their releases produced by Adam D. of KILLSWITCH ENGAGE) was among my picks of top metal albums of 2006. Among "Six", "This Calling" and "The Air That I Breathe". Each ofthese classic ALL THAT REMAINS tracks could be heard on the Las Rageous 'U' stage as well as offerings from later records.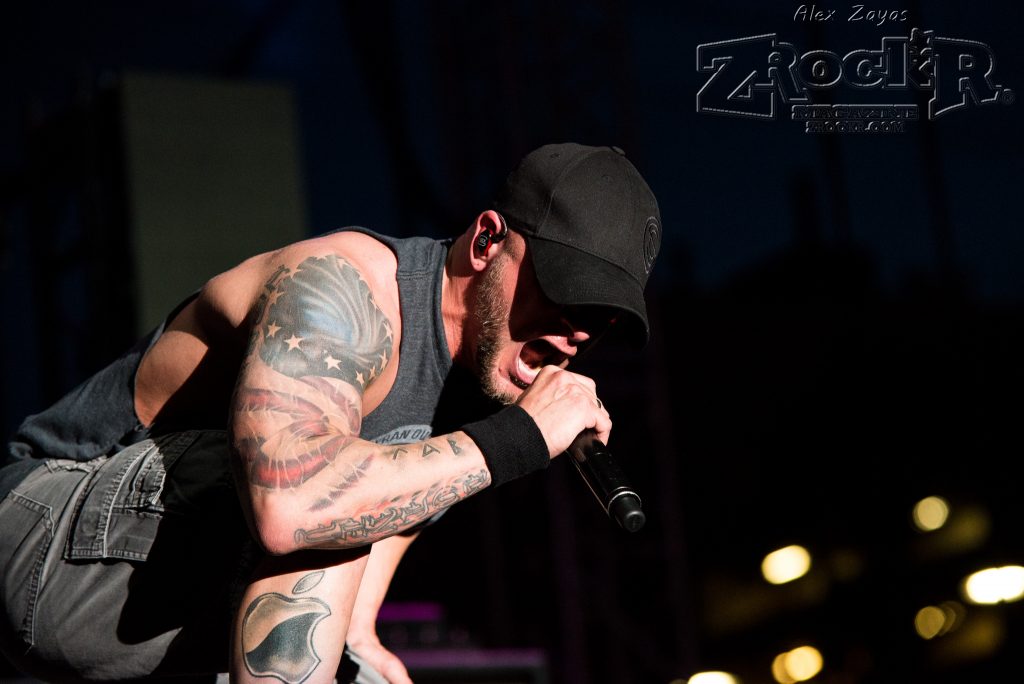 There was a couple standing in front of me that were talking with other concert goers about past ALL THAT REMAINS gigs and how the first time the two of them saw the band they went from completely ignorant of the band to now life long fans. If you were in attendance and had a similar experience I am not surprised. As I tend to do I was paying close attention to the guitarists and lead guitar player Oli Herbert was definitely showing off not just during his solos but occasionally playing rhythm over handed. So cool.
Since I neglected to mention it on the post for Day One it should also be noted that former bandmate of Phil's and founding member of SHADOWS FALL Jonathan Donais is the current lead guitar player of ANTHRAX and could be seen the previous night.
The latest record from ALL THAT REMAINS Madness is available now.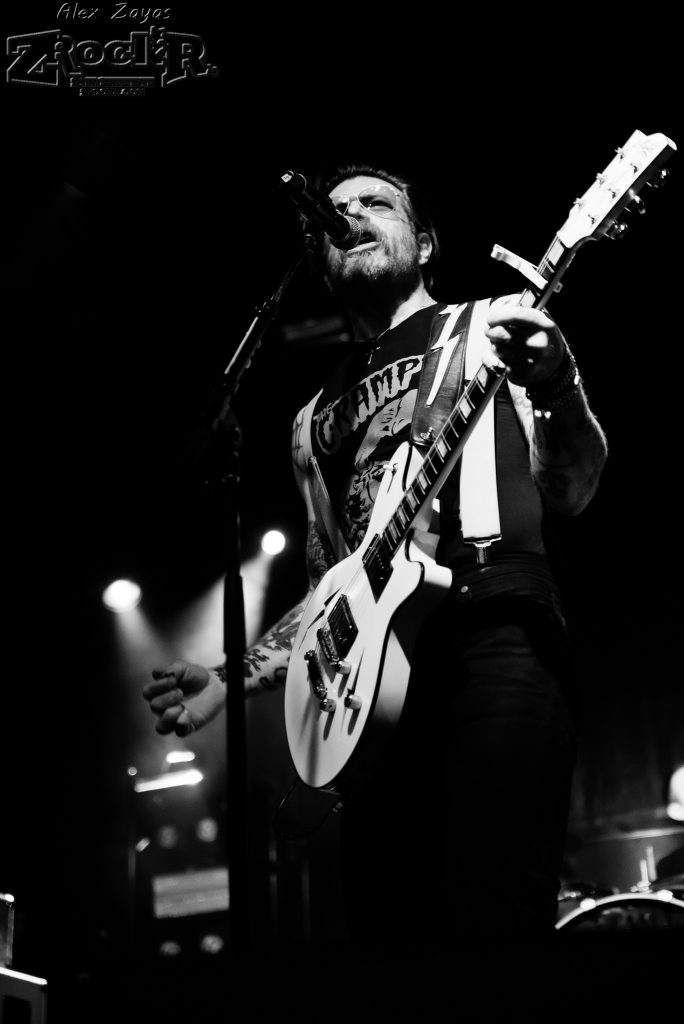 The timing of the performance of EAGLES OF DEATH METAL when a week before French police officer Xavier Jugele was killed in a shooting. Anyone who knows the story will be able to tell you that Officer Jugele was one of the hundreds of responding officers to the Paris shootings at the Bataclan concert hall where EODM were booked to play that night.
That the events in Paris weren't at all mentioned by the band is unsurprising though and I'm not going to shake my fist about it either. There is after all a time and place for these things and a good ol' rock n' roll show really isn't the place for such heavy conversation.
Brent Hinds (MASTODON) made an appearance as a guest guitarist to start things off. How cool is that?
Frontman Jesse Hughes who formed EODM with Josh Homme (KYUSS, QUEENS OF THE STONE AGE, THEM CROOKED VULTURES) is perhaps the best example of a rock star today. Period. The man has a way with words and an arrogance that you can't help admire. Watch the man perform or do interviews and things he says that should piss you off instead make you laugh your ass off instead.
As an example of laugh out loud moments during a EODM show he introduces his bandmates using monikers such as His Queen of Las Vegas Jennie Vee, the Santa Claus of Rock N' Roll Dave Catching, and Jorma 'With A Big Dick' Vik.
I highly recommend people check out the music of EAGLES OF DEATH METAL and to binge watch Jesse Hughes interviews.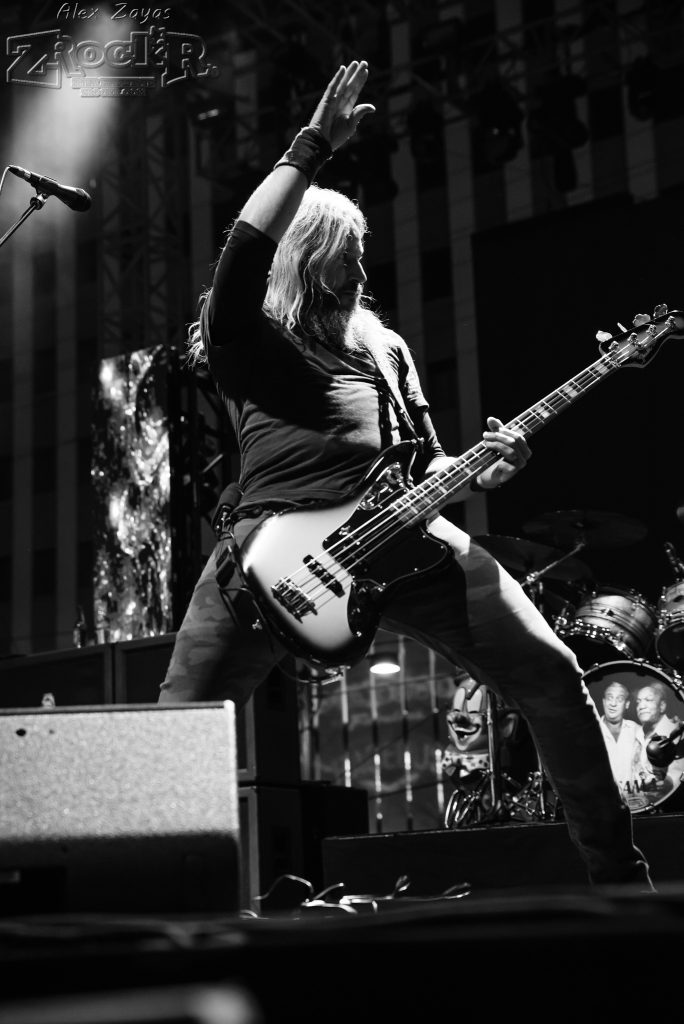 The band I've possibly been most looking forward to seeing (except perhaps ANTHRAX) is MASTODON. A bit of history to start. New Year's Eve 1999 the eventual members of the band all met for the first time at a HIGH ON FIRE show and in January of 2000 they would have had their first jam sessions together and the rest is best explored in their music. The mostly progressive metal act has used sludge in their sound especially early on but has over the years as their fanbase has grown has added a bit of seventies rock influence into their sound as they have received mainstream attention. And that's okay. If that has you turning away, rolling your eyes, and whining that they haven't released Crack The Skye part II or only played songs from Remission or Leviathan than it's your loss and I have no sympathy for you. None at all.
Come to think of it though, it's pretty amazing that MASTODON has received as much attention from the mainstream as they have. In an industry that puts so much emphasis on image it's a bit mind-blowing how often they've been brought back to perform at Jimmy Kimmel's talk show so many times. Then again the only real reason I've watched any of Jimmy Kimmel is because of the musical performances. Mystery solved.
Snide jokes aside. MASTODON as a whole has the talent and drive to take their music in so many directions and it's easily seen in their riffs, arrangements, and that three of the four members regularly take on vocal duties. For a band that has recently turned back to the idea of a concept album for their new record Emperor Of Sand having three distinct voices telling their story is to their advantage.
There was supposed to be an album review before I attended Las Rageous but for various reasons that wasn't to be and the same reasons the Las Rageous review has been so long in the making, that said there may still be a review of the new album soon so stay tuned. That said there is something in each of their releases that will make it worth it for you to check out.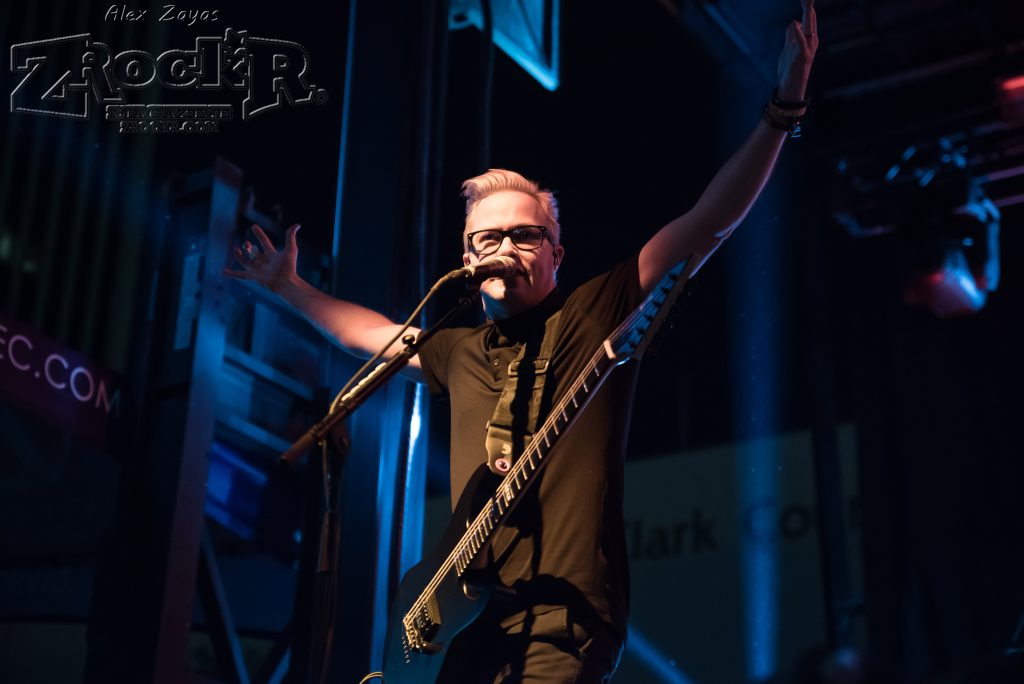 BREAKING BENJAMIN famously went on hiatus by what else but money. Two now former members took an offer of payment to the tune of $100,000 from their record company for permission to put out a remix of "Blow Me Away" featuring Sydnee Duran of Valora and a greatest hits release. Singer and main composer for the band Ben Burnley fired the two bandmates for going behind his as well as management's backs on the deal. When Shallow Bay: The Best of Breaking Benjamin was released in 2011, Burnley was quite vocal about his displeasure with the release of the final product that some of the songs on the second disk of the deluxe edition featuring b-sides and rarities were altered without his permission and didn't meet his standards. He had expanded on his previous statements later by adding that the rarities were taken from his laptop without his consent.
By April of 2013 Burnley announced that the dispute with former bandmates Aaron FInk and Mark Klepaski were over and Breaking Benjamin would continue on only for Chad Szeliga to announce his departure (citing creative differences) just three day later. Burnley in addition to writing new music, finding new members, also had his health to worry about. For fuck sake – this guy man…
The band with Burnley being the only original member released their latest album Dark Before Dawn. Now having three guitars as well as two of the new members able to provide back up vocals shows that the band can now perform songs live that otherwise would have required them to use pre-recorded tracks in conjunction with the band to replicate the rise of complexity in the band's music in the studio.
Which brings me to their set. And boy was it easy for me to forget just how many successful singles this band has had. I'll admit that I hardly payed much attention to BREAKING BENJAMIN but I recognized most of the songs in their set without hardly trying. The biggest highlight for me however, since I'm such a dork was them steering away from their original tunes to do a mash-up of covers including "Imperial March" from the original Star Wars trilogy, "Sad But True" by METALLICA, NIRVANA's "Smells Like Teen Spirit", and PANTERA's "Walk",
I've known people who largely stopped listening to AVENGED SEVENFOLD's music following City Of Evil (2005) due to the change in singer M. Shadows' voice when he entirely ditched screaming to avoid further trouble with losing his voice. That said they obviously gained many more fans and more mainstream success in the following years. Honestly, I've tried to listen to AVENGED SEVENFOLD on many occasions both old and new and I just couldn't get into it. M. Shadows voice is distinct but never thrilled me but more importantly (to me at least) while talented musicians I never cared for the guitar tones of either Zacky Vengeance and Synyster Gates. They simply sound thin to my ears. That's not even touching on how silly I found their imagery and stage names to be. That said by the number of their shirts being worn in the crowd having them headline was the right choice. The band's live show is known to be excellent and I'm glad their fans got to see it in full and I took full advantage of the distraction to skip out before midnight.
For my final thoughts I think it's safe to say that what Las Rageous has done best was the line-up. Despite what I've said about bands on this billing that weren't to my personal taste it gave Las Rageous variety. There was something for just about any hard rock or metal fan. Every band put on a great showing, and despite the small technical hiccups bands hit the stage on-time.
As for things that could be improved in future Las Rageous events I'd like to see more seating for one. My legs and ass will thank you for it. Other bonuses would be spreading out the schedule a bit. Rather than starting at five in the evening and the headliner going on after eleven perhaps take a look at how other festivals handle scheduling. Punk Rock Bowling for example on days one and two doors open at three and the last bands end things just after eleven and day three the timetable was pushed back an hour (2:00pm -10:10pm). Spreading the event over three days rather than two might also get rid of the need for a second stage and leave more time for concert-goers to explore the event and lessen the likelihood of missing a band's first or last song.
Lastly getting rid of the second stage will leave more room for more booths for the audience to browse and food vendors to choose from. All in all Las Rageous' inaugural event could be counted as a success. I certainly look forward to what is in store for Downtown Las Vegas next year and the year after that and the year after that…