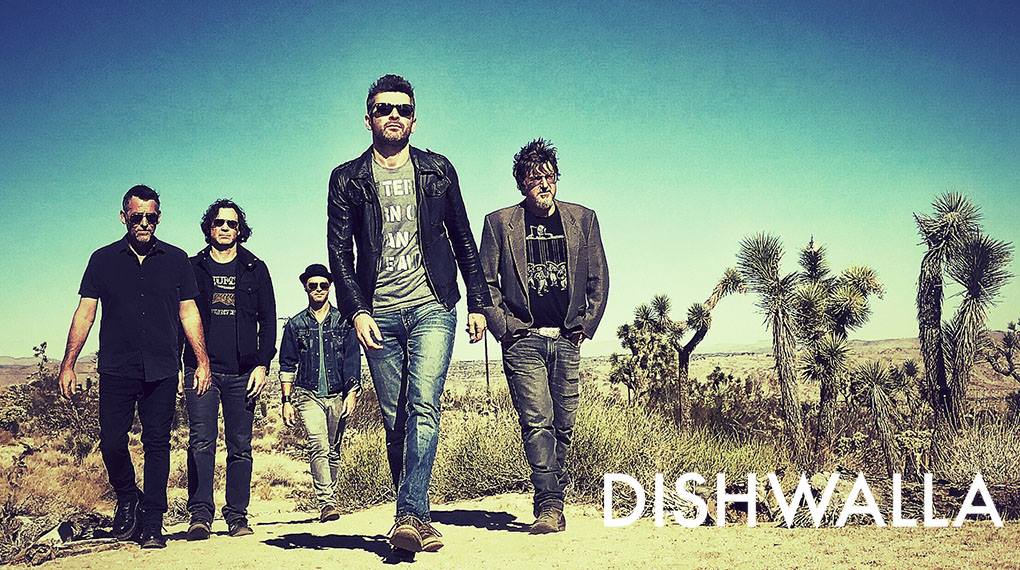 1996. I think that's a year that basically everyone remembers. The height of the Spice Girls, Michael Jordan and Bugs Bunny hitting the big screen, and of course the untimely passing of Tupac Shakur. Through all of these memories, one song in particular sticks out. A song that, even two decades later, carries fond memories for me. I am sure you've guessed by the title of this article that the song mentioned is "Counting Blue Cars" by none other than Dishwalla; a band that, regardless of what you think, is more than just a one hit wonder.
With mass amounts of touring throughout the late 90s and three more studio releases, And You Think You Know What Life's About (1998), Opaline (2002), and their self titled Dishwalla (2005), the band stayed consistent before a brief hiatus. In 2008, the band reformed with new vocalist Justin Fox to do a few benefit shows and continue with touring with bands like Collective Soul and Tonic.
I was beyond the point of excitement when I found out that they would be releasing another studio album, thanks to a successful Pledge Music campaign, Juniper Road, and even more excited when I found out I would get to review it.
From the first beat of opening track "Sirens", you can tell that this album was well worth the twelve year wait. Reminiscent of "Tomorrow Never Knows" by the Beatles, it has an exotic echoing feel to Rodney Browning Cravens' guitar and Fox's vocals. Scot Alexander's bass really comes through for me in this song, playfully and gently flowing through the track almost like light tickles to the ear drum. I couldn't help but close my eyes and dance in my chair to the grooves of the song, and I don't dance. Then the chorus kicks in and suddenly it's like The Cult's "She Sells Sanctuary". Basically, any way you slice it, this is a great start to the record.  
When first hearing the single for the album, "Give Me A Sign", which is also track two, I thought it was a really strong comeback. The strong, para-diddle-like rhythms from drummer George Pendergast, the vocal crescendo of Fox, and the contrast of the soft keyboards from Jim Wood really makes for an upbeat track that can't help but make you smile. This song is what it feels like to fall in love. This song is the warm summer nights when the lightning bugs (or fireflies, depending on where you're from) come out. This song is a first kiss. Whoever decided that this was the song to bring Dishwalla back into the game, kudos.
My favorite track on the album, "Mazelike Garden", really captured the feel of the 90s for me. It brought me back to the nostalgic days of really living without a care in the world, which is something I think music in today's day and age really lacks. Starting out soft, and picking up with a bit more emotion in the middle of the song, the dynamics push and pull the listener through waves of multiple emotions. I could probably listen to this on repeat over and over and over and never get sick of it.
Then you have tracks like "Now I Know", which is a bit more on the softer side. The song feels a bit like heartbreak to me, but is a nice contrast to the majorly upbeat song list. Following "Now I Know", "Not Alone" is a bit more melodic, and really brings Dishwalla into the new age of music. Believe it or not, this is probably my least favorite on the album, but still a really great song overall.
Now, I don't want to give away the ENTIRE album, but I don't think there is a single song that I would skip. This is a very strong return for Dishwalla. With the addition of Fox on vocals, a softness that was lacking slightly is added to the dynamic of the band and really resonates well with the overall sound.
Trust me when I tell you to go out and buy this album. You won't regret it, and then you'll be able to know all of the words when seeing Dishwalla on tour this Summer!
For tour dates and information on how to get your hands on this, you can visit their official website: www.dishwalla.com or check them out on Facebook and Instagram @Dishwalla
PHOTO CREDIT/ ALBUM COVER:  Courtesy of Dishwalla/ Pavement Entertainment-  All Rights Reserved