On July 12, 2017, Last in Line returned to Vamp'd, with Dinner Music for the Gods as the support act.
Last in Line began as a group that combined the classic four Dio band members (Vivian Campbell, Vinny Appice, Claude Schnell, and Jimmy Bain) with vocalist Andrew Freeman (Raiding the Rock Vault, Lynch Mob). The group eventually changed following the departure of Schnell, and Bain's death in early 2016, with Erik Norlander and Phil Soussan coming to fill those gaps. The group recorded a studio album, Heavy Crown, prior to Bain's passing, although it did not see the light of day in America until after his death.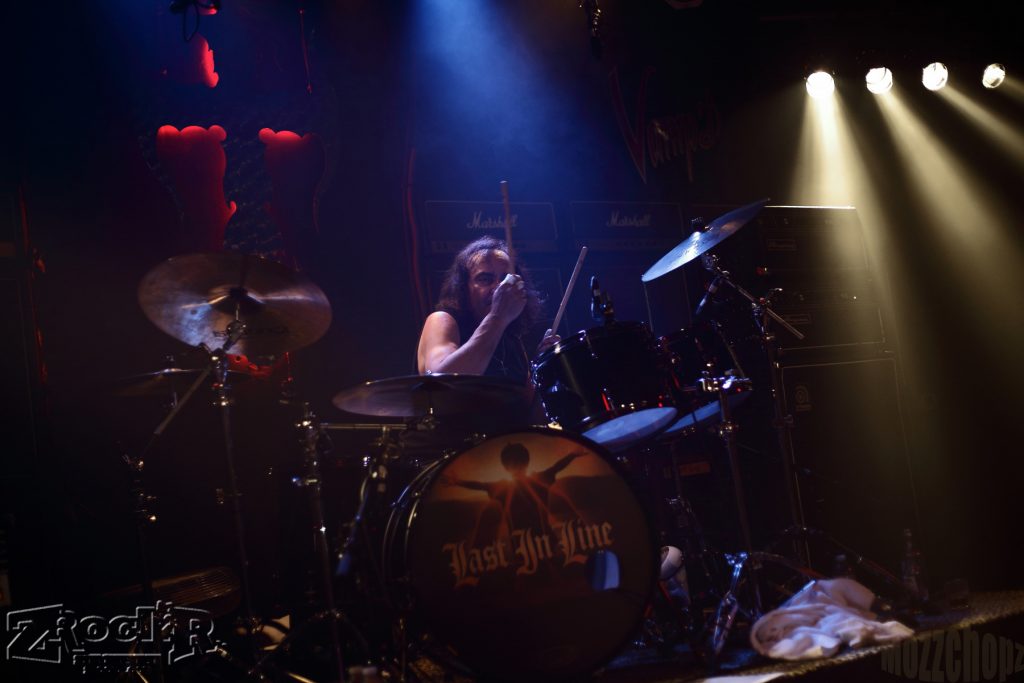 Dinner Music for the Gods started the show off. This instrumental heavy metal band has long been one of my favorites on the local scene, and it was great to finally see them back at Vamp'd, doing what they do best. You can tell these guys love playing music; they have a great sense of humor with one another, yet definitely take the rock and metal world seriously. The group gave us some new original material, and of course, performed what has become their trademark anthem; a strange (but effective!) mash-up of Iron Maiden's "The Trooper" and the classic country anthem, "Ghost Riders in the Sky." I love getting to see these guys play, and it had definitely been too long since last time.
Last in Line was a show this fan had been looking forward to seeing for quite some time. After all, it is not often one gets to see Vivian Campbell in a small venue, given his position as co-lead guitarist in Def Leppard these days.
Last in Line may have been hampered by the death of Bain and the departure of Schnell,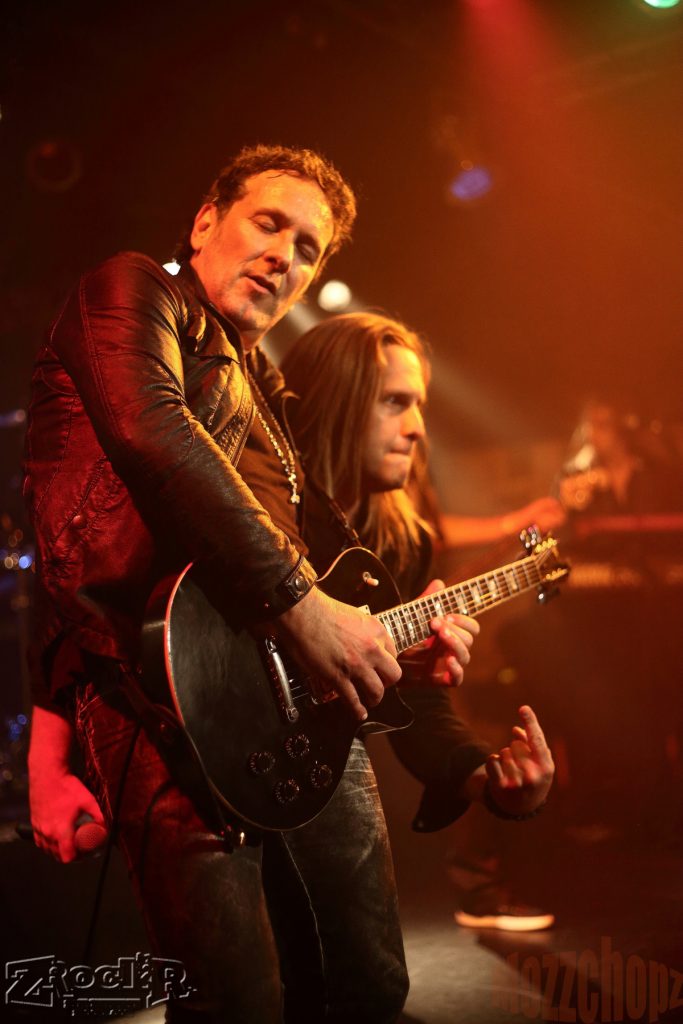 but this lineup has serious chemistry, and it shows at every single performance. In the form of Andrew Freeman, the group has found a solid frontman that does justice to the material, but is not simply copying Ronnie James Dio, either. Seriously, I have grown to love just about everything this guy sings on.
This was an energetic, spirited performance doing justice to Dio classics from the first two LPs, on which Campbell and Appice played, including anthems like "Holy Diver," "Rainbow in the Dark," "The Last in Line," and "We Rock." We also got selections from the Heavy Crown album with the band's original material, including songs like "Devil in Me" and "Starmaker." Of course, the highlight of the evening would have to have been Vinny Appice's drum solo, featuring him taunting and confusing the audience with his playing, and getting plenty of laughs throughout the process! One cannot overlook Vivian Campbell's playing either; if you did not know otherwise, you would have no idea this guy had been fighting cancer in recent years, with him shredding away all night long.
That brings me to the one minor issue I had with an otherwise excellent night…
…if part of what Last in Line does is keeps the legacy of Ronnie James Dio alive, why do the setlists never include songs from Dio's pre-Dio bands, Rainbow and Black Sabbath? This is especially puzzling when you consider that Vinny Appice was in Sabbath with Dio, and Jimmy Bain, who was a part of Last in Line prior to his death, was with Dio in Rainbow. Songs like "Man on the Silver Mountain," "Stargazer," "Long Live Rock and Roll," "Kill the King," "Heaven and Hell," "Neon Knights," "Children of the Sea," "The Mob Rules," and "Voodoo" would all be essential additions to the band's set. And while we're at it, why no songs from the Sacred Heart LP? Despite this, I am proud of the group for being able to create a set that contains more original material from the Heavy Crown record.
Last in Line kicks ass, bringing the music of Ronnie James Dio back to life, while at the same time shelling out powerful new compositions. The band is worth seeing if they come to your town.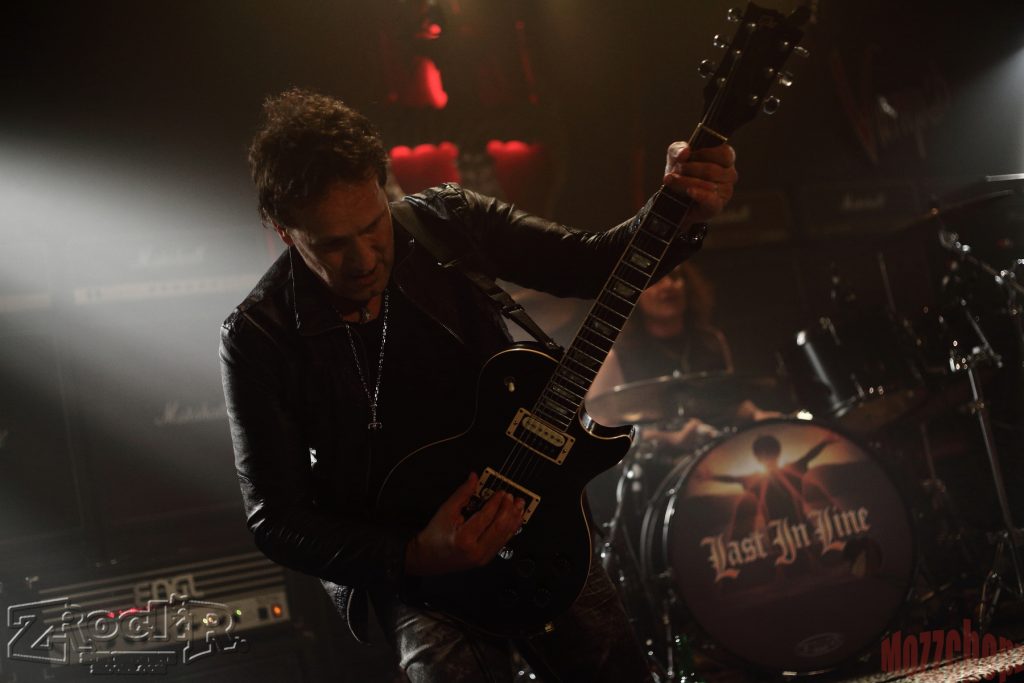 PHOTO CREDIT: All Photos by Vincent Young/Mozzchopz Photography for ZRockR Magazine – ©ZRockR Entertainment, LLC – ALL RIGHTS RESERVED