Ricky Nelson was one of the pioneers of rock and roll back in the 1950s, and was lauded as one of the first "teen idols." The son of Ozzie and Harriet Hilliard Nelson, Ricky was in the spotlight virtually his whole life. His pop hits and later self-penned songs and covers were staples of the rock and roll world. He remained active up until his death in a plane crash in 1985, leaving this world behind at the all-too-young age of 45.
Ricky's sons, Matthew and Gunnar, would rise to fame on their own merits as the band Nelson, scoring classic hits like "After and Rain" and "Love and Affection." Their efforts have given the Nelson Family the rare distinction of being a musical family with number one hits across three generations!
In more recent years, Matthew and Gunnar began doing Ricky Nelson Remembered shows, paying tribute to the musical legacy of their late father. These shows combine a performance by the two brothers with vintage, archival footage of their father's career, paying tribute to one of the rock and roll world's greatest legacies.
This was my first time seeing the Nelson Brothers performing in any shape or form (yes, despite being a big fan of the scene that spawned the band Nelson, I have never seen them doing that band/those songs). As a big fan of Ricky Nelson music, largely as a result of my father's musical tastes, and hearing his material on oldies/classic pop stations, I was not going to pass up an opportunity to hear Ricky's actual heirs performing his songs, all the while learning about the history of this rock icon we lost far too young.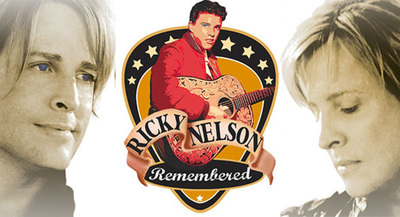 One thing I immediately noticed upon arriving and sitting down in Santa Fe Station's Chrome Showroom was that I was, by far, the youngest person in attendance in the venue, and possibly the only person there under the age of 60! It was great to see what kind of a crowd the show attracted; many of these people were clearly "original" Ricky Nelson fans who grew up with his music and seeing him on television, though it would have been nice to have seen more younger fans present though; this music needs to be kept alive and shared with the younger generation as well! And while the show started slightly late (about 8:15 against an advertised 8:00 start time), I do not think anyone seemed to mind, and the evening was worth the wait.
This ended up being a fantastic experience. Video clips featuring rock/pop icons like Paul McCartney and John Fogerty, as well as vintage home movies and performance clips of Ricky and the family, did a fantastic job recapturing the musical legacy he left behind. These clips and videos were a nice touch, so the Brothers Nelson were not limited to simply recanting everything from memory; though we did get plenty of that, and often in a humorous fashion. These clips revealed a wealth of interesting facts and pieces of history. For example, did you know Ricky Nelson had a number one TV show, a number one single, and a number one movie, all in the same week? That was just one of the amazing facts this footage revealed to the audience.
Of course, if you are reading this review, you are probably wondering if Matthew and Gunnar performed their father's classic hits well, as well as what they actually played and performed. Essentially, the show was organized in a loose chronological order, with the two brothers and a drummer (I did not catch his name unfortunately) performing the hits in the "trio" style that Ricky typically did. The result is that they were able to do justice to this material, covering not only the major pop standards like "Hello Mary Lou," "Travelin' Man," and "Poor Little Fool," but also a number of deep cuts from his career, including his underrated later cover of Bobby Darin's "Dream Lover." Both brothers have proven themselves to be solid musicians over the years, and it is great to see their musical talents directed towards preserving the legacy of their father.
In addition to Ricky Nelson standards, the brothers also incorporated a few original tunes written in the style of the older Ricky Nelson songs, which fit in surprisingly well, and most definitely did not alienate or confuse the audience. No songs from the brothers' band Nelson were performed; these are radically different from their father's material and would have been out of place with this crowd, although the brothers are planning on touring and continuing to perform those songs elsewhere. When the gig ended, the brothers were happy to meet fans, sign autographs, and take pictures as well, much to the delight of the crowd.
Ricky Nelson's legacy has been given a new lease on life from his talented sons, who do what it takes to revive his classic hits and make his history known. If you are at all a fan of Ricky Nelson, do not pass up a chance to see a Ricky Nelson Remembered gig!